Ms. Yang Lanzhen Detained at Mental Hospital for 7 Months
March 06, 2015 | By a Minghui correspondent from Guizhou Province, China
(Minghui.org) Falun Gong practitioner Ms. Yang Lanzhen has been detained at the Tongren Southwest Mental Hospital since May 2014. The local authorities will only allow her immediate family members to visit her.
Ms. Yang, about 40, worked at the Tongren City Electric Power Supply Bureau. Her former husband, Yu Bing, works at the Tongren City National Security Bureau as a section head. Part of his job is to monitor Falun Gong practitioners. In March 2013, Yu filed for a divorce, citing his wife's practice of Falun Gong. The Bijiang District Court in Tongren City granted the divorce in April 2013.
Yu demanded that Ms. Yang leave their home. He wanted to keep the house but only pay his wife a small amount of money in compensation. Ms. Yang did not want to leave her daughter, who was still in elementary school, so she did not move out.
Yu led a group of police to arrest Ms. Yang at their home on October 14, 2013, and they took her to the Xieqiao Detention center in Tongren City. Ms. Yang was transferred to the Lannigou Brainwashing Center in Guiyang City a few days later. She was imprisoned at the brainwashing center for over a month, during which time she was tortured so badly that her face was deformed and her hands swelled. It appears that she may have been injected with brain-damaging drugs.
Her family members then claimed that she had a mental disorder and tried to send her to a mental hospital, but the hospital would not accept her.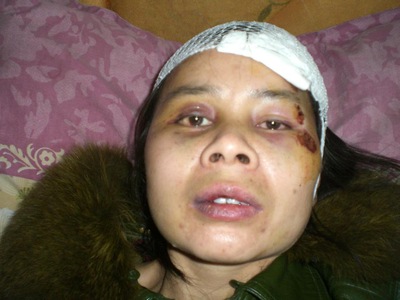 Ms. Yang's bruised face due to beating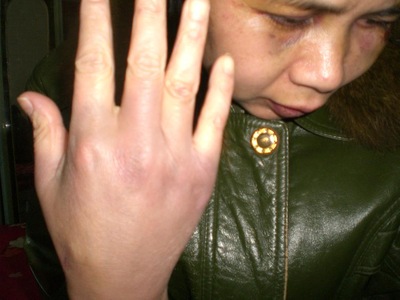 Ms. Yang's swollen hands due to beating
Ms. Yang later returned to work, but she had no freedom and was forced to live at her sister's home. Her sister Yang Qunzhen, brother Yang Tonglu, and brother-in-law Xiang Zhongmin were instructed by the 610 Office to monitor her and not allow her to contact other Falun Gong practitioners, read Dafa books, or practice the exercises. They also beat and scolded Ms. Yang.
The police and Ms. Yang's brother and sister sent her to the Tongren Southwest Mental Hospital in May 2014. Ms. Yang has been detained there since then.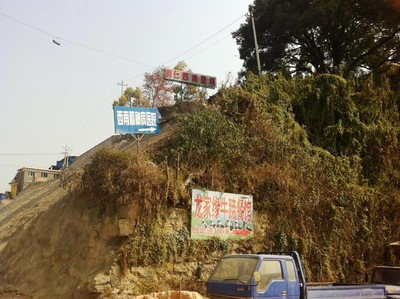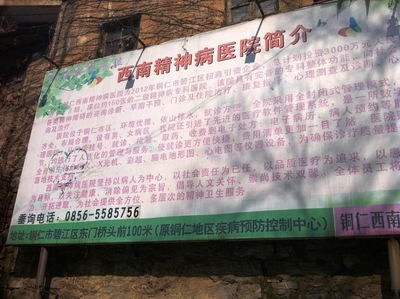 Tongren Southwest Mental Hospital
Lannigou Brainwashing Center
The Lannigou Brainwashing Center is an illegal prison controlled by the Guiyang City Politics and Legal Affairs Committee. It was set up to mentally and physically persecute Falun Gong practitioners from Guizhou Province.
Various methods are used to "transform" practitioners: brutal torture, drugging them with brain-damaging poisons, threatening to rape female practitioners, forcing them to watch videos and read books that slander Falun Gong, and forcing them to write guarantee statements to renounce Falun Gong.
In addition, male guards are assigned to live together with young female practitioners in the same room, in order to monitor them. When the practitioners' lives are in great danger, they send them to the confinement areas located on the fifth floor of the Taiciqiao Police Hospital in Guiyang City for medical treatment, and then take the practitioners back to the brainwashing center.
Those practitioners who most firmly believe in Falun Gong and refuse to be "transformed" are sent to forced labor camps or tortured until they are disabled, mentally handicapped, or dead.
Parties involved in the persecution of Ms. Yang:Xiang Zhongming, Ms. Yang's brother-in-law: +86-18785688257Yu Bing, Ms. Yang's former husband, section head of Tongren City National Security Bureau: +86-13379648992Yu Sanmao, Yu Bing's father: +86-18985853282Chen Suzhen, Yu Bing's mother: +86-13308569688Long Qizhen, officer of Bijiang District Domestic Security Team: +86-13985338270Hua Yong, Bijiang District Domestic Security Team captain: +86-13885668988