Auckland, New Zealand: Beach Goers Learn about Falun Gong
March 05, 2015 | By a Falun Gong practitioner in New Zealand
(Minghui.org) As North America goes through the last of winter, visitors to New Zealand are enjoying a pleasant summer. Falun Gong practitioners recently went to the Mission Bay resort area to introduce the practice.
More than 20 practitioners demonstrated the exercises. Meanwhile, another practitioner talked to tourists about the practice and how she had personally benefited.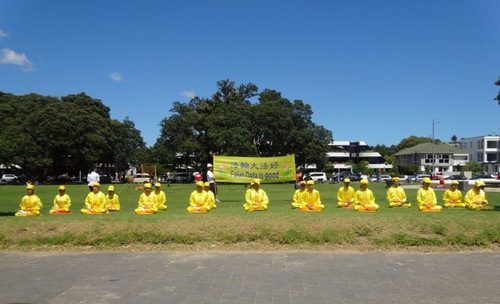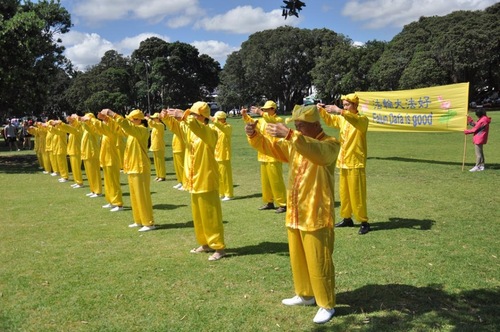 Group exercises at Mission Bay on February 28, 2015.
"This looks very good," said Mary and her niece Annie, who stopped to watch the exercises and read the poster boards. They were glad to hear that the instructional video was readily available at no charge on the Internet.
"It's too bad that the suppression in China has been going on for 15 years," said Mary, a tourist from the UK.
Annie is a local resident who was immediately drawn to the practice. She said that she'd like to give it a try.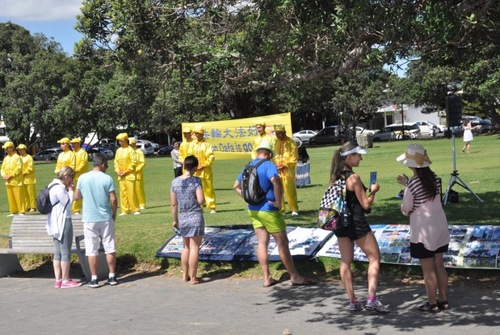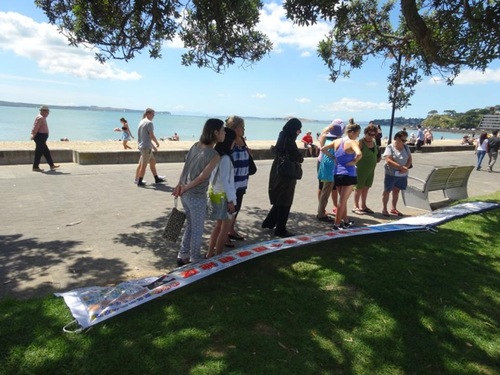 Tourists stop to read more about Falun Gong
Mareta, who came with her daughter, was impressed by the exercises. They came up and sat in front of the practitioners to watch. Seeing her imitating the exercise movements, a practitioner taught her step by step.
"The music is soothing and relaxing," said Mareta. She was amazed that the practitioners could do the exercises serenely for such a long time. After learning that Falun Gong had been suppressed in China for a long time, Mareta expressed hope in the persecution ending sooner rather than later.
Upon leaving, Mareta said that she enjoyed talking with the practitioners. "Speaking with others often makes me nervous, but you made me feel right at home."