"Perfection in Everything": European Leaders Highlight Shen Yun's Beauty and Cultural Depth
March 31, 2015 | By Minghui correspondent Xue Li
(Minghui.org) European leaders and artists enjoyed Shen Yun's beauty and in-depth cultural presentation during its tour in multiple countries in March. Many of them drew inspiration from the show.
Parliamentary State Secretary of Germany: "Perfection in Everything"
Parliamentary State Secretary Dr. Michael Meister attends a Shen Yun performance in Frankfurt.
Dr. Michael Meister, Parliamentary State Secretary, attended the performance with his family for the fifth time. Dr. Meister said, "Shen Yun is perfection in everything: the dancing, the songs and the music. The harmony between performers is of the highest degree."
"One feels without doubt the deep meaning that is imparted by the dances and the songs," he continued.
"I will return home feeling less stressed, more at ease, and [with] a serenity I won't experience from anything else I can think of. Besides, I will reflect upon what I have seen for a while and know that it will help me understand myself more deeply," he said.
Prosecutor-General of the Netherlands: "A Blossom of Colors and Dance and Movement"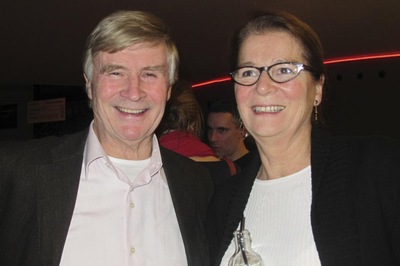 Prosecutor-general Annemarie Penn and husband Olaf at the Lucent Danstheater in The Hague on March 3, 2015.
"Very good, we enjoyed it very much. The movements, the colors, the music, the nice people—beautiful," exclaimed Annemarie Penn, the Prosecutor-General of the Netherlands.
Equally enthralled was her husband Olaf, a heart surgeon and president of a municipal party. Mr. Penn said he also enjoyed the artistry in the performance.
Senator of Ireland: Deep Messages Shared by Different Cultures
Senator Labhrás Ó Murchú of Ireland and Director-General of Society of the Musicians of Ireland was touched by the cultural values presented in the performance, "It's more than just a performance of music, song and dance. I think it was much more than that, it was educational, it was informative and I have to say inspirational and uplifting as well."
"There was a sense of peace and reconciliation and the message that they were sending out, particularly in a difficult world for all of us today, was that the basis of compassion, co-operation, toleration, mutual acceptance of other people's views—all of that I thought came across very strongly."
Mr. Ó Murchú believed that the Irish will also find the themes in Shen Yun familiar because their culture also goes back thousands of years. Therefore, "The old message that would have been there over the centuries is still as relevant today as it was then," he explained.
Musician: "Impressive and Captivating"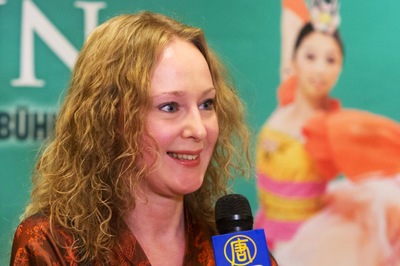 Ms. Maria Mokhova, pianist and organist
Russian pianist and organist Maria Mokhova attended the performance for the second year in Frankfurt on March 15. "I'm certain that if one saw Shen Yun once, one hasn't seen and absorbed all this show gives to its audience. Therefore, one gets excited year after year, when one hears that the show is returning to a given venue," she said.
"Shen Yun's mission is especially important because it helps us learn about the country's culture, China's history, and most importantly, what is truly going on in that country."
She learned from the show that "Chinese dance is perfection of a group performance. The unison and harmony in which the dancers perform is unique in this world. This way of dancing is impressive and captivating."
"I saw incredible technique in the dance performances. I hold deep respect for all the training these dancers must have gone through. These dancers must be of an emotional stability and steadiness not often seen in this world," she added.
Classical Dancer: "Fantastic" Production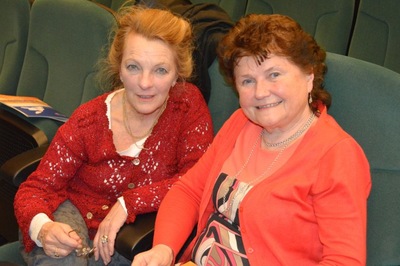 Retired ballet dancer and choreographer Dex McLoughlin (left) with friend Liz Whelan (Photo Courtesy of The Epoch Times)

Retired ballet dancer and choreographer Dex McLoughlin described the Shen Yun dancers as "amazing" when she saw them with her friend Liz Whelan in Dublin, Ireland on March 25.
"Their precision, their strength, the choreography, lighting, and the general production is fantastic," Ms. McLoughlin described.
Ms. Whelan said she has never seen a performance like it: "Incredible! Beautiful costumes, and dancing like I've never seen before, magnificent, really magnificent!"
Shen Yun will continue to perform in Europe in Salford Quays, Manchester, United Kingdom on March 31 - April 1; Stockholm, Sweden on April 4 - 7; and Paris, France on April 10 - 12. For more information on tickets and dates, please visit http://shenyun.com.