Chinese New Year Celebration Brings Beauty of Falun Dafa to San Francisco
March 03, 2015 | By Wang Ying
(Minghui.org) Falun Dafa practitioners held a series of events in downtown San Francisco and Chinatown this past weekend, to ring in the Chinese New Year and introduce the beauty of Dafa cultivation practice.

The Saturday events included a large group demonstration of Falun Dafa exercises at Civic Center Plaza and a colorful parade that started at noon. Led by practitioners dressed as celestial maidens, the parade also included the Divine Land Marching Band, Dafa exercise demonstrations, and beautifully decorated floats.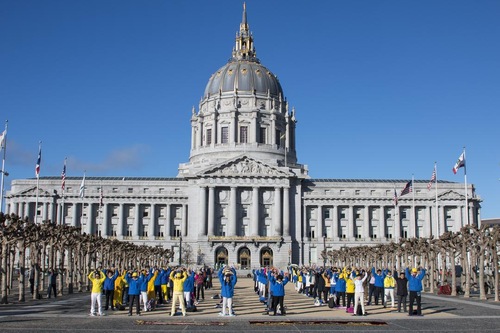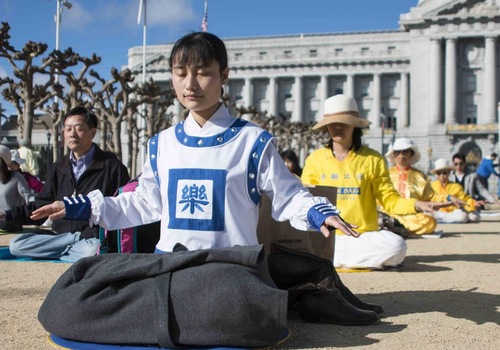 Group exercise demonstration at Civic Center Plaza on February 28, 2015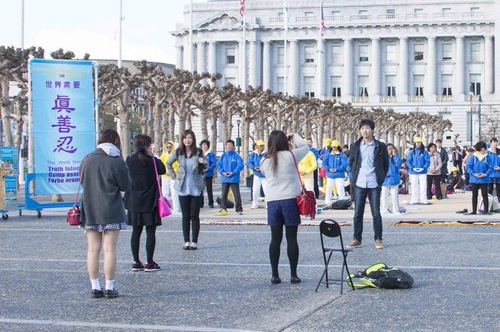 The banner reads, "Falun Gong practitioners wish all Chinese a Happy New Year!"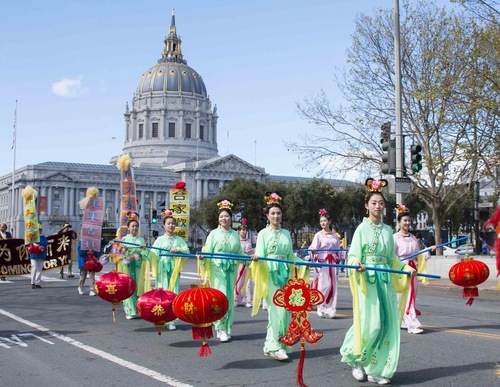 Young women dressed as celestial maidens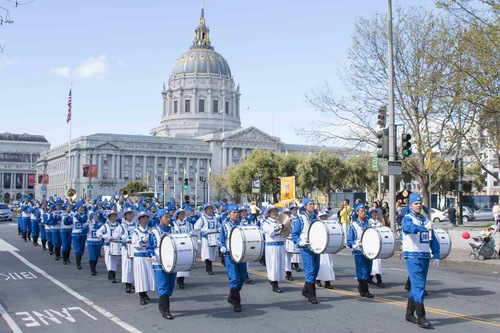 The Divine Land Marching Band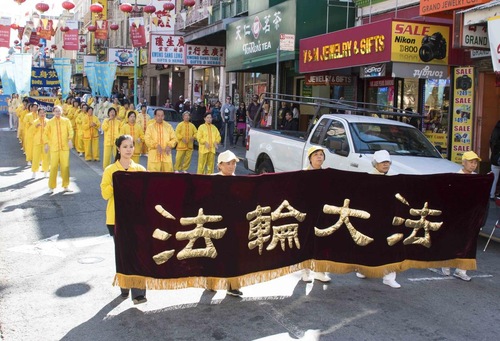 Practitioners demonstrate Falun Dafa exercises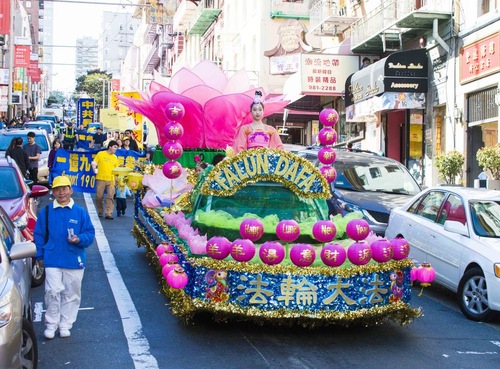 One of the beautifully decorated floats in the Falun Dafa Chinese New Year parade
Delighted Spectators
Amanda and Rachael, who are touring San Francisco, were delighted to see the practitioners' parade. "This is awesome! The outfits are brilliant!" Amanda exclaimed.
Ms. Wang, from Beijing, was also excited to see the parade. "I really appreciate the celestial maidens with the lotus flowers. They are so beautiful!"
John, a local resident, said that this was the first time he had seen a parade like this. "I'm liking it a lot, especially [Falun Dafa's] principles of Truthfulness-Compassion-Forbearance."
Edward, who watched the parade with his wife, agreed that the event was spectacular, "... from the costumes, the music, the whole performance." His wife also very much enjoyed the event, adding, "I really appreciate Chinese culture. We should all keep the principles of Truthfulness-Compassion-Forbearance in our minds."
The parade passes through Chinatown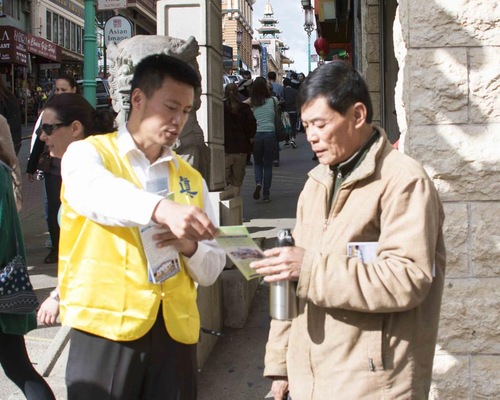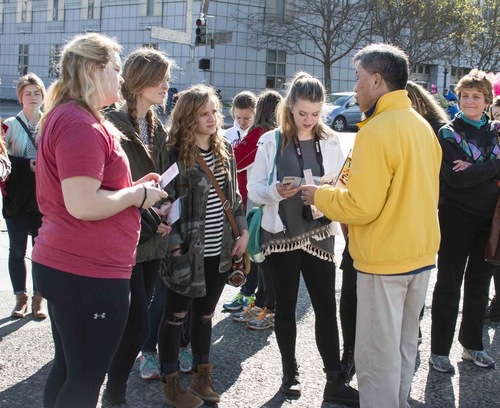 Talking to spectators about Falun Gong
"This is a New Experience"
Ms. Sun and her friends, who were visiting from China, remarked that they now had a different understanding of Falun Dafa. "Watching your march and celebrating the Chinese New Year is special—it makes me happy and feel good," Ms. Sun said to a practitioner.
Ms. Sun found common ground between herself and Falun Dafa's principles of Truthfulness-Compassion-Forbearance. "It will help with my own spiritual pursuit," she said.
Also included in the parade were banners and placards calling for people to quit the Chinese Communist Party (CCP), which has violently suppressed Falun Dafa in China since 1999.
Ms. Ma, who participated in the march, said that many Chinese tourists were initially surprised to see so many Falun Gong practitioners in San Francisco. "They have been brainwashed by the CCP's hate propaganda for such a long time. And here is one of the few opportunities where they can learn the truth and get their question answered: what is Falun Gong? How bad has the persecution been?"
Once they understood the brutality of the persecution, many Chinese tourists were more than willing to the quit the Party and its affiliated organizations.
Ms. Ma noted that more than ten tourists from China quit the CCP after talking with her.