Physician's Health Worsens Due to Torture for Belief in Falun Gong
March 21, 2015 | By a Minghui correspondent from Jilin Province, China
(Minghui.org) A physician from Nong'an County, Jilin Province is currently suffering serious health problems after two years of abuse in prison. Mr. Yang Hongbiao was sentenced to nine years in prison in 2013 for his belief in Falun Gong.
When Mr. Yang was arrested in November 2012, the police beat him with electric batons, burned his back and arms with a cigarette lighter and deprived him of sleep at Nong'an County Detention Center.
Torture aimed at forcing him to renounce his faith continued after his sentencing and transfer to Jilin Prison.
In an effort to break his will, a prison guard called Mr. Yang's 87-year-old grandfather and tried to force him to put pressure on Mr. Yang. Mr. Yang's grandfather didn't want to comply, as he knows that Falun Gong is being unjustly persecuted. Repeated police intimidation has traumatized Mr. Yang's grandfather and affected his health as well.
Mr. Yang was previously sent to a forced labor camp in 2002 and severely tortured. Guards covered his head with a plastic bag, nearly suffocating him. They subjected him to the excruciating torture of forcing bamboo sticks underneath his fingernails. Mr. Yang was also put in solitary confinement and forced to sit on a small stool for long periods of time.
Unable to withstand the pressure from the authorities, his wife divorced him one month before his release.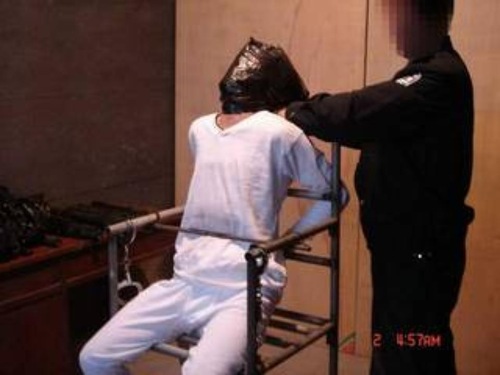 Torture reenactment: Head covered with plastic
Guard responsible for persecuting Mr. Yang and his family:
Wang Yuanchun (王元春), guard in Jilin Prison: +86-432-66083237 (Office), +86-15568470102 (Cell), +86-18685040726 (Cell), +86-432-62121635 (Home)