New South Wales, Australia: Falun Gong Popular at Springwood Community Event
March 20, 2015 | By a practitioner from Australia
(Minghui.org) More than 30,000 local citizens and tourists celebrated the 200th Anniversary of the town Springwood on March 14. Springwood, in New South Wales, Australia, is near the Greater Blue Mountains Area World Heritage Site. As in prior years, Falun Gong practitioners were once again invited to participate the annual Springwood Foundation Day event.
This year, many more people than ever stopped by the practitioners' booth, wanting to know about Falun Gong.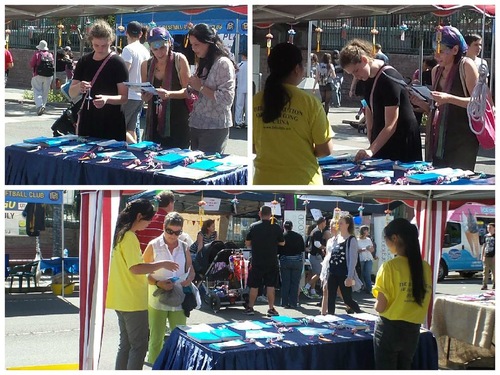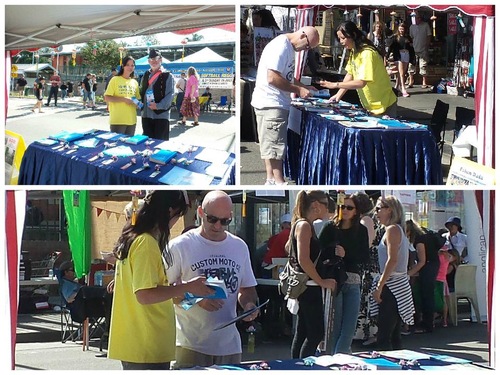 Many people wanted to learn the Falun Gong exercises and were eager to speak to practitioners and learn more about the practice.
One couple told practitioners that they had already read the English version of the book Falun Gong, and asked if there were more books they could read. Practitioners told the couple about the main book, Zhuan Falun. The wife was happy to see that there was a copy of the Spanish version of Zhuan Falun at the booth. Since she is from Spain, she prefers reading in her native language. She wanted to buy the book, but practitioners were not selling products, so they gave her the book for free.
A young man asked practitioners for Falun Gong informational materials. He said that one of his friends had started practicing Falun Gong five months ago, and had really gotten into it. So he wanted to find out what was so attractive about Falun Gong. "I've heard about the persecution of Falun Gong in China. Why would such a good thing be suppressed there? The persecution is too brutal," he said.
A little girl was attracted to the paper lotus flowers made by the practitioners. They handed her one. Her mother told the practitioners that she hadn't been feeling well recently, and she was looking for something that could improve her health. The practitioners told her that millions of people have benefited from Falun Gong, both physically and mentally.
The mother was very interested in learning the exercises. A practitioner said to her, "There is something you can do right now—just saying 'Falun Dafa is good' can help you." the mother repeated that sentence several times, and shouted with joy, "It's a miracle. All of sudden, I feel so much better. It's amazing. Please teach me the exercises."
She was happy to learn that all the books and video materials for Falun Gong can be downloaded for free from the website, and that local workshops are free of charge as well. Upon leaving, she told the practitioners, "I will keep reciting 'Falun Dafa is good.'"