Ms. Zhang Xiuzhi of Shenyang Detained for Over a Month
March 02, 2015 | By a Minghui correspondent in Liaoning Province, China
(Minghui.org) Ms. Zhang Xiuzhi, 61, was illegally arrested on January 13, 2015, while visiting her friend and fellow Falun Gong practitioner, Ms. Sun Yufen. She and Ms. Sun have been held at the Shenyang City Detention Center for over a month. Officers from the Domestic Security Division submitted their cases to the Huanggu District Procuratorate with falsified charges on February 6, 2015.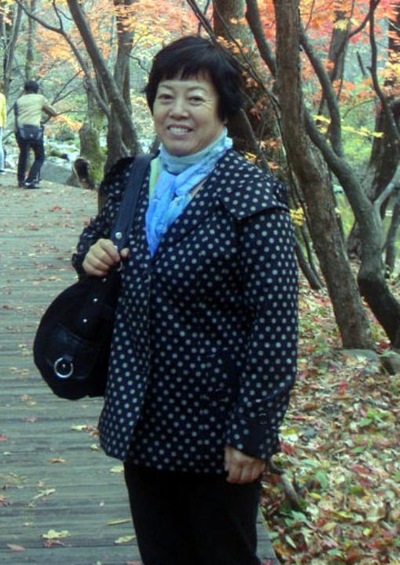 Ms. Zhang Xiuzhi
Six officers from the Jihong Police Station in Shenyang City broke into Ms. Sun's home at around 10:30 a.m. on January 13, and arrested Ms. Zhang and Ms. Sun. They also confiscated Falun Gong books, informational materials, a computer, and Ms. Zhang's bag.
Request for Release Denied
Ms. Zhang's family members are worried for her safety, and have been contacting relevant departments requesting her release, but to no avail.
They went to the Huanggu District Domestic Security Division again on the morning of January 27, 2015. Ms. Zhang's daughter asked officer Song Zhiming what her mother was being charged with. Officer Song replied, "Article 300 of the Criminal Law, using a cult organization to undermine or sabotage law enforcement."
Ms. Zhang's daughter mentioned that the persecution of Falun Gong had no legal basis, and that practitioners have the right to practice Falun Gong under the Chinese constitution, and that having Falun Gong books and related materials was not against the law.
Song said, "You're wrong. We have internal documents. You can sue me if there is a problem."
When Ms. Zhang's daughter tried to ask more questions, Song shouted, "Security, take them out!"
Ms. Zhang's family will continue to appeal for Ms. Zhang's release.
Parties Involved in Persecuting Ms. Zhang:Deputy Commander of the Huanggu Domestic Security Division at the Shenyang City Police Department: +86-24-86427390Li (李某), Fu (傅某), and Song Zhiming (宋志明), case officersJia Dianjie (贾殿杰), director of the Huanggu District 610 Office: +86-24-86863390, +86-24-22829206Zhang Botao (张波涛), director of the Shenyang City Detention Center: +86-13940119229 (Cell), +86-24-89241894 (Office)Qi Zhongxin (齐忠信), director of the Jihong Police Station, Tiexi District: +86-18840666699 (Cell), +86-24-25128737 (Office)Yang Yiyao (杨义瑶), prosecutor of the Huanggu District Procuratorate: +86-24-86459811 (Office)
Please refer to the original Chinese article for more people involved in the persecution.