Chinese Tourist: Strong Contrast Between Canada and China
March 18, 2015 | By Minghui correspondent Zhang Yun in Toronto, Canada
(Minghui.org) Falun Gong's Divine Land Marching Band and Waist Drum Team were among the hundred processions that participated in Toronto's St. Patrick's Day Parade on March 15, 2015. The Falun Gong contingent, which has participated in this event for the past eight years, was once again warmly embraced by the spectators.
"It Won't Be Long Before Falun Gong Performs on Tiananmen Square"
Several tourists from China were very glad to see Falun Gong overseas. They have never had a chance to see a grand Falun Gong event in China because of the ongoing persecution. One of them was very supportive and told the practitioners, "The practitioners look so energetic, peaceful and healthy. I feel very relaxed and comfortable seeing them perform. I believe that Falun Gong will go back to China and perform one day. The day that they perform on Tiananmen Square won't be long."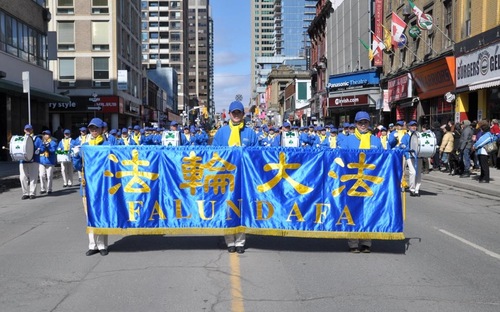 Falun Gong's Divine Land Marching Band at St. Patrick's Day Parade passes by the grandstand and the announcer.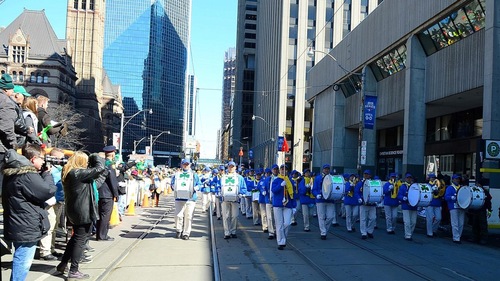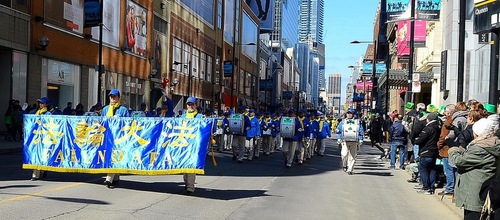 Falun Gong's Divine Land Marching Band at St. Patrick's Day Parade.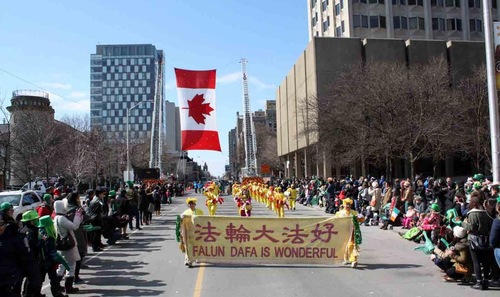 Falun Gong's Waist Drum Team at St. Patrick's Day Parade.
As the Falun Gong procession passed by the grandstand, parade chair Alan Louthe greeted them enthusiastically, "We welcome you to the parade every year!"
Alan Louthe, Chairman of the Toronto St. Patrick's Day parade
Three businessmen from northeast China stood and watched Falun Gong's procession for a long time. One of them, Zhang, said that they have seen a lot of practitioners when they travel, including in Japan and Hong Kong.
"It's nice to see so many of them," said Zhang. "It has to be good if it is practiced by people in over 100 countries and areas. Their principles of Truthfulness-Compassion-Forbearance is good for the people and their countries. Look at China now, tainted food, air and water pollution. It's a terrible place to live."
"When Falun Gong is allowed to flourish in China and everyone follows the principles, China will definitely be a better place!"
Strong Contrast Between Canada and China
Another man, Wu, enjoyed the freedom in Canada, "Such a strong contrast between Canada and China. I couldn't have seen such a magnificent Falun Gong performance in China. There is such freedom here. I don't want to go back to China, really. Who doesn't want to live in a free country where there is blue sky and clean air?"
Falun Gong Practitioners in China Are Truly Amazing
The third man said that he already knew about the illegal persecution of Falun Gong in China and has already quit the Chinese Communist Party (CCP). "Falun Gong practitioners in China are truly amazing. They have risked their lives to tell people about the persecution. I am reading the Falun Gong books now."
When a practitioner asked the three businessmen whether they could ask the people they travel with to quit the CCP, Zhang said, "Many of them have already quit. How can we not? We run into Falun Gong practitioners all the time when we travel. Almost everyone has quit. No one wants to be left behind."
Falun Gong Has the Best Marching Band
Toronto resident John Maxwell and his friends cheered when they saw Falun Gong's procession, "Welcome! You are the best!"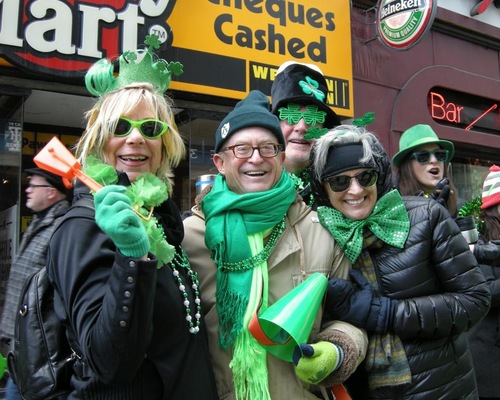 Toronto resident John Maxwell (middle) and his friends.
Maxwell said that Falun Gong's marching band was the best every year. "For so many years, I saw that they were the most popular. I don't just like them, I love them. They are magnificent, professional. Their uniforms are neat and bright. Their music is joyous and they are very friendly."
"I know that Falun Gong practitioners in China are suffering terrible persecution. I understand their situation and I am very supportive of them." said Maxwell.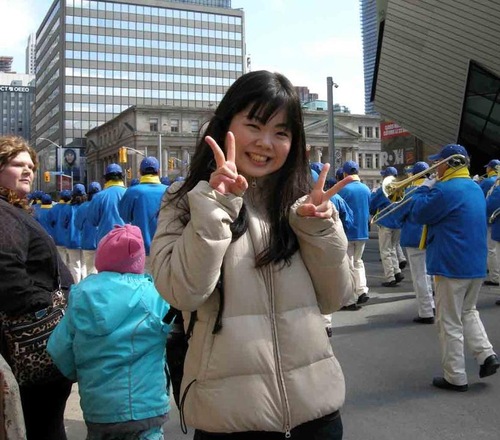 Japanese student Yukari likes Falun Gong's performance.
Yukari had just arrived from Japan not long ago. "I am so glad to see such a marvelous parade. Falun Gong's Divine Land Marching Band is majestic and the waist drum team is inspiring. Please take a photo of me with such a great band," she asked the Minghui correspondent.