Taiwan Leaders Extend Warm Welcome to Shen Yun
March 15, 2015 | By Minghui correspondents Su Rong and Sun Bai
(Minghui.org) Shen Yun Performing Arts kicked off its Asia tour in Kaohsiung, Taiwan with seven performances during March 4-9. It will perform 32 more shows in six cities in Taiwan over the following month.
2015 is the ninth year of Shen Yun's annual tour to Taiwan. High-level government officials sent floral baskets and best wishes, including the President of Taiwan Ma Ying-jeou, President of the Legislative Yuan Wang Jin-pyng, Minister of Overseas Community Affairs Council Chen Shyh-kwei, Mayor of Kaohsiung Chen Chu, and other government officials.
Shen Yun also received flowers from Chinese tourists.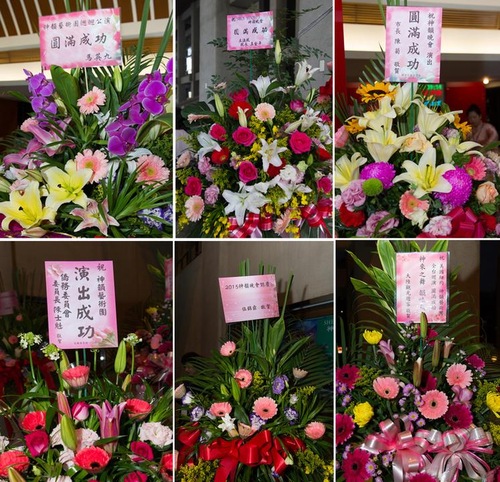 Congratulatory flower baskets from Taiwan leaders and Chinese tourists
92 elected officials sent out letters welcoming Shen Yun to Taiwan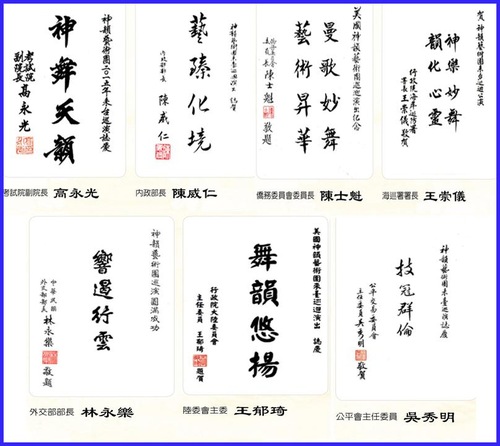 Seven cabinet-level officials sent works of calligraphy to welcome Shen Yun. They include Vice President of the Examination Yuan Kao Yuang-kuang, Minister of the Interior Chen Wei-zen, Minister of Foreign Affairs Lin Yung-lo, and former Minister of the Mainland Affairs Council Wang Yu-chi.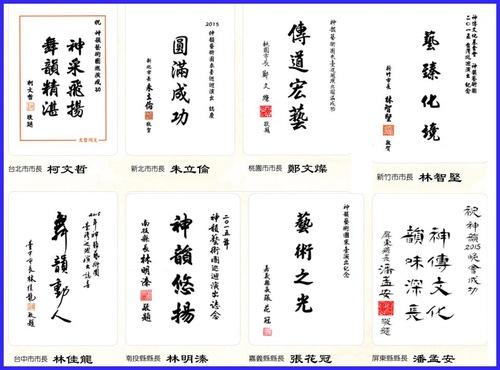 Local and municipal officials welcome Shen Yun with calligraphy banners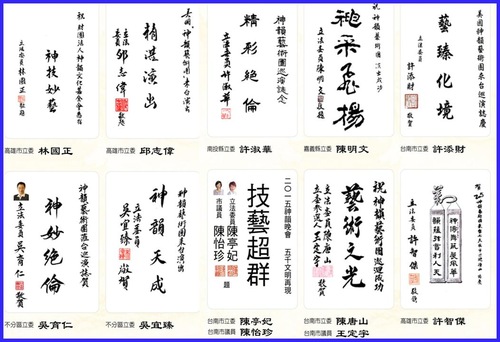 Officials of the central government, 6 mayors, and 66 local senators and representatives sent calligraphy to wish Shen Yun performances in Taiwan a great success.
"Divine" and "Stunningly Interesting"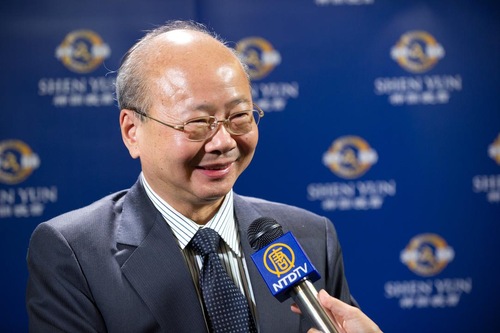 Mr. Lee Rui-Tsang, chief secretary of Kaohsiung, thanked Shen Yun for bringing positive energy to over 1,000 citizens who suffered as a result of the 2014 Kaohsiung gas explosions.
Lee Rui-Tsang, the chief secretary of Kaohsiung, attended the special matinee performance dedicated to victims and heroes of the gas explosion in the city last year. The performance on March 5 was sponsored by enterprises in Taiwan. A series of gas explosions occurred in Kaohsiung at the end of July 2014, killing scores and injuring hundreds.
"The dances were divine and seamless with music from the live orchestra. The stories became alive with the interaction between artists and the animated background," Mr. Lee said of the show.
"Shen Yun has inserted legendary Chinese stories in the program, which depicts the issue of kindness and the evil and highlights the power of kindness that can turn something bad to goodness. We very much need such noble spirits in our society," he commented.
Mr. Lee thanked Shen Yun on behalf of the citizens of Kaohsiung, "We believe that this performance can sooth the hearts of victims [of the gas explosion] and help them overcome the trauma."
"Highest Level of Compassion"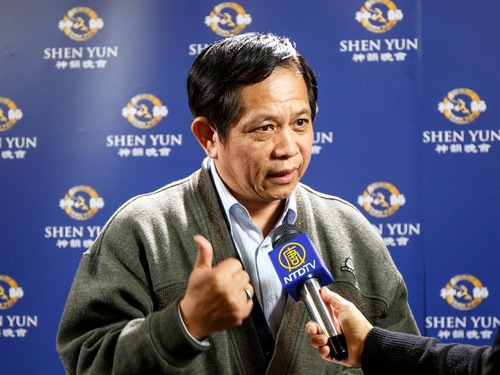 Mr. Wu Yu-Chan, Knight of the Roman Catholic Diocese of Kaohsiung
"Such a high class performance is not something that can be done by ordinary performing arts groups," said Mr. Wu Yu-Chan, a Knight canonized by Pope John Paul II for the Roman Catholic Diocese of Kaohsiung.
"The entire show presented by Shen Yun is very special, and it's really hard to come by. In addition to the artistic values presented by all the performers, we can feel the peacefulness on their faces. They are very peaceful," he said.
To Mr. Wu, Shen Yun has done "a comprehensive presentation of the essence of our 5,000 years of Chinese culture." He added, "The overall presentation is just like the scene in heaven, which inspired us spiritually."
As to the program depicting the great deeds of those who act on their beliefs in the universal principles of truthfulness, compassion and forbearance in the face of brutal persecution, he said, "That's the highest level of compassion."
In addition to the artistic level of the production, Mr. Wu also noticed something unique about the artists: "I can see the peace and harmony on the faces of Shen Yun artists. They must have strong spiritual devotions because their realms are different than those of average performing arts troupes. Such an uplifting performance is beyond most arts."
"Inspired My Long-Buried Soul"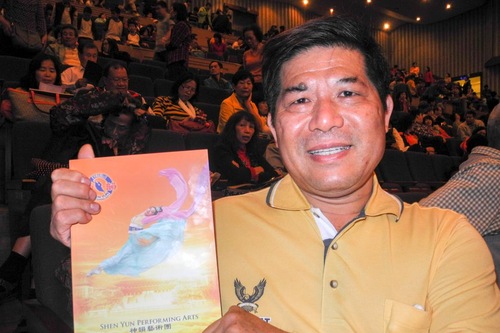 President of Chi Hsiang Industrial Co., Yeh Chieh-Hsiang
"After watching Shen Yun, I realize that no amount of money can buy the joy of watching Shen Yun perform," said Yeh Chieh-Hsiang, president of Chi Hsiang Industrial Co.
"I was just very emotional, and the tears kept rolling out," Mr. Yeh said. "A door opened in my heart. I am so touched! I'll just say that there is a divine power behind the performance."
As a businessman, Mr. Yeh lives with a very busy schedule. "We are so busy pursuing material goods and ignore the wisdom our ancestors have passed down to us," he said. "Shen Yun inspires and allows me to feel the culture."
Mr. Yeh explained what made him so uncontrollably emotional after watching Shen Yun. "I think it is the stage design and the artists' exceptional performance that inspired my long-buried soul. Those artists are like angels bringing messages from heaven."
Shen Yun will continue to perform in Taiwan in Taichung City on March 18-22 and Taoyuan on March 25-29. For more information on tickets and dates, please visit http://shenyun.com.