India: Falun Dafa Gets Overwhelming Response at the Kolkata Book Fair
(Minghui.org) Falun Dafa practitioners from Kolkata were able to secure a booth at the renowned Kolkata Book Fair. It is the world's largest non-trade book fair, Asia's largest book fair and the most heavily attended book fair in the world, with a total headcount of over 2 million.
Practitioners from all over India came to Kolkata for the book fair from February 27 to March 8.
Kolkata, known as Calcutta during British rule, is the capital of the Indian state of West Bengal. Long known for its literary and artistic heritage, Kolkata has often been dubbed the Cultural Capital of India or the Literary Capital of India.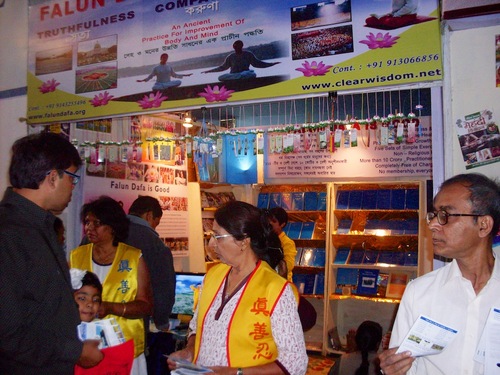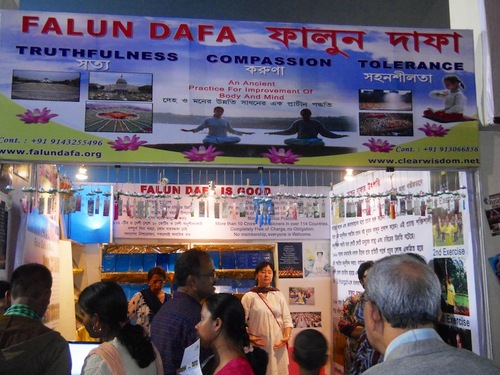 Throughout the day the Falun Dafa booth was crowded, with practitioners demonstrating and teaching the exercises and giving out fliers. People from the adjoining booths wanted to know why the Falun Dafa booth was always crowded.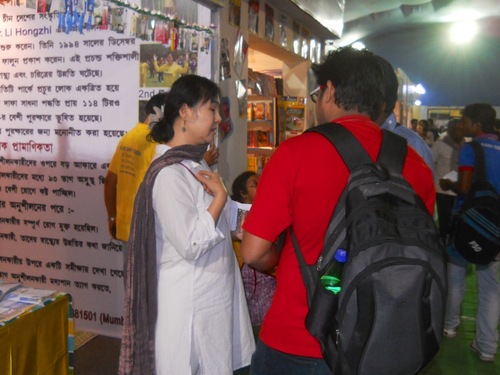 Though many people purchased Dafa books in English, many wanted the books in the local language, Bengali. A local practitioner has almost completed the translation, and practitioners told visitors that they could get the books in Bengali at next year's book fair.
Several young people were enthusiastic about learning the exercises and volunteered their services for any future event.
A group of students from an orphanage learn the exercises.
Since the Communist regime in West Bengal lasted for 34 years and ended just around 5 years ago, people could relate to the persecution of Falun Dafa in China.
When told about the persecution and the Chinese regime's forced organ harvesting of Dafa practitioners and other prisoners of conscience, an elderly gentleman said, "It might shock people, but I can believe it since I have seen what they have mercilessly done to poor people in our villages. Also the Chinese goods that flooded our markets were lapped up earlier because of their low prices, but people don't trust them anymore since they do not last."
All the practitioners who participated in the Kolkata Book Fair felt that it was a great opportunity to reach out to so many people and create awareness about Falun Dafa. Local practitioners have organized follow-up sessions to teach the exercises. They look forward to participating again next year.