Falun Gong Presence Popular at Taiwanese Tourist Sites
March 11, 2015 | By Minghui correspondent Cheng Yu-Yan in Taipei, Taiwan
(Minghui.org) Tourists from mainland China who have traveled to Taiwan over the past few years are often heard to comment that the best tourist sites are the ones where Falun Gong practitioners can be found. Tour guides often use Falun Gong practitioners' booths as landmarks, telling their charges to meet each other at the Falun Gong posters – which gives everyone a great opportunity to learn about Falun Gong and the persecution in China.
Through the persistent efforts of practitioners to raise awareness at tourist attractions around the world, more and more Chinese tourists have understood the extent of the brutality of the persecution and have begun to show support. Many visitors from China now look for opportunities to talk to practitioners, asking for their help to quit the Chinese Communist Party (CCP) and its affiliated organizations.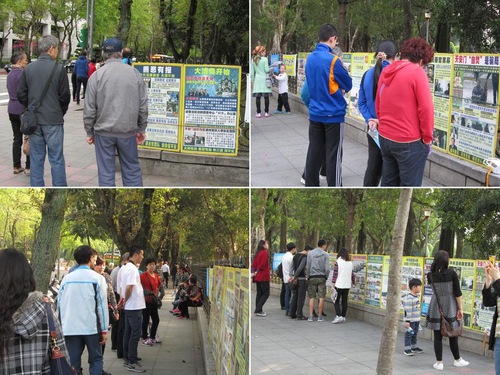 The opportunity to learn about Falun Gong often draws the attention of tourists, especially those from China.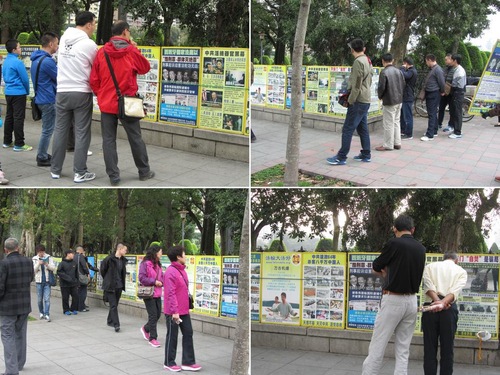 Chinese tourists listen to practitioners explaining the facts about the persecution.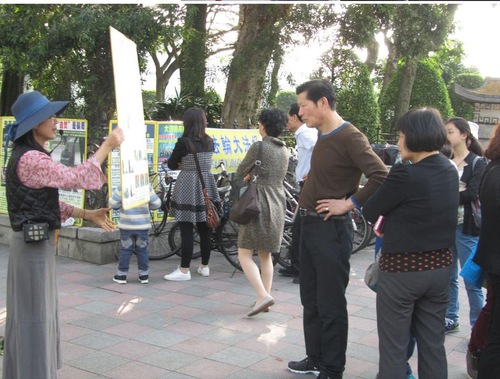 Chinese tourists view a display board while listening to a practitioner.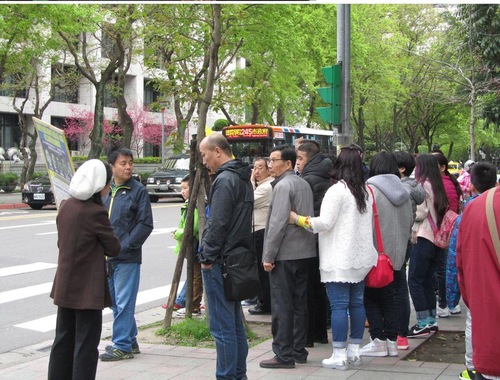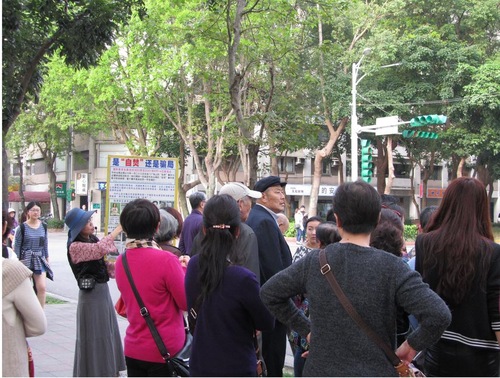 Busloads of Chinese tourists visit Sun Yat-Sen Memorial Hall each day. Posters await them at the East entrance telling them about the benefits of Falun Gong and about the persecution. Many Chinese tourists decide to quit the CCP after learning about the crimes that the Chinese regime has committed.
Happiness After Quitting the CCP
Three Chinese men renounced their membership in the CCP organizations using aliases. They congratulated each other and said, "Happy Chinese New Year! We are all safe now!" A woman from Zhengzhou City looked at the display boards and commented, "The CCP is so evil. I don't know if I want to be part of it!" She soon made up her mind and quit.
A young man from Shanxi Province said that he was once a member of the Young Pioneers, an organization for children affiliated with the CCP. After the practitioner helped him quit, he was excited and said, "I am going to find my friends and bring them here to ask them to quit too!"
"Falun Gong Is the Guiding Light"
A number of tour guides who are supportive of Falun Gong encourage their group members to talk to practitioners: "Look around and take photos or talk to the practitioners if you have questions." One tour guide asked a practitioner to speak directly to his group about Falun Gong while they waited for their bus.
A young tour guide told his group that if they didn't know which entrance to come back to after their free time, "Just remember to wait in front of the 'Falun Dafa is good' banner." A member of his group said with a big smile, "That's easy, Falun Gong is the guiding light."