Deputy President of Shanghai People's High Court Dies of Heart Attack
March 10, 2015 | By a Minghui correspondent in Shanghai, China
(Minghui.org) Editors' Note: In both Western and Chinese culture, the principle of karmic retribution, that is, being held ultimately accountable for one's own actions, is widely accepted. The fundamental teaching of Falun Gong is the characteristic of the universe, Truthfulness-Compassion-Forbearance. The universe will reward actions that are in harmony with this principle, while actions such as beating, torturing and murdering people will incur karmic retribution. Stated another way, good deeds will be rewarded with good, while evil deeds will meet due retribution. This traditional viewpoint of "what goes around comes around" supersedes the control of the Chinese Communist Party (CCP).
Articles such as this one are meant as a compassionate reminder of this principle to those who would commit wrongdoing. While many of those who persecute Falun Gong are merely "following orders," the universal law requires that they too be held responsible for their actions, and that only by reversing their course of wrongdoing may they escape retribution.
Zou Bihua, deputy president of the Shanghai People's High Court, died from a heart attack on December 10, 2014. He was 47.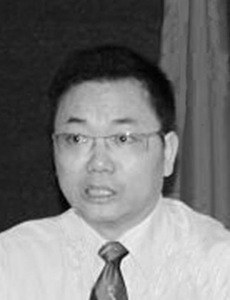 Photo of Zou Bihua
Zou was promoted to his latest position in October 2012. From 2008 to 2012 he was president of the Changning District Court. Under Zou's authority, many Falun Gong practitioners were illegally sentenced and detained in Tilanqiao Prison in Shanghai. Below are accounts of the arrests and abuse of several Falun Gong practitioners for which Zou Bihua was directly responsible.
Police Inspector Died 46 Days After Brutal Torture
Falun Gong practitioner Mr. Zhao Bin, from Shandong Province, was a police inspector and physician at Weifang Prison in Shandong Province. After leaving these positions, he worked for Mr. Pang Guangwen, also a practitioner, in Shanghai in the spring of 2012. Both men were arrested at work on April 27. They were prohibited from hiring defense lawyers.
Mr. Zhao and Mr. Pang were illegally tried on July 11, 2012. Mr. Zhao was sentenced to four years and Mr. Pang to five years. Their appeal to an intermediate court was rejected.
Mr. Zhao was taken to Tilanqiao Prison in Shanghai on September 3, 2013. He was severely tortured in prison because he refused the authorities' demands to renounce his belief in Falun Gong. He died 46 days later on October 19, 2013.
Talented Software Engineer Sentenced to 5 Years
Mr. He Binggang, born in Shanghai, won second prize in a contest for developing a computer sound support system for the blind when he was 15. He was admitted directly to Fudan University in 1994, thence to the Fudan Graduate School in 1998.
He was manager of a computer business department when he was arrested by agents from the 610 Office on April 15, 2010.
While in detention, Mr. He developed leg problems resulting from abuse. He was placed on medical parole in March 2011, but on April 17 that year, police broke into his house and arrested him again, claiming that his bail had been revoked. The next day, Mr. He was illegally sentenced to five years in prison.
Gifted Computer Scientist Sentenced to 8 Years
Mr. Yao Yuan moved from Hubei Province to Shanghai after he was fired from his job as a computer scientist because of his belief in Falun Gong. He and his wife were arrested by police in January 2011 for passing out informational materials about the persecution of Falun Gong by the communist regime. They were both detained in Changning District Detention Center. Mr. Yao was sentenced by Changning District Court to eight years. His wife was released on bail.
In detention, Mr. Yao refused to sign a repentance statement and insisted on upholding his spiritual belief. He was brutally tortured with a variety of methods, including the "death bed" and having his arms and feet shackled together for prolonged periods of time.
Bank Economist Sentenced to 3.5 Years
Practitioner Mr. Zong Xunyong moved from Jiangsu Province to Shanghai after losing his job due to the persecution. He was arrested on April 29, 2010 for posting materials about Falun Gong and the persecution, after which he was sentenced to three years and six months in Tilanqiao Prison.
While in detention, Mr. Zong was severely beaten, deprived of sleep, and shocked with electric batons.
Computer Teacher Sentenced to 2.5 Years
Practitioner Ms. Zhang Ying from Shanghai was arrested on September 8, 2009 and charged with "teaching people computer skills." The Changning District Court sentenced her to two and a half years on June 4, 2010. The intermediate court rejected Ms. Zhang's appeal. She was brutally persecuted while in detention.