Woman Arrested a Tenth Time for Practicing Falun Gong, Now in Detention
February 22, 2015 | By a Minghui correspondent in Hubei Province, China
(Minghui.org) Ms. Zhou Ailin from Wuhan City, Hebei Province has been in detention since her 10th arrest last October. Her alleged "crime" was her practice of Falun Gong, a self-cultivation system being persecuted by the Chinese Communist Party.
Ms. Zhou's parents were notified to bring clothes for their daughter. When they arrived at the detention center to deliver the clothing, they were not allowed to see her in person. The brainwashing center told them they would release their daughter the day after New Year's Day, but that never happened.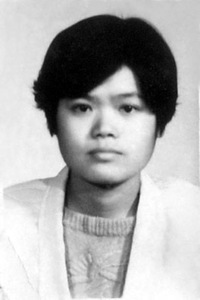 Photo of Ms. Zhou Ailin
Latest Arrest and Torture
Ms. Zhou, a 46-year-old government employee, was arrested on October 2, 2014 for clarifying the facts about Falun Gong. She was detained at Wuhan City First Detention Center for two weeks before being transferred to Etouwan Brainwashing Center in Qiaokou District by agents of the 610 Office on October 16.
Ms. Zhou is being subjected to solitary confinement in a small room on the third floor at the brainwashing center. She is denied a reasonable amount of food and drink, and is only occasionally given a small bowl of diluted porridge.
Practitioners who are tortured by being starved over long periods have said this is the most unbearable type of persecution. It causes dizziness, confusion, and fainting. The suffering is magnified in cold weather.
The brainwashing center told Ms. Zhou's work unit to provide two employees as "transformation companions," who would monitor her around the clock. When her work unit failed to do this, the 610 Office extorted 8,000 yuan from the work unit each month, which is taken out of Ms. Zhou's wages.
Arrest Record
With this latest arrest, Ms. Zhou has been arrested 10 times in the past 15 years. During each confinement, she was placed in tight quarters and tortured.
Persons Responsible for Persecution
Zhu Laxiang (朱腊香): chief of the Brainwash Center, Qiaokou District, Wuhan City, +86-278-3253549Xie Xiaofeng(谢晓凤), deputy chief of 610 Office, Qiaokou District, Wuhan City, +86-1351-728-8716