Ukraine Media Praise Spiritual Strength in Falun Dafa Practitioners' Art
February 11, 2015 | By a Falun Dafa practitioner in Ukraine
(Minghui.org) A three-week art exhibition featuring artists who are also Falun Dafa practitioners was held in Kramatorsk City in Donetsk, Ukraine. Local museum curator Yelena Volkova and head of the Cultural Tourism Bureau Olga Borvinok spoke at the opening ceremony on January 22, 2015.
The city's mainstream media reported on the exhibition very favorably, covering the uniqueness of the artworks in relation to the artists' experiences in the persecution of Falun Gong in China.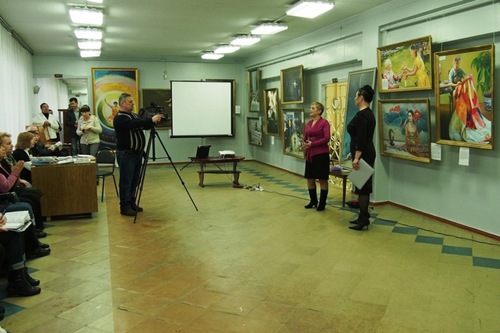 The local museum curator and the head of the Cultural Tourism Bureau spoke at the opening ceremony.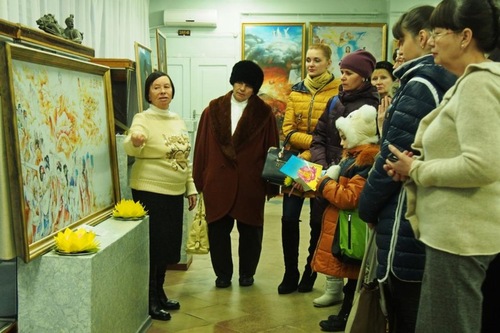 Visitors listen to the guide explain the artworks.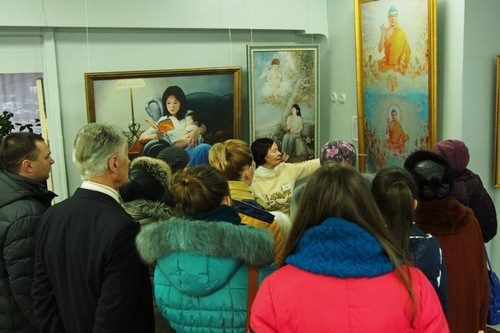 A visitor writes her comments in the guest book.
ПAPULSE-TV said in its report: "The Art of Zhen, Shan, Ren (Truth, Compassion, Forbearance) International Exhibition made its debut in Ukraine in 2008. The paintings express the true meaning of life and our origins and good and evil. The inner meanings of the paintings convey rich messages of compassion, sympathy, and endurance. The artists have won multiple awards inside and outside of China.
"The artists introduce Falun Dafa, an ancient mind and body practice, to the world based on their own life experience. The practice of Falun Dafa broadened their understanding of the world and enabled them to find higher meaning in life and in art. They enrich their lives with Truthfulness-Compassion-Forbearance and reflect that in their art.
"The main characters in the paintings are not fictional. They persevere in their faith and display stunning spiritual strength and incredible courage. Some of the artists have experienced the persecution, which began in 1999, firsthand in prison.
The official website of Kramatorsk City mentioned in its report: "Twelve artists from Taiwan, Japan, Singapore, America, and Canada incorporated their understanding of the belief of Truthfulness-Compassion-Forbearance into the 40 paintings. The artists currently reside outside of China so as to have refuge from the persecution of Falun Gong.
"The Art of Zhen, Shan, Ren (Truth, Compassion, Forbearance) International Exhibition started in 2006 and has traveled to over 50 countries. It has been held 24 times in Ukraine, but this is its first time in Donetsk Oblast.
"Each painting is full of compassion, even the very dark scenes [of torture and persecution]. The paintings impress the viewers deeply—this is the uniqueness of those artists."
The city has gone through turbulence in the recent war in Ukraine. During activities hosted by Falun Dafa practitioners, some residents hoped to see more of such events and remarked that practitioners' events were very beneficial for healing.