Bucharest, Romania: Raising Awareness of the Persecution in China
December 07, 2015 | By a Falun Gong practitioner
(Minghui.org) A display was set up on Sfantul Gheorghe Square in downtown Bucharest, Romania on November 29, as local Falun Gong practitioners demonstrated the exercises and talked to people about the persecution in China.
Passers-by signed a petition to the United Nations High Commissioner for Human Rights calling for his help to stop organ harvesting atrocities victimizing Falun Gong practitioners in China.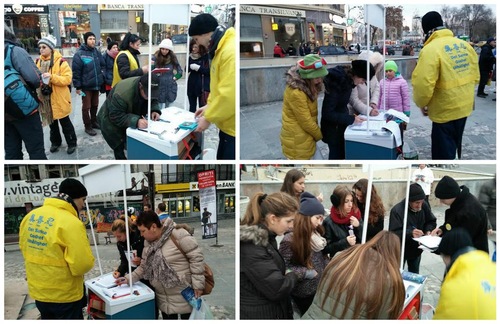 Bucharest residents sign a petition to end organ harvesting atrocities in China.
A man in his 50s said that Romania was long controlled by the communist party and he therefore knew well about state terrorism. He signed the petition without hesitation.
One young woman remarked that she would tell her friends about what she had learned to support efforts to stop illicit organ harvesting. She was particularly interested in the efforts undertaken by the Doctors Against Forced Organ Harvesting group.
A gentleman asked for more information about the persecution. He indicated he would like to do something to help stop the persecution.
A middle aged lady and her daughter came to learn about the persecution in China. Both of them signed the petition.
There were also groups of young people who came to sign the petition. Hearing of former Chinese dictator Jiang Zemin's responsibility for the persecution, some expressed their hope that he would be held to account.