Falun Gong Practitioners from Pingtung, Taiwan, Wish Master Li Hongzhi a Happy New Year
(Minghui.org) Falun Gong practitioners from Pingtung, Taiwan, gathered at the historical city wall of Hengchun on December 20, to wish the founder of Falun Gong, Master Li Hongzhi, a Happy New Year.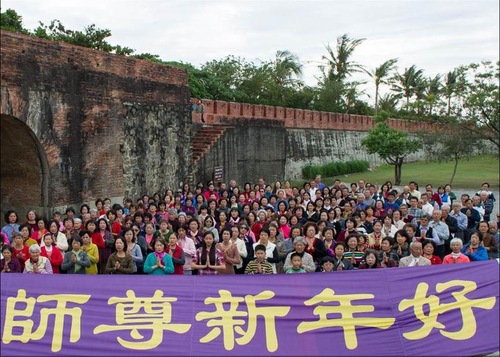 Practitioners in Pingtung send New Year's greetings to Master Li Hongzhi
A popular tourist spot, the old city wall and gates attract visitors from around the world, including many tourists from mainland China. Practitioners often go there to talk to visitors from the mainland, sharing how they have benefited from practicing Falun Gong. For many Chinese people, this is their first opportunity to hear about Falun Gong from those who actually practice it, as any information other than state-sponsored negative propaganda is tightly censored in their home country.
Chen Yanting shared how she had a severe problem with dry eyes, hypotension, and anemia. She'd also had five surgeries due to other illnesses. Taichi and other qigong practices didn't help, until one day her sister introduced Falun Gong to her. After practicing for three months, Ms. Chen found that the dry eye problem, from which she had suffered for 20 years, was gone. Her other ailments were gradually healed also.
Ms. Chen told a tourist that she used to be a shy person who always lacked confidence, but now she is happy and outgoing. "Practicing Falun Gong is amazing," she smiled.
Sixty-six-year-old Chen Yaohuang had serious allergies most of his life. Nothing had helped. When he was 61, he started practicing Falun Gong with his mother, and soon after, his allergies stopped. He knows that practicing Falun Gong continually purifies his body, which encourages him to diligently cultivate himself according to Falun Gong's principles of Truthfulness, Compassion and Forbearance.
One woman from mainland China was glad to see Falun Gong practitioners at the old Hengchun city wall. "You guys look so peaceful! I certainly believe what you told me – Falun Gong is great," she said. Then she shared, "Actually, I've started practicing Falun Gong myself recently, and I've told my friends not to believe the government's propaganda."
Over the course of the day, many Chinese tourists signed a petition supporting Falun Gong practitioners' lawsuits against former Chinese leader Jiang Zemin for launching and directing the brutal, 16-year persecution of Falun Gong in China.