New Zealand: Falun Gong's Divine Land Marching Band Warmly Received at Santa Parades
December 25, 2015 | By Minghui correspondent Zhang Qin in New Zealand
(Minghui.org) Christmas parades and celebrations have been held in towns and cities nationwide in New Zealand between late November and mid December. The Divine Land Marching Band, comprised of Falun Gong practitioners, participated in Santa Parades in Wellington, the capital city, and a few other cities. Their resounding performance was met with warm applause and cheers from the spectators. The parade organizers in Tauranga issued the award for "Best Sound" to the band.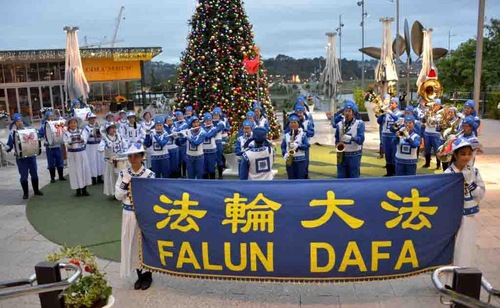 Divine Land Marching Band performs at Alberni Mall during a Christmas celebration.
The Divine Land Marching Band appeared for the first time at the Christmas celebration at Alberni Mall, an outdoor community shopping center. Shoppers were drawn by the performance.
Pauline Batchelor, who watched the band's performance for a long time, said, "The band's performance is terrific, I like it very much."
Ms. Batchelor said that her first encounter with Falun Gong was in Hong Kong, where she visited her son years ago. "I believe in the principle of Truthfulness-Compassion-Forbearance, although I'm not a Falun Gong practitioner," she said, "It's the universal value. People should care for one another."
The Divine Land Marching Band marches in the Santa Parade in Hamilton.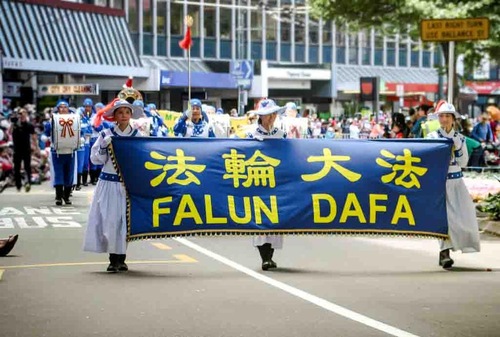 The Divine Land Marching Band in Wellington's Santa Parade.
The Santa Parade held in Wellington was the final parade that the Divine Land Marching Band participated in this year. The spectators packed both sides of Lambton Quay, the famous central business district. The organizers estimated the turnout to be 50-60,000.
Margo, a Falun Gong practitioner, said that Falun Gong's Divine Land Marching Band has participated in the Wellington Santa Parade for ten years. The band's performance has become a repertoire of the parade.
Margo said, "The performance of the Divine Land Marching Band is majestic and peaceful, which can strike a chord in people's hearts... They are warmly welcomed wherever they go every year."