Greece: Falun Dafa Experience Sharing Conference Held in Athens
(Minghui.org) Falun Gong practitioners from Greece, Cyprus, Sweden, Israel, Australia, and the United States gathered in Athens on December 13 for the second annual Greek Falun Dafa Cultivation Experience Sharing Conference.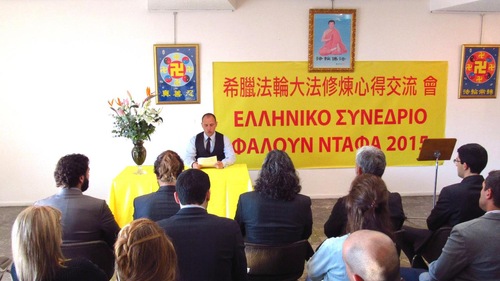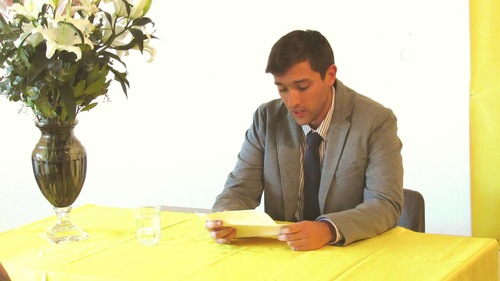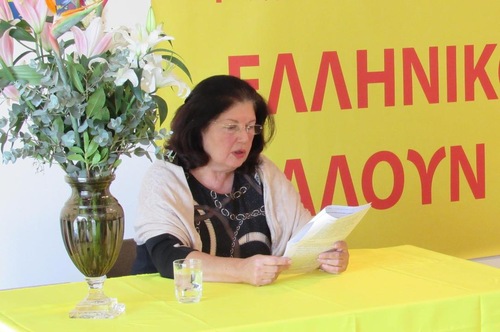 Practitioners present experience-sharing articles
Natalia, one of the speakers, shared experiences in promoting the Art of Zhen, Shan, Ren Exhibition held at the famous tourist island of Santorini in September. Due to interference from the Chinese embassy, she developed fear and did not even dare to pass out flyers to Chinese tourists.
One day, at a local restaurant, Natalia saw a group of Chinese people. She hesitated. A waiter from the restaurant shouted at her: "Why don't you give your flyers to these Chinese?" He grabbed the flyers from her, delivering them to everyone in the group, saying: "Look, truthfulness, compassion, and forbearance."
Natalia realized that this was a hint telling her to get rid of her fear. "What I am doing is righteous. What should I am afraid of?" she realized. After this incident, she had courage to talk to Chinese people about the persecution of Falun Gong, and the art exhibition was a big success.
Another speaker, George Tzokas, had joined a peaceful protest during the summit of 16 countries in Serbia. He overcame his fear, and talked about Falun Gong to officials in the Greek Embassy in Belgrade. The Greek officials were supportive and even showed interest in learning the exercises. Through the experience in Belgrade, George said he developed new respect for practitioners in China, who have persisted in telling the public about Falun Gong and the persecution despite the pressure from the communist party. He said he also realized the responsibility of the practitioners in the international community.
A new practitioner, Ioanna Tagari, shared in her speech how she realized that her competitive mentality and other attachments interfered with her in talking to government officials about Falun Gong. Through reading the Fa and talking to other practitioners, Ioanna realized that she should keep righteous thoughts in the face of interference, and eliminate any negative thoughts.
Ioanna noticed that she was reluctant to help those who are not against communism. Later, she realized that Dafa is benevolent, and she should not have the notion of differentiation, but should try to help everybody to understand what Falun Gong really is.
Ioanna K. from Cyprus shared her experiences of collaborating with fellow practitioners from Greece and promoting the practice in her home country. She goes to a park every morning to demonstrates the exercises and pass out flyers. She said that that many newcomers in Cyprus have joined their local exercise sites.
Explaining in his speech how the teachings of Falun Gong changed him, Kostas said he went from refusing to listen to others, to humbly taking others' suggestions. He said that he sensed the sacredness of practitioners working together on Dafa projects.
Alexandros, a new practitioner, had financial troubles with his hotel business. He said that after he put down his attachment to money, he realized that he should turn the hotel to a place where people could learn about Falun Gong. As his mind changed, the financial situation of the business suddenly improved, and more importantly, he improved in cultivation.
After the day-long conference concluded, several attendees commented that the speeches were helpful and encouraged them to be more diligent in cultivation.