Two Practitioners Tortured by Police in Dunhua, Jilin Province
December 21, 2015 | By a Minghui correspondent in Jilin Province, China
(Minghui.org) Ms. Deng Lijuan and Ms. Chen Xiuyun were arrested and tortured at the Dunhuan City Police Department in Jilin Province.
The two women were arrested in a neighborhood district on August 4, 2015 while distributing information about the persecution of Falun Gong by the Chinese communist regime.
Officers Zhang Zhiqiang and Wang Feiyu cuffed each woman in an "iron chair" and interrogated them. They slapped their faces, pulled their hair to prevent them from falling asleep, and poured cold water over Ms. Deng to revive her when she fainted. The police tortured Ms. Deng and Ms. Chen until August 6, when they took them to a detention center.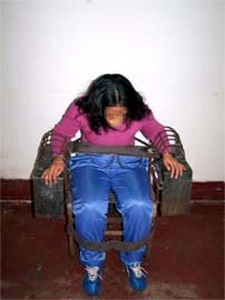 Torture reenactment: cuffed in an "iron chair"
Thirteen days later, Ms. Chen's family paid 3,000 yuan so she could be released due to poor health.
Ms. Deng is still held in the Yanji City Detention Center, charged with "using a cult organization to undermine law enforcement"–a charge commonly adapted by the regime to sentence Falun Gong practitioners.
Ms. Deng's husband was tortured to death on April 7, 2004 in a forced labor camp, also for practicing Falun Gong. During his incarceration, Ms. Deng was forced to live away from home to avoid further persecution and was unable to bid him farewell. Her son had to work to support himself from the age of 13; he later died in a car accident.