San Francisco: Daughter Seeks Help to Rescue Parents Detained in China
December 12, 2015 | By Li Ruoyun in San Francisco
(Minghui.org) At a rally in front of Chinese Consulate in San Francisco on December 10, World Human Rights Day, Ms. Yao Yuanying, a media engineer from the Bay Area, was asking for help to rescue her parents who were detained in Nanyang City Henan Province about a week ago.
According to Ms. Yao, six Falun Gong practitioners, including her father Yao Guofu and mother Liang Xin, were arrested on December 5 when they were reading Falun Gong books at her father's apartment.
More then 30 plainclothes police came to Yao's apartment building that morning. They broke into Yao's apartment, arrested 6 Falun Gong practitioners, confiscated two computers, 4 printers, more than 100 calendars and many other things packed into 10 large boxes.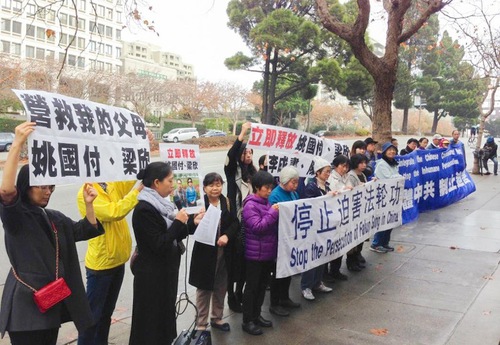 Rally in front of Chinese Consulate in San Francisco calling for the release of illegally detained Falun Gong practitioners.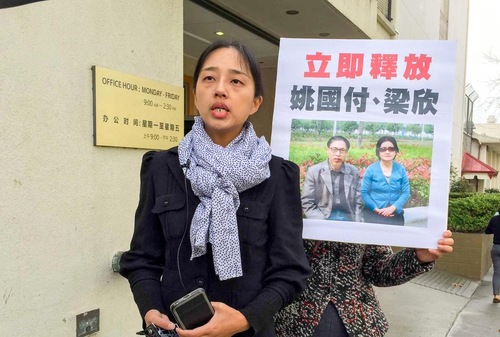 Yao Yuanying, a media engineer in the Bay Area, seeks help to rescue her parents Yao Guofu and Liang Xin.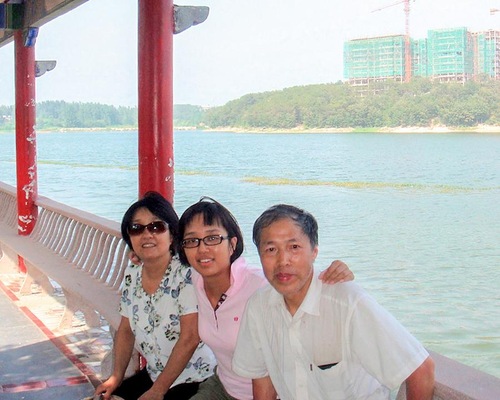 A family photo of Yao Guofu, Yao Yuanying, and Liang Xin, father, daughter and mother.
During the arrest and ransacking, Falun Gong practitioner Wang Xiao, who lived on 6th floor, fell from her window. A witness said she died on the spot.
Yuanying worried that her parents might be tortured in detention, just as she was. Yuanying was tortured during a 20-month-long forced labor detention at "Beijing Women's Labor Institute." She later stopped her doctoral studies at Beijing Normal University and fled to the United States.
She believes that her parents' arrest may be related to their recently filing a lawsuit against former Chinese dictator Jiang Zemin (who ordered the persecution of Falun Gong in July 1999).
At the rally in San Francisco, Falun Gong practitioner Zeng Wenbiao commented that many high Chinese officials who had actively participated in the persecution of Falun Gong, have been brought down because of corruption.
He called on the Chinese policemen to stop carrying out the policy of persecution and treat Falun Gong practitioners kindly.
"Being kind to good people is the same as being kind to yourself. You will have a bright future if you support Falun Gong." Added Zeng