South Korea: Rally and Press Conference Urge Chinese Officials to Recognize Changing Situation
(Minghui.org) Timed to coincide with Chinese Prime Minister Li Keqiang's visit to Korea, the Falun Dafa Association of South Korea held a press conference and rally at the Chinese Embassy in Seoul on October 31, 2015, urging embassy officials to recognize the changing situation in China and stop aiding the Communist Party.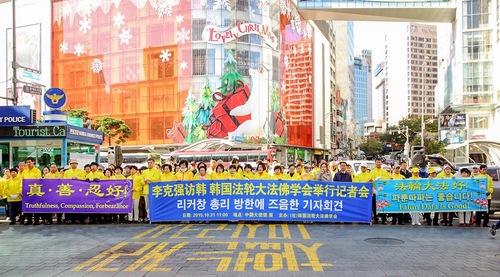 The Falun Dafa Association of South Korea held a rally and press conference at the Chinese Embassy on October 31, 2015.
Dr. Wu Shilie, spokesperson for the Falun Dafa Association of South Korea, told reporters that many high ranking Chinese officials who assisted Jiang Zemin in persecuting Falun Gong have been arrested and jailed for corruption, including Zhou Yongkang, Xu Caihou, and Li Dongsheng.
He said former Chinese dictator Jiang Zemin and his accomplices would all be brought to justice.
Wu pointed out that some Chinese diplomats had spread lies and propaganda defaming Falun Gong to Korean officials, making many of them refuse to listen when anyone tried to present the facts about the persecution to them.
More than 190,000 Chinese (Falun Gong practitioners and their family members) have filed criminal lawsuits against Jiang Zemin with the Supreme Procuratorate of China and the Supreme Court of China since last May, according to the Minghui website.
He urged embassy officials to recognize that the situation in China is changing and to stop aiding and abetting the Chinese Communist Party in vilifying Falun Gong.