Police Arrest Resident's Son, Damage Security Door During "Home Visit"
November 04, 2015 | By a Minghui correspondent in Hunan Province, China
(Minghui.org) Police officers tried to pry open Ms. Huang Yuanqiao's security door during what they termed a "home visit" on October 20, 2015. Ms. Huang refused to open the door because the officers had repeatedly harassed her for practicing Falun Gong, a spiritual practice being persecuted by the Chinese communist regime.
Officers from the Guangchang Police Station and Huaihua Railroad Police Department in Huaihua City, Hunan Province knocked at Ms. Huang's door in the early morning.
At 7:00 a.m., her son Li Lianlian was arrested when he left home for work. He is being held in the Zhongfang Detention Center.
When officers then pried the door open, the door became stuck, and no one could enter or leave the home. Ms. Huang was thus trapped in her home for the entire day.
A community security officer came the next day and told her that she had to get the door fixed. That afternoon, she found a locksmith, who managed to opened the door.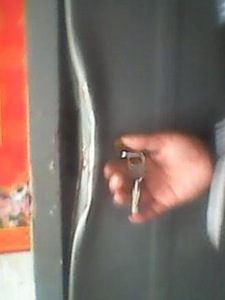 Security door damaged by police
Perpetrators' Contact Information:Guo Chun(郭纯), director, Huaihua Railway Police Department: +86-13789282798 (cell)Qi Yanzheng (齐彦征), commissar, Huaihua Railway Police Department: +86-13973090033 (cell)Zhang Weijian (张卫健), officer, 610 Office: +86-13707452352Yang Jun (杨俊), party secretary, Hecheng District Political and Legal Affairs Committee: +86-18607451616 (cell)Zeng You (曾友), deputy party secretary, Hecheng District Political and Legal Affairs Committee: +86-13787582188 (cell)