Singapore: Calling to Bring Former Chinese Leader to Justice Prior to Xi Jinping's Visit
November 04, 2015 | By a Falun Gong practitioner in Singapore
(Minghui.org) A large banner reading "Global Support for Lawsuits in China against Jiang Zemin's Crime in Falun Gong Persecution" in both Chinese and English and similar banners were displayed in Hong Lim Park in Singapore on November 1, 2015.
It was part of the peaceful demonstration held by Falun Gong practitioners prior to the upcoming visit of Chinese President Xi Jinping on November 6-7. Practitioners called upon Xi to hold Jiang Zemin accountable for initiating and directing the 16-year persecution of Falun Gong in China.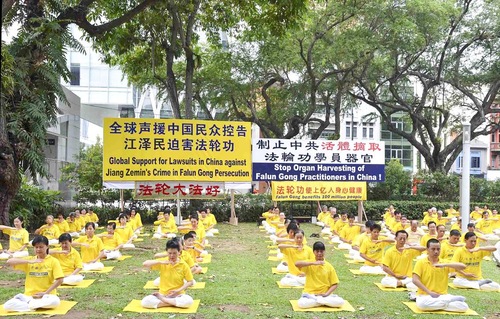 Practitioners in Singapore rally in Hong Lim Park on November 1, 2015 to raise awareness of Chinese Communist Party's atrocities against Falun Gong.
Many passersby stopped to learn about the persecution and the lawsuits against Jiang. Many signed criminal report forms as they learned that more than 190,000 Chinese people have filed criminal complaints against Jiang since May in China and about 770,000 people in the Asian countries have signed criminal report forms since April to support the efforts to prosecute Jiang.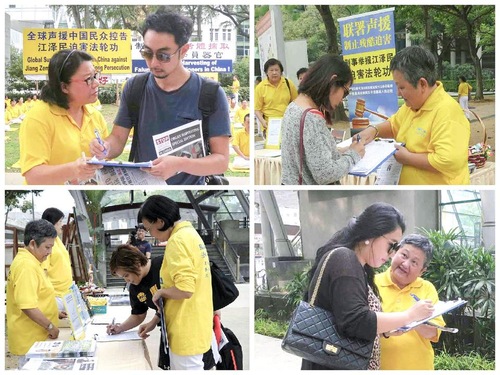 People sign to support the lawsuits against Jiang Zemin
Mark Ward who works in the financial industry in Australia was traveling in Singapore with his family. "It's unacceptable," he said of the forced organ harvesting crimes against living Falun Gong practitioners. "Only by the awakening of the Chinese people, can the Chinese Communist Party's killing and atrocities be stopped," he added. He and his wife signed criminal report forms in support of the lawsuits against Jiang Zemin.
"Forced organ harvesting is inhuman, and should be stopped," said another passerby Zarifah Zohri, a Malaysian who works as an assistant at a clinic in Singapore. She said she hopes that the perpetrators will be held accountable.
Mr. Chen Yuan, a 47-year-old psychologist and native Singaporean, also signed a criminal report form. He said that Falun Gong practitioners' efforts to raise awareness of the persecution helps many people learn what's really happening in China. He mentioned that he had seen many similar Falun Gong events at tourists attractions in Hong Kong, Malaysia and other countries.
"I'll look into it [the persecution] after getting home," said another Singaporean. "I'll come to support if you hold such activities again."