Kaohsiung, Taiwan: City Council Member Files Criminal Report against Former Chinese Dictator
November 22, 2015 | By Sun Bai and Su Rong in Taiwan
(Minghui.org) As of the end of this October, more than 770,000 people in Asian countries other than China have filed criminal reports with the Supreme Court of China against former Chinese dictator Jiang Zemin for initiating the persecution of Falun Gong in 1999.
Kaohsiung City Council Member Ms. Chen Hsing-yu recently showed her support for Falun Gong by filing her own criminal report.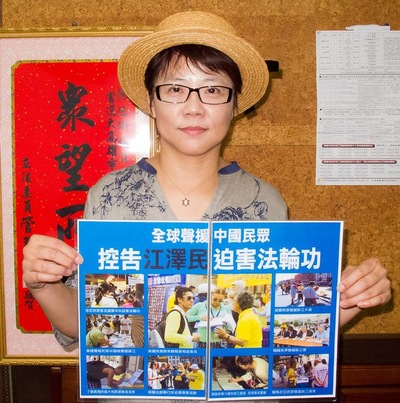 Kaohsiung City Council Member Ms. Chen Hsing-yu showed her support for Falun Gong by filing a criminal report against Jiang Zemin, the former Chinese dictator who ordered the persecution of Falun Gong.
Council Member Chen said that the Chinese regime is persecuting Falun Gong in covert ways so that the rest of the world is basically unaware of it and that the persecution is more brutal than one can imagine.
She expressed her respect for Falun Gong practitioners for their belief in Truthfulness-Compassion-Forbearance and for their endeavors to resist the persecution peacefully.
"We need the Chinese leaders to recognize that mainstream public opinion is against the persecution and that more political, government, and community leaders must voice their support (for Falun Gong) and condemn the persecution," she said.
Ms. Chen also urged current Chinese leader Xi Jinping to stand up for justice and protect China's reputation by subjecting former dictator Jiang Zemin to a fair and rigorous trial.
Well-known Taiwan attorney Mr. Wang Han-yu remarked that Falun Gong is an upright belief because it promotes Truthfulness-Compassion-Forbearance.
Commenting on the lawsuits being filed against Jiang Zemin in China with regard to the judicial system in Taiwan, he said, "According to the laws in Taiwan, a retired state leader is still responsible for any crimes committed in the execution of his duty. We have the right to complain or report any criminal behavior."
He said that the authorities have a responsibility to protect the whistle-blower before an investigation is completed, and, that if the Chinese government is serious about its promises of judicial reform, it should protect those who have reported such crimes.
He also warned the Chinese police not to harass the Falun Gong practitioners who have filed lawsuits (against Jiang Zemin), because that is also a crime.