"People Can Sense Your Compassion" – Falun Gong at New Zealand Health Festival
(Minghui.org) Many people learned about Falun Gong, an ancient Chinese cultivation practice, at the "Healthy Life Festival" in Mt. Maunganui, New Zealand, on November 7 and 8. Most of them registered at the Falun Gong booth for the free exercise classes.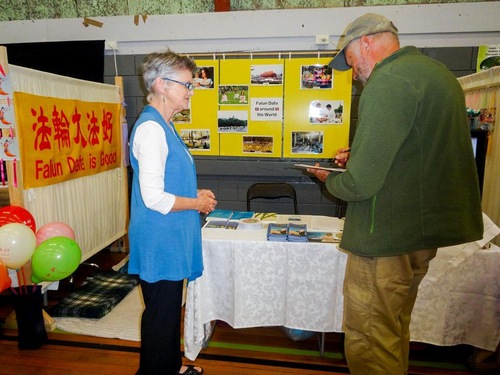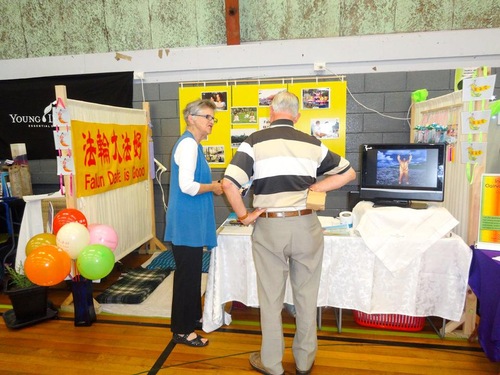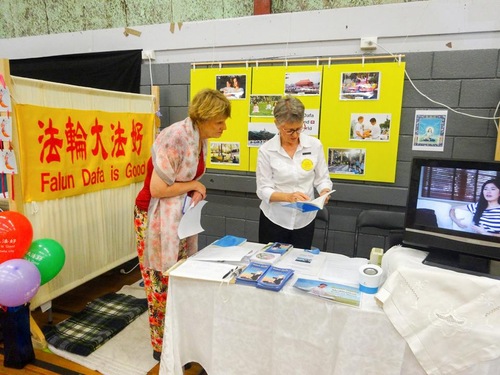 Falun Gong booth at the Healthy Life Festival, Mt. Maunganui, New Zealand
Ron Coutts, a retired marketing manager in the architecture business, talked to practitioner Ms. Shang for a long time at the festival. Ron first heard about Falun Gong years ago and has since learned a great deal about it. He believes that practitioners' peaceful response to the persecution of Falun Gong in China has definitely gotten people's attention, and he feels that is very important.
Ron said that what Falun Gong teaches – Truthfulness-Compassion-Forbearance – is an unchanging, universal law. He admires practitioners' forbearance, especially in the face of the 16-year persecution of the practice in China. "Their spirit of unconditional forbearance and compassion have been witnessed. It is the truth. They know what they are doing. It is just that simple," Ron said.
Ron also sensed the strong energy field from Falun Gong practitioners. "Anybody... can feel your energy," he said. "I believe that people can sense your compassion, and your compassion will be rewarded."
Ron calls the persecution of Falun Gong unacceptable. "It is like a double-edged sword," he said. "Those who hurt others will have to pay them back."
Judy, a Falun Gong practitioner from Tauranga, told visitors that she has been practicing Falun Gong for six years and that three of her children have been practicing for more than ten years. "We have become happier and healthier and full of energy. I can handle all kinds of difficulties in daily life. Everything becomes so simple," she smiled. "I want to bring the beauty of Falun Gong to everybody here. I am happy that so many have registered for our free exercise class."