Germany: Chinese Students Thank Falun Gong Practitioners for Raising Awareness
November 13, 2015 | By a Falun Gong practitioner in Europe
(Minghui.org) A Falun Gong "Information Day" activity on November 7, 2015 received about a dozen tour groups from China as well as other tourists from around the world. The event was held at Lake Titisee in the Black Forest region of Germany, one of the most heavily frequented tourist destinations and resorts in the country.
Many Chinese visitors seemed surprised to encounter Falun Gong practitioners and eager to learn about the persecution of this ancient spiritual belief, information they could not easily access in China.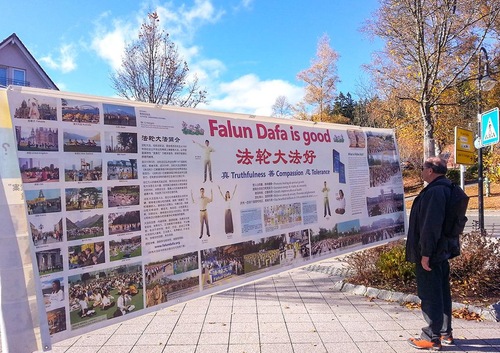 One of the display boards set up at Lake Titisee, Black Forest, Germany during a Falun Gong "Information Day" activity on November 7, 2015.
Chinese Students' Questions Get Answered
A group of Chinese students from a renowned university in Germany raised many questions, such as, "What is Falun Gong all about?" "Why does the Communist Party persecute Falun Gong?" and other questions.
A Falun Gong practitioner told them that he began practicing Falun Gong 20 years ago because of his university professor who had her heart problem cured after learning Falun Gong. He also learned from reading Falun Gong books that Falun Gong teaches people how to become a better person and it benefits oneself and others.
The practitioner shared his understanding regarding why the CCP persecutes Falun Gong. He said that Falun Gong spread rapidly in China in the mid-1990's because of its tremendous effects in improving people' health and spiritual well-being. When the number of Falun Gong practitioners exceeded that of the communist party, Jiang Zemin, former head of the CCP, out of jealousy, launched the violent suppression of Falun Gong.
The practitioner also explained to the students the significance of the movement among Chinese to withdraw their memberships in the Chinese Communist Party and its organizations so as to take a stance against its atrocities.
The students listened so intently that they almost forgot that they had to catch a train until one of them reminded everyone.
The practitioner said, "I encourage you to do more research on the persecution and to withdraw from the Party and its affiliated organizations online."
As the group of students hurried toward the train station, they called back to the practitioners, "Thank you! Thank you, Falun Gong!"
A Shanghai Couple Applauds Lawsuits against Jiang Zemin
A Shanghai couple began talking with a Falun Gong practitioner about the corruption of the Chinese regime. The practitioner told them how Jiang Zemin launched the persecution of Falun Gong in 1999, and that he has gone so far as to order the harvesting of organs from living Falun Gong practitioners for profit.
When the practitioner told the couple about the movement to bring Jiang to justice, one of them said, "We've heard about that, but didn't know if it was real. Bring Jiang to justice, we Shanghainese people applaud it!"