Shen Yun Symphony Orchestra Performs to Full House in Toronto, Canada
October 09, 2015 | By Minghui correspondent Zhang Yun
(Minghui.org) The Shen Yun Symphony Orchestra began its 2015 fall season on October 3 in Toronto, Canada at Roy Thomson Hall. The sold-out performance was met with standing ovations and two encores. Audience members expressed high respect for the orchestra's mastery in music, unique arrangements, and cultural significance.
As part of Shen Yun Performing Arts, the Shen Yun Symphony Orchestra shares the mission to revive 5,000 years of Chinese culture. It is known for its versatility to perform Chinese melodies on a full-scale symphony orchestra. It is the first to combine both Chinese and Western instruments in harmony.
This season, Shen Yun Symphony Orchestra will perform in eleven cities in the United States and Canada. It will be performing original works from the 2015 Shen Yun dance performance as well as western classics.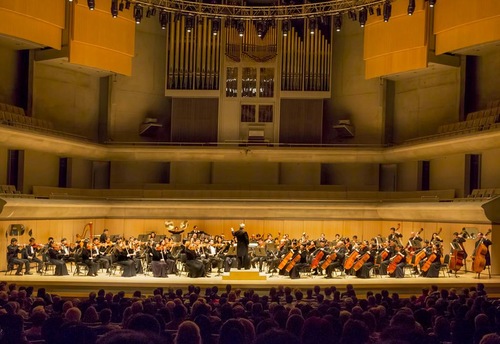 Shen Yun Symphony Orchestra performing at the Roy Thomson Hall in Toronto
Conductor: Unique and Powerful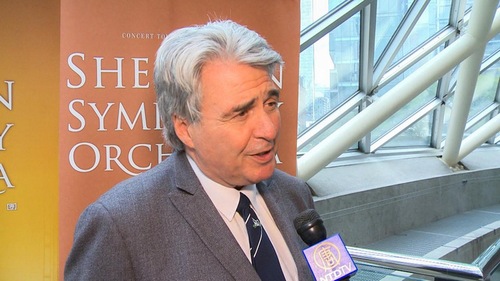 Kerry Stratton, conductor of Toronto Concert Orchestra
"The combination is beautiful...It's a fresh experience every time," said conductor Kerry Stratton, after seeing Shen Yun Symphony Orchestra's performance on October 3.
Mr. Stratton could understand the challenges Milen Nachev, the conductor of Shen Yun, faces and he showed high respect for him. "He is a very fine conductor. I admire him very much," he said.
"To combine that sound—that very ancient sound with the more modern, let's say, Western symphony orchestra sound—is a challenge that they've met very well," he continued.
Mr. Stratton also appreciated the performance of the vocalists. "They are powerful. I enjoyed all the soloists. They have such sustaining power. It was really quite astounding. They can really deliver those arias."
Milen Nachev, conductor of Shen Yun Symphony Orchestra
Ballet Masters: "Marvelous Work"
Solomon Tencer (left), producer of Stars of the 21st Century, and Nadia Veselova-Tencer (right), founder and artistic director of the Academy of Ballet & Jazz
"It's absolutely fantastic," said Nadia Veselova-Tencer, a choreographer, dancer, and award-winning master dance teacher.
"I enjoyed it very much... It is not so often you can see such marvelous work," she continued.
"It's a beautiful concert. We'd like to thank the company for coming to Toronto and giving us this opportunity to come and visit and listen," said her husband Solomon Tencer, the producer of Stars of the 21st Century.
Radio Hosts: "Absolutely Brilliant"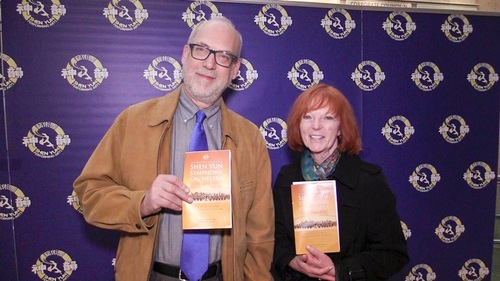 Rick Phillips(left), CBC Radio host and producer of classical music program, "Sound Advice"
"The arrangements were very well done. Nicely balanced, nicely proportioned...Just perfect," said CBC Radio host and producer Rick Phillips.
Mr. Philips appreciated the ancient culture that Shen Yun is bringing back, "History is too important. Our culture is too important. Regardless of East, West, Chinese, Canadian, American, English—we should study our ancient culture."
"Don't miss it," he would like to say to others.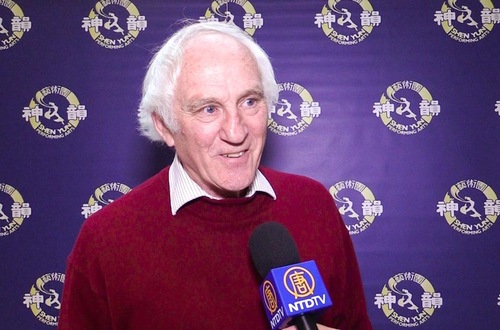 Tom Quick, radio host of FM 98.5 CKWR in Kitchener-Waterloo
"I would say they are, without question, one of the best orchestras I have heard in a long, long time...They are a first-class orchestra," said Tom Quick, radio host of FM 98.5 CKWR.
"It's quite an experience. I thoroughly enjoyed it. I'm very impressed with how they mix the traditional music from China with the Western music," he said.
Mr. Quick was also impressed by the violinist and vocal soloists and described them as "absolutely brilliant."
"It's a very, very exciting concert and I'm really privileged to be here," Mr. Quick said.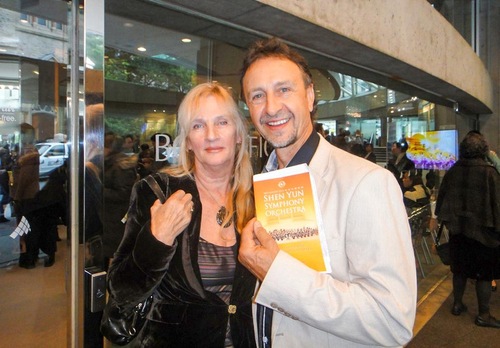 Musician Jan Hamko and his wife.
"Perfect!" exclaimed musician Jan Hamko, who was impressed by Shen Yun Symphony Orchestra's musical arrangements.
Mr. Hamko remarked that the combination of Chinese and Western instruments was a highlight of the performance.
"Very Moving" and "Very Emotional"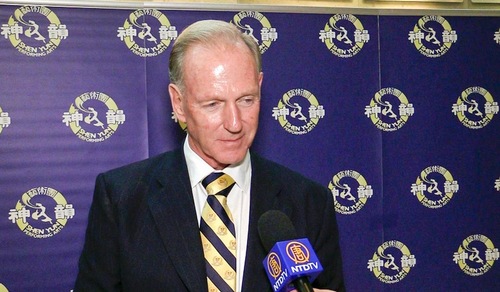 Company owner Peter Cullen
"The cultural instruments were very moving, very emotional," said Peter Cullen, board member of the Royal Agricultural Winter Fair and owner of companies that design and supply electrical and robotic systems.
Mr. Cullen also stressed the significance of Shen Yun's combination of Chinese and Western instruments, "It's a great opportunity to come and experience both Eastern and Western cultures and the mix of the instruments, and you do get a very distinct feeling of the emotion between the two different styles of instruments. You don't get that if you just see one or the other. So it's a very, very nice opportunity to compare."
"You Just Let Your Heart Go"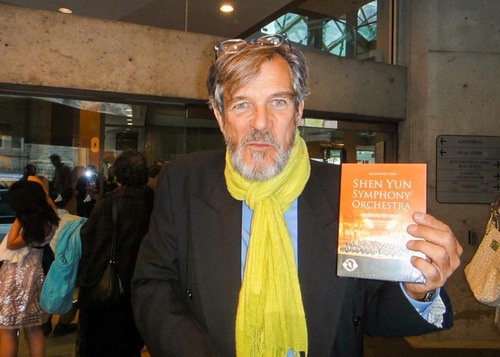 Retired Businessman Raymond Rouillard, who heard the entire concert at the entrance
Mr. Raymond Rouillard, a retired businessman, was not able to purchase tickets before they sold out. Instead, he listened to the concert at the entrance of the music hall.
He was thoroughly impressed, "I enjoyed it very much. I was amazingly surprised about how they can deliver this sufficiently to touch my heart that much, and I surprised myself that I was crying just by listening to the music, and got carried by the music."
"You just let your heart go," he said. "It's like if your heart is holding the hand of your soul, and they are walking together."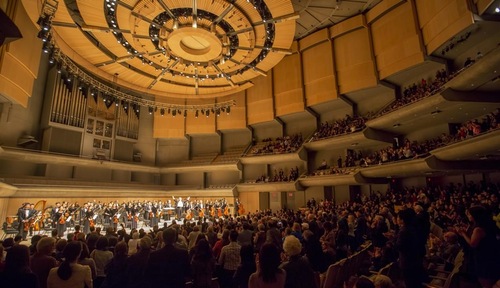 The first concert of the season of Shen Yun Symphony Orchestra concluded with two standing ovations.
Shen Yun Symphony Orchestra will continue to its tour in New York, NY on October 10, Washington, DC on October 11, and Sarasota, FL on October 13. For more information on tickets and dates, please visit http://www.shenyun.com/symphony.