Snapshot of Falun Gong Practitioners Whose Copies of Lawsuits Against Jiang Zemin Were Received by Minghui on September 25, 2015
(Minghui.org) Many Falun Gong practitioners are now exercising their legal right to sue Jiang Zemin for launching the persecution of Falun Gong and causing them great harm and tremendous suffering over the past 16 years. The momentum of this new wave of lawsuits against the former Chinese dictator is on the rise.
The Minghui website receives copies of criminal complaints against Jiang from many practitioners daily. In this report, we present a snapshot of some of the practitioners whose copies of lawsuits were received by Minghui on September 25, 2015.
These lawsuits are mailed to the Supreme People's Court and Supreme People's Procuratorate, which are required to process all criminal complaints filed by citizens, as of a recent ruling by the Supreme People's Court.
Brief Recap of the Three Lawsuits
The plaintiffs below learned Falun Gong before Jiang Zemin initiated the persecution in 1999. All three refused to renounce their faith, despite tremendous pressure applied by the Chinese Communist regime.
A successful entrepreneur lost his multi-million-yuan business and was arrested, harassed, and imprisoned in prisons and a labor camp. He was force-fed concentrated salt water and almost died.
A middle-aged teacher's arms were tortured in a prison and became permanently disabled. She was then taken to a forced labor camp for another three years, where she had to clean the cells.
A civil engineer was arrested, sentenced to a six-year prison term, and subjected to brainwashing for four months. He was fired from his job, his child was mistreated at school, and his wife was demoted.
Mr. Zhang Shizhen (张仕珍)
Profession: Construction developerHometown: Meizhou City, Guangdong ProvinceDate filed: June 29, 2015
Key FactsOnce a successful entrepreneur in the construction and engineering business, Mr. Zhang Shizhen lost all he had established because of the persecution of his spiritual belief.
Mr. Zhang, 61, began to practice Falun Gong in 1998. After the onset of the persecution in July 1999, he was arrested, harassed and imprisoned. His multi-million yuan business was forced to shut down.
His most recent arrest was on August 31, 2015. The police ransacked his home and confiscated all of his Falun Gong informational materials. He is detained in the Shunde Detention Center.
It is unknown whether his arrest was related to the criminal complaint he had filed against Jiang Zemin.
In the past sixteen years, Mr. Zhang had been detained and imprisoned in brainwashing centers and forced labor camps for six years in total.
"When I was detained at Sanshui Forced Labor Camp, two inmates monitored me around the clock. They didn't allow me to talk or sleep. I was forced to sit on a small stool and watch propaganda videos demonizing Falun Gong for a long time," Mr. Zhang recalled.
"The inmates often insulted and beat me. They humiliated me. It was like hell on earth," he said in his complaint.
He also said, "They forced me into military-style training under the baking sun. They forced me to perform labor, yet they didn't give me enough food. Some of the food they gave me was spoiled and smelled awful. The physical and mental torture I suffered is beyond description."
At one point, he went on a hunger strike to protest the abuse. The guards force-fed him concentrated salt water, and didn't stop even when he was choking.
"There was blood and salt water all over my body. Even the inmates became scared when they saw me. I almost died," he said in his complaint.
After he was released, police continued to harass him and monitor his family.He had to move from place to place to avoid being arrested. His elderly parents were traumatized by the continuous persecution he suffered.
"My 75-year-old father passed away while I was detained in the brainwashing center. Because of the persecution, I couldn't be with him during his last days. It was heartbreaking," Mr. Zhang wrote in the complaint.
Details of complaint in Chinese
Ms. Zhang Yuzhen (张育珍)
Profession: TeacherHometown: Jinxian County, Jiangxi ProvinceDate filed: August 28, 2015
Key FactsMs. Zhang Yuzhen, 48, lost the ability to work or take care of herself, as her arms were permanently disabled from the torture she suffered while in prison.
During the past sixteen years, she was arrested eleven times and detained for more than nine years in prisons and a forced labor camp.
She was arrested in November 2000 for leaving Falun Gong flyers in a hotel when she went to Beijing to appeal for the right to practice Falun Gong. She was sentenced to six years in prison by the Beijing Second Intermediate People's Court.
The prison guards hung her up with her hands shackled behind her back. They also taped her mouth so she could not cry out when tortured. Two inmates insulted and humiliated her. The guards let her down after 11 hours, but she had lost feeling in her hands by that time.
The guards continued the same torture for three hours the next day. For the next few days, she had difficulty breathing and kept vomiting. Her arms were swollen. She had a high fever and couldn't fall asleep. After she was taken to the hospital, a doctor told her that her arms had become permanently disabled.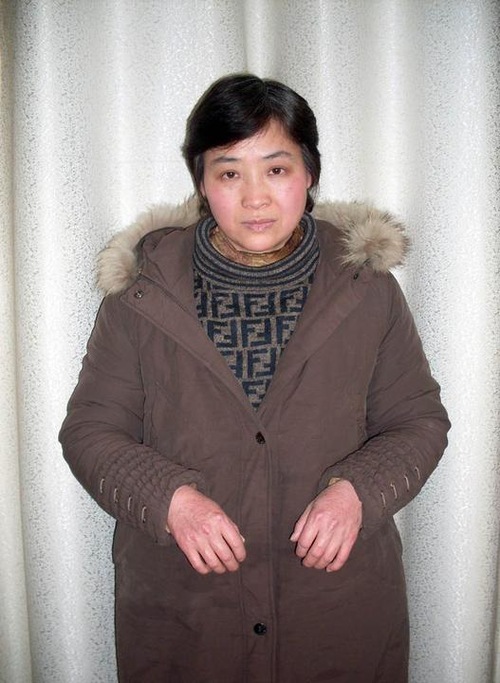 Ms. Zhang three months after she was released.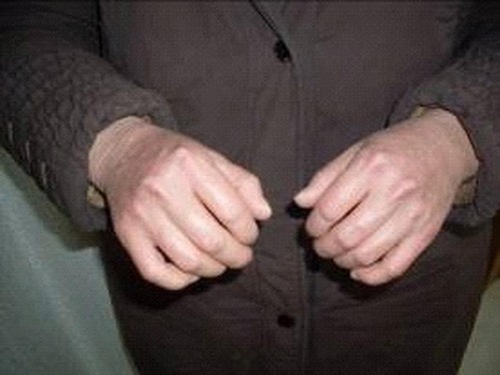 Ms. Zhang's paralyzed hands
After her prison term expired, she was transferred to a forced labor camp for three years, during which time she was forced to clean the cells with her disabled arms. When she refused, the guards forbade her from using the restroom or taking a shower. The inmates often insulted and beat her.
She returned home on November 9, 2009. Because she continued her efforts to raise awareness of the persecution of Falun Gong, the police harassed, arrested and detained her several times.
Officers broke into her home and arrested her on March 18, 2011. They twisted and tied her disabled arms behind her back, which caused more injury and pain. She was taken to the Xili Brainwashing Center, where she went on a hunger strike for more than 20 days and was force-fed. She was released three months later.
Mr. Mao Wei (毛伟)
Profession: Civil engineerHometown: Jinchang City, Gansu Province
Key FactsMr. Mao Wei, 48, a civil engineer at the Nickel and Cobalt Research Institute, has been repeatedly arrested and detained since the onset of the persecution in 1999.
He was arrested on March 8, 2007 by Domestic Security police, who interrogated him and deprived him of sleep for six days.
He was sentenced to six years' imprisonment by the Yongchang County Court on November 27, 2007. During his term at Jiuquan Prison, he was held in an isolation cell and subjected to 18 hours of brainwashing every day for four months. Meanwhile, ten people surrounded, insulted, and threatened him.
"It was so stressful. I was on the brink of a nervous breakdown," recalled Mr. Mao.
His workplace fired him while he was imprisoned, which caused tremendous financial hardship to his family.
Because of the communist regime's guilt-by-association policy, his child faced discrimination at school, and his wife was demoted at work.
Related ReportGansu Province: More Information about the Arrest of Falun Dafa Practitioner Mr. Mao Wei
Details of complaint in Chinese
Background
In 1999, Jiang Zemin, as head of the Chinese Communist Party, overrode other Politburo standing committee members and launched the violent suppression of Falun Gong.
The persecution has led to the deaths of many Falun Gong practitioners in the past 16 years. More have been tortured for their belief and even killed for their organs. Jiang Zemin is directly responsible for the inception and continuation of the brutal persecution.
Under his personal direction, the Chinese Communist Party established an extralegal security organ, the "610 Office," on June 10, 1999. The organization overrides police forces and the judicial system in carrying out Jiang's directive regarding Falun Gong: to ruin their reputations, cut off their financial resources, and destroy them physically.
Chinese law allows for citizens to be plaintiffs in criminal cases, and many practitioners are now exercising that right to file criminal complaints against the former dictator.