Meditation Fans Enjoy Peaceful Energy of Falun Gong at Health Expo
(Minghui.org) Paul Strode felt strong energy radiating from Falun Gong practitioners who meditated next to his booth at the Mind Body Soul Experience Expo at Alexandra Palace in London, U.K., from October 23 to 25.
Paul, the founder of Wildflower Essences, happily greeted Falun Gong practitioner Ms. Gao on the last day of the expo. "You guys meditated next to my booth for a whole day yesterday, and the energy field made me feel good. I wasn't even tired at the end of the day," Paul smiled. "At home, the image of practitioners meditating stayed in my mind. Eating or sleeping, the image was always there in my brain."
At the end of the day, Paul thanked Ms. Gao again for meditating next to him. "I was a little exhausted, but your meditation recharged me."
Paul was not the only one who sensed the beauty of Falun Gong at the expo. Among tens of thousands of people interested in yoga, Taichi, and meditation, many learned the Falun Gong exercises and sensed the inner peace and strong energy.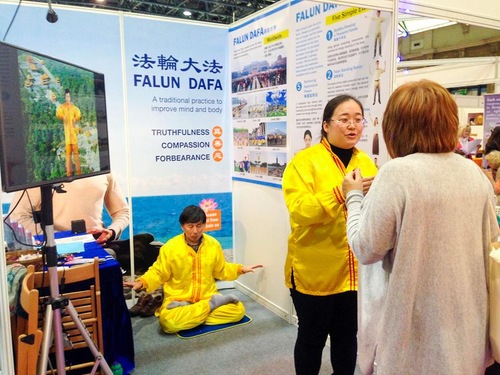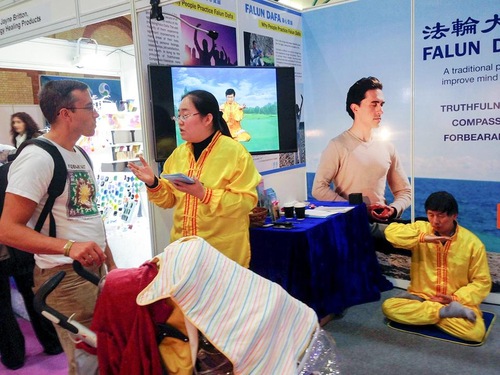 An expo attendee learns about the Falun Gong exercises.
Alan Whitehead, a writer and former drummer of the Marmalade, talked to a Falun Gong practitioner for a long time. He first encountered Falun Gong in front of the Chinese embassy. He says he likes the teaching of "Truthfulness-Compassion-Forbearance" and understands the spirituality of this ancient Chinese cultivation practice.
The practitioner told Alan that the essence of cultivation is to improve one's moral standard (which is called "xinxing") and let go of attachments. Alan agreed, "looking inward, focusing on one's heart, and cultivating oneself–these are the ancient wisdom from China."
David and Andrew, two martial arts enthusiasts, were attracted to the posters detailing the Falun Gong exercises. A practitioner told them that Falun Gong teaches cultivators to purify their minds. "This is also the teaching of martial arts," the practitioner said. "Contrary to many people's misunderstanding, martial arts are not about fighting and killing. Instead, they require practitioners to improve their inner strength."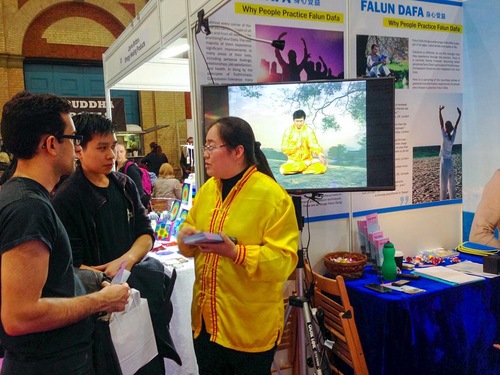 Andrew (left) and David (middle) expressed interest in learning Falun Gong.
David, a British-born Chinese man, said that his father had also told him similar things. Both David and Andrew were interested in learning the exercises and found an exercise group at Regent's Park in Central London.
Margaret, a longtime meditator, has heard about Falun Gong before. She said she sensed a strong energy field at the practitioners' booth. Margaret said the peacefulness and happiness brought by meditation is like enjoyable sunshine, wonderful but hard to describe in words.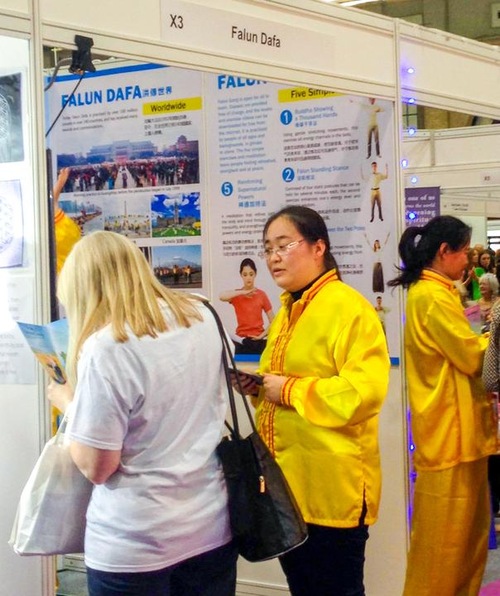 Margaret (left) came to meet Falun Gong practitioners during lunch.
Margaret also knows about the persecution of Falun Gong in China and encouraged practitioners to continue their peaceful resistance. She likened the Chinese government's suppression of Falun Gong to locking people in the dark. "Falun Gong practitioners are helping Chinese people to open their souls," she said.