Heilongjiang Woman Repeatedly Arrested and Tortured for Practicing Falun Gong
October 26, 2015 | By a Minghui correspondent from Heilongjiang Province, China
(Minghui.org) Ms. Meng Fanguang, who lives in Mohe County in Heilongjiang Province, has been targeted by local authorities for the past 16 years, ever since she went to Beijing in 1999 to protest the communist government's suppression of Falun Gong. She has been repeatedly arrested, illegally detained, put through forced labor, and brutally tortured.
Her ex-husband, who worked for the local police department, received threats from his supervisor. He beat Ms. Meng and tried to force her to renounce Falun Gong. He monitored his wife around the clock, which eventually led to their divorce.
Ms. Meng's second attempt to appeal for her right to practice Falun Gong ended in her arrest in 2000, followed by detention, and torture in Shuanghe Forced Labor Camp.
She was again arrested in 2006 and held at the same labor camp, where she was force-fed and put in solitary confinement for over a year.
The previous abuse and detentions took a toll on Ms. Meng's health—she was diagnosed with a tumor in her liver after her most recent arrest in 2014.
Though she was quickly released on medical parole, Ms. Meng is still monitored and her family members frequently harassed. Police also confiscated her ID card, so she cannot leave the county or find full-time employment.
Tortured in Labor Camp
After her arrest in 2000, Ms. Meng was detained for five months and transferred to the Shuanghe Forced Labor Camp in Qiqihar.
Because she refused to renounce her belief, the camp guards cuffed her hands to a metal ring on the ground in a cell so small that she could not stretch her legs. There was no window or ventilation, and the temperature rose quickly in the heat of summer. Ms. Meng suffered shortness of breath and sweated profusely.
A guard tied her legs together and struck her on the head. She was left cuffed to the floor for three days straight.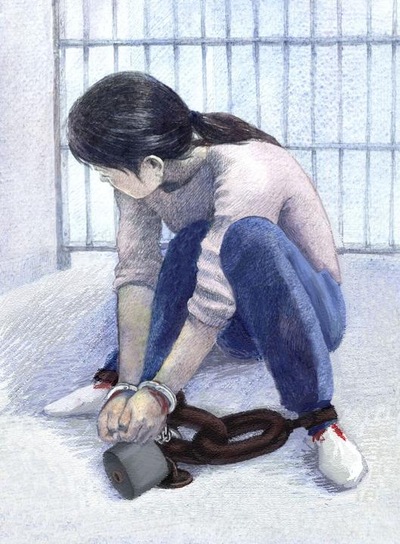 Torture Illustration: Cuffed to a metal chain/ring on the ground
Those who refused to renounce Falun Gong were confined in small, solitary cells, hung up with their hands cuffed, beaten with pipes, or shocked with electric batons. Some were cuffed to a bunk bed with one hand to the upper bunk and the other to the bottom rail—leaving the victim in a painful position in which they could neither stand nor sit down.
The practitioners were monitored by inmates and deprived of sleep and food. When they went on a group hunger strike to protest, they were force-fed salty solutions. Some were hung up by their cuffed hands for months at a time. Their terms were also extended indefinitely.
Ms. Meng's term was extended for six months within the first two months, and she was tortured and beaten daily.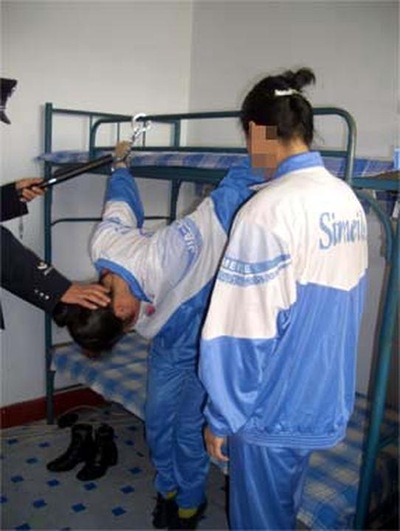 Torture re-enactment: Hung up by cuffed hands
Along with more than 80 other practitioners who refused to renounce their belief, Ms. Meng was transferred in October to the Heilongjiang Rehabilitation Center, where she protested by refusing to cooperate with guards. As a result, she was confined to a solitary cell starting on the second day.
When Ms. Meng protested such treatment, she was tied to an "iron chair" with her hands cuffed to the back and feet tied to a metal bar. The guards taped her mouth shut and beat her. After being on a hunger strike for three days, she was finally untied from the chair. Her legs were so swollen that she couldn't walk.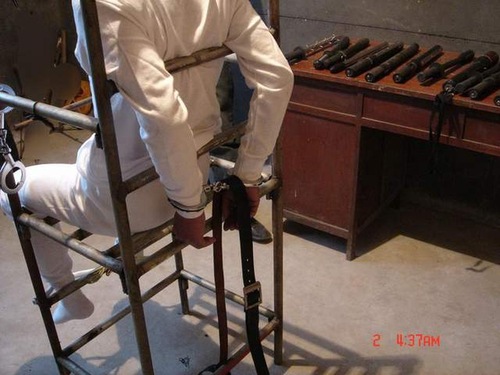 Torture re-enactment: Tied to a chair with hands cuffed to the back
After her release, Ms. Meng was still being closely monitored and often harassed by local police.
Second Forced Labor Term
Ms. Meng was arrested in August 2006, detained for two weeks, and sent back to Shuanghe Forced Labor Camp.
She had gone on a hunger strike while at the detention center. As soon as she arrived at the labor camp, she was forced-fed a salty solution. She vomited a large amount of blood for a week, and had chest pain and difficulty breathing. She was verbally abused, monitored around the clock by inmates, confined to a solitary cell for one year, and denied visitation rights. Extremely weak, she was still forced to perform intense labor.
Torture re-enactment: Forced-feeding
In May 2008, the female division of the labor camp was shut down after a widespread poisoning incident. Ms. Meng was transferred to the Heilongjiang Rehabilitation Center, where she was still confined to a small cell and tortured.
Arrested in Shenyang
After two practitioners from Mohe County were arrested in November 2013, local officers searched for Ms. Meng. Police ransacked her home and harassed her employer, family, and friends. To avoid arrest, Ms. Meng left her hometown and temporarily lived in Shenyang.
She was arrested in Shenyang in March 2014, and police seized her laptop, Falun Gong books, and fliers. Another practitioner, Ms. Qi Jianxia, was arrested at the same time.
The detention center diagnosed Ms. Meng with a tumor in her liver and refused to admit her. Officers then took her to the Xingshun Police Station in Shenyang, cuffed and shackled her, and interrogated her for an entire night.
Five Domestic Security police officers from Mohe County went to escort Ms. Meng back from Shenyang. Refused admission by the local detention center due to the tumor, she was taken to a hotel and interrogated until 4:00 am. She was released on medical parole only after she turned in her ID card, so she cannot leave the county.
Ms. Meng and her family are frequently harassed and threatened by police even after her release.