Sydney Resident: Practitioners are Clarifying the Facts in the "Best and Wisest Way"
October 25, 2015 | By Hua Qing, a Minghui correspondent in Sydney
(Minghui.org) Australian Falun Gong practitioners held activities in Auburn, a suburb of Sydney, on October 18, 2015, to support Chinese Falun Gong practitioners' lawsuits against Jiang Zemin, the former head of the Chinese Communist Party (CCP) and one of the chief perpetrators responsible for the persecution of Falun Gong. The people in Sydney showed great support for Falun Gong, and praised practitioners for clarifying the facts about the persecution in the best and wisest way.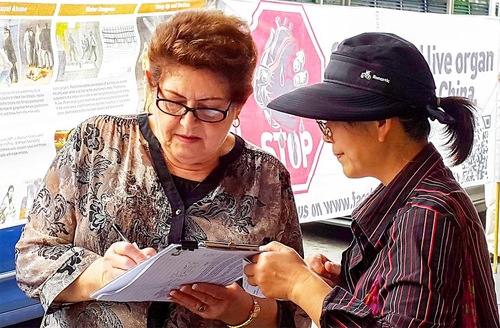 Sydney residents sign to condemn forced organ harvesting from living Falun Gong practitioners in China, and to support the lawsuits against Jiang Zemin.
"Creator Made Us to Safeguard World Peace"
Mrs. Celia Sisler, a vigorous older lady, approached the Falun Gong booth and quickly signed the petition. She said she had heard about the persecution long ago, and signed many petitions. She was saddened to learn that the persecution had been going on for so long, but had confidence it would end someday.
Mrs. Sisler condemned the persecutors, and said those who pretended nothing had happened was a factor in making things worse. Upon hearing about the recent flood of lawsuits against Jiang, she said, "The more people calling for justice, the sooner the evil will be stopped. The creator has given us a mouth, two eyes, and two ears. It means we are here to safeguard the world peace. So we should work together to stop the evil. It's the only way to leave peace to our children."
The Best and Wisest Way to Clarify the Persecution Facts
Dr. Par, who works nearby, walked up and signed the petitions condemning the forced organ harvesting from living Falun Gong practitioners in China, and supporting the lawsuits against Jiang. He encouraged Falun Gong practitioners, "What you are doing is the best and wisest way to tell people about the persecution!"
Dr. Par had heard about the organ harvesting before, and was saddened by the brutal crime. He suggested putting the petition online to collect more signatures. Dr. Par said, "I support you. Never give up! Keep working on it, and you will win!"
Many Chinese people took this opportunity to quit the Chinese Communist Party, the Youth League, and the Young Pioneers. All of them had learned about the persecuting nature of the CCP. One Chinese young man not only signed the petitions, but also wanted to help hold the banners to show his support.