London: Calling for the Prosecution of Jiang Zemin During President Xi Jinping's Visit
October 23, 2015 | By Minghui correspondent Tang Xiuming
(Minghui.org) On October 21, 2015, the second day of Chinese president Xi Jinping's state visit to the United Kingdom, Falun Gong practitioners gathered at Number 10 Downing Street to call attention to the persecution in China and the recent lawsuits against Jiang Zemin, the former Chinese dictator.
Despite a continuous drizzle, practitioners stood on the sidewalk for nearly eight hours passing out information to pedestrians and news media personnel, while Xi met with British Prime Minister David Cameron.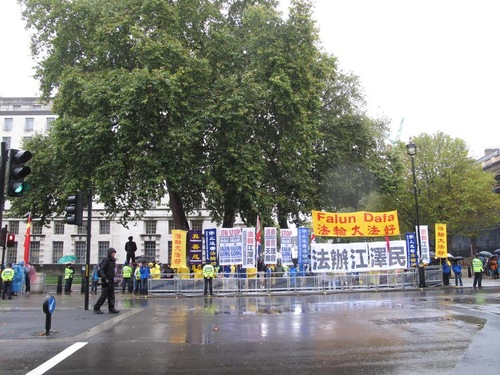 Falun Gong practitioners display banners in peaceful protest at the British government compound on October 21, 2015.
Jiang initiated the brutal "crackdown" on Falun Gong in China in July 1999 and continues to influence Chinese politics after retiring in 2002. After suffering 16 years of terror and abuse, more than 180,000 Falun Gong practitioners and their family members have filed criminal complaints against Jiang as of September 2015.
The welcoming and protesting groups on Downing Street were assigned by police to individual zones. The Falun Gong group was placed right in front of the government compound entrance, a highly visible spot that could be seen by people inside and outside the building.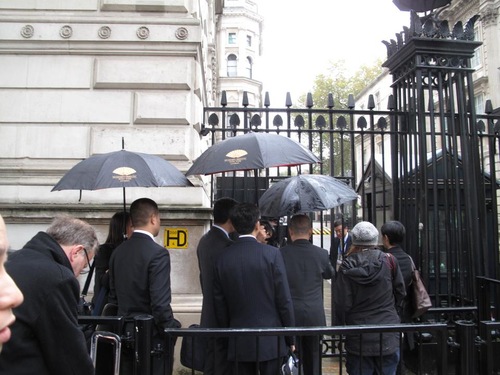 Xi's entourage enters the British government building.
Many people were interested in learning more about Falun Gong. One police officer said the Falun Gong group was the most peaceful protesting group he knew of. Upon hearing that police forces are involved in suppressing Falun Gong in China, he said that it is wrong, and "they [Chinese police officers] should protect people, not harm citizens."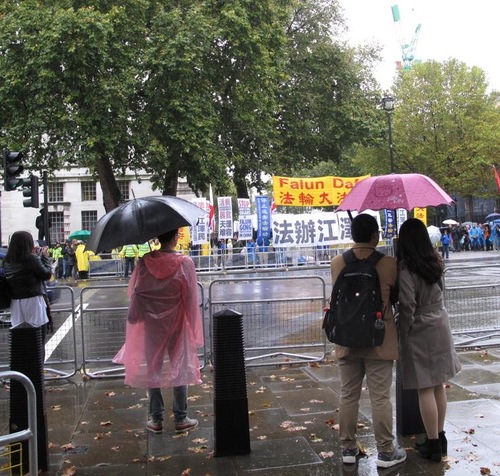 Chinese students, tourists, and other passersby read practitioners' banners.
Chinese students were also curious to learn the real story of Falun Gong, which is quite different from hate the propaganda issued by the Chinese Communist Party (CCP). Several of them stayed a while to chat with practitioners. In the end, most of them decided to take a stance against the persecution by formally renouncing their memberships in CCP organizations.
"I believe you and agree with you," one of the students said to a practitioner. "Jiang committed wrongdoings and he should be held accountable based on the law."