Los Angeles: Tourists Find Peaceful Meditation at Santa Monica Beach
October 22, 2015 | By Minghui correspondent Zhang Yun
(Minghui.org) Located at the beginning of Interstate 10 (I-10), the three-mile long Santa Monica Beach attracts tourists from around the world. Many of them were drawn to the sight of hundreds of Falun Gong practitioners doing the exercises together at the Santa Monica Pier on October 17.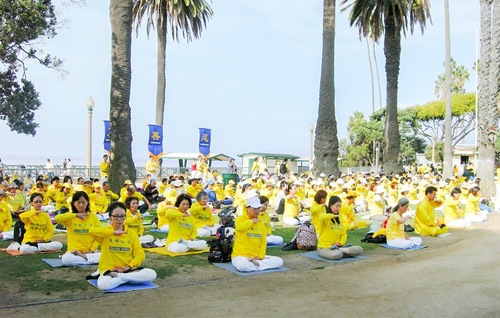 Falun Gong practitioners at Santa Monica Beach
Brazilian Teacher: Better than Anything that I Had Heard of Before
Marcelo Rios, a teacher from Brazil, was visiting California with his wife Patricia. He asked about the practice and immediately became very interested, "I like meditation and I believe in Buddhism. But what you have told me [about Falun Gong] is better than anything that I had heard of before."
Rios said this was the first time he saw such a large scale group meditation, one that is "serene with strong energy." He was very excited and thanked the practitioner for the pamphlet that he took.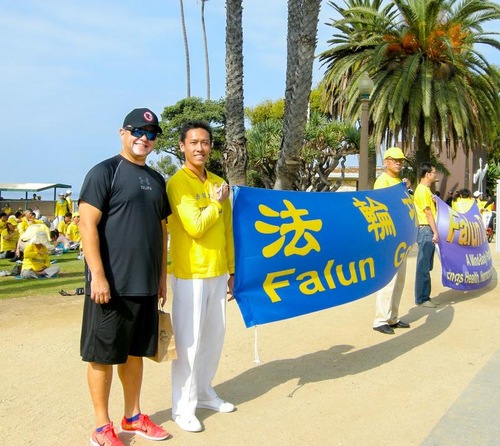 Marcelo Rios is a teacher from Brazil
After hearing that Falun Gong was banned in China, Rios said he knew about the totalitarian Communist regime. "It's a dictatorship—you don't have freedom of belief or freedom of speech there," he said as he took a picture with practitioners.
Ski Coach: Independent Thought Is Important
Ski coach Ionel talked with a practitioner named Jane for about half an hour. He often saw a small group of practitioners doing the exercises here before, but was surprised to see such a large scale group meditation.
After talking with Jane, Ionel said that he supported the practitioners' efforts, "It is important for the public to be aware of this. Regardless of where you live, independent thought is important."
Ionel said that he would look into the exercises and give it a try after going back home.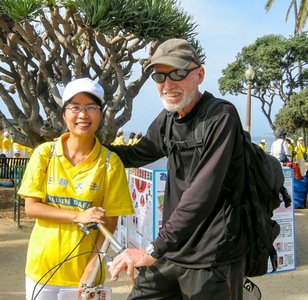 Ski coach Ionel
Businessman: Persecution Will End in Vain
Kinei, originally from Japan, has lived in Los Angeles for more than 30 years. "I heard about the suppression of Falun Gong in China several years ago. The Communist Party is brutal." He said that people should have freedom of belief and human rights, "These are from heaven and no one should take them away from others."
With strong interest in traditional Chinese culture, Kinei said that the Falun Gong exercises look calm and peaceful, "As far as I can tell, it would be good for both mind and body."
He also wished the practitioners well, "We know the Communist Party will not win persecuting people, including Falun Gong. Keep it up!"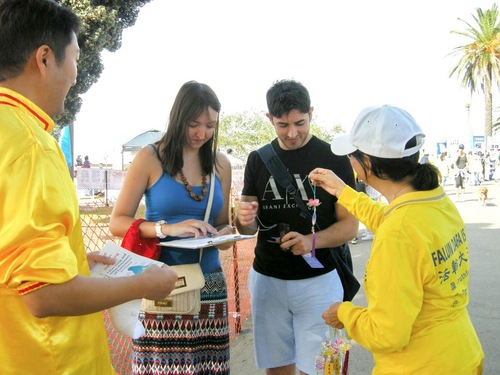 A tourist signs a petition calling to end the persecution in China. Another accepts a hand made paper lotus flower that represents peace and purity.