European Falun Gong Practitioners at L.A. Rally
October 21, 2015 | By De Xiang and Song Xinming, Minghui correspondents in L.A.
(Minghui.org) European Falun Gong practitioners joined practitioners from all over the world at a rally on Pershing Square in Los Angeles on October 15, 2015.
The rally called for an end to the persecution of Falun Gong and forced organ harvesting in China and urged the Chinese legal system to bring Jiang Zemin to justice.
"This Is a Critical Moment in History"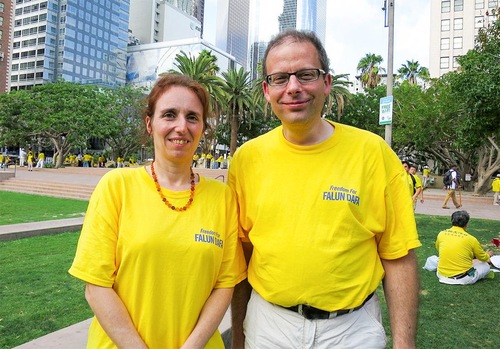 Nina and Alex from Germany
Nina from Hamburg, Germany, said, "I'm honored to be at the rally. I'm very touched. My husband and I had canceled our trip because of our busy schedule. But we eventually made it, because we felt it would be a big loss not coming. This rally about bringing Jiang to justice is so important. This is a critical moment in history. It would be a pity to miss it."
Nina and more than 30 other Western Falun Gong practitioners went to Tiananmen Square 14 years ago to call for an end to the persecution and to tell the world that Falun Gong is great. She didn't know the persecution would last so long. She now sees hope that it will end because Jiang has been sued by so many Falun Gong practitioners.
Nina said she was touched by the words of a politician issuing an award to Falun Gong. The politician said, "Your strength comes from unity. You are one body." Nina said these words were so true: "If we united into one body, the persecution would end soon."
Nina's husband Alex said, "Bringing Jiang to justice is very important for me. It's a new starting point. Given the brutality of the persecution, not only Falun Gong practitioners, but also the public should sue him."
Alex mentioned the persecution case in which a Falun Gong practitioner was sent to be cremated while his body was still warm. "It told me how terribly Jiang's regime had treated Falun Gong practitioners. It's utterly [Jiang's mandate of] 'eliminating them physically.' The organ harvesting from living Falun Gong practitioners is appalling. It should stop immediately. Not a single one should be allowed to happen."
Jiang Must Stand Trial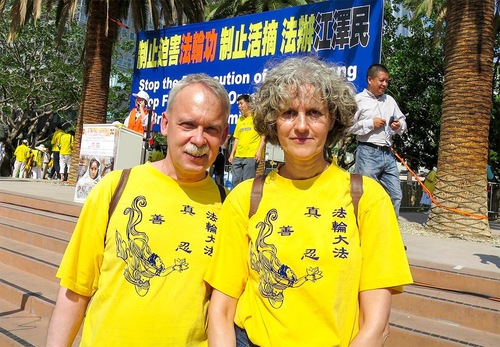 German Falun Gong Practitioners Brigit (right) and Ralf
Brigit and Ralf, Falun Gong practitioners from Germany, have been talking about Falun Gong to Chinese tourists at Cologne Cathedral every weekend.
Brigit said, "I'm very touched to see so many Falun Gong practitioners come from all over the world for this rally. The speeches of the politicians and representatives of human rights organizations sent a strong message to the world: 'The persecution must stop.' Jiang is the one who launched the persecution. He is the head of the persecutors. He must stand trial. That's why I'm here.
"I have known that organs have been harvested from living Falun Gong practitioners in China for a long time. Every time I think of it, I am horrified. It's hard to imagine a regime that will kill people for their organs." Brigit said her heart was shaken by the brutality of the persecution when listening to the speech by Gao Rongrong's sister. (Ms. Gao Rongrong was Falun Gong practitioner who died as a result of torture.)
Brigit's husband Ralf said, "We come from Europe, America, Asia, and other places. We are a strong force. It's great to hear these words of support by American politicians, lawyers, and representatives of human rights organizations. They hope to help the Chinese people and stop the persecution.
"We Are Here to Expose the Wicked CCP"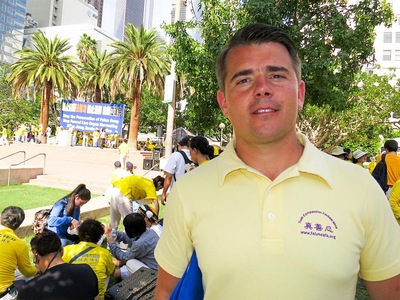 Tomek from Poland
"I'm here to support this rally and expose the wicked CCP. I hope Jiang will stand trial someday," said Falun Gong practitioner Tomek. He and his wife came from Poland for this activity.
Tomek said, "Truthfulness-Compassion-Forbearance are key to becoming a good person." He has benefited greatly from practicing Falun Gong, so the persecution in China concerns him. "The world is shrinking. People are interconnected. Governments have economic ties with the Chinese government. This brutal persecution affects the whole world, so we must step up to stop it. It's a human rights issue.
"As a Westerner, I think it's important to sue Jiang. He has to be held responsible for initiating this persecution. We want people in the Western world to know what the former CCP dictator did before establishing economic relations with the CCP. When the Western countries have a chance to dialog with China, they can't ignore the crimes of the CCP leaders. On the contrary, they have to pay special attention to it."
Tomek added, "I admire the Chinese Falun Gong practitioners who filed lawsuits against Jiang. They are truly brave. They risk being arrested. The whole world should support them and expose the CCP."