Shen Yun Symphony Orchestra Delivers "Perfection" and "Powerful Compassion" at Carnegie Hall
October 15, 2015 | By Minghui correspondent Cai Ju
(Minghui.org) Shen Yun Symphony Orchestra did not fail to impress during their two Carnegie Hall performances in New York last weekend. The orchestra's masterful blend of sounds and soulful expression won high praise from audience members.
As part of Shen Yun Performing Arts, the Shen Yun Symphony Orchestra shares the mission to revive 5,000 years of Chinese culture. It is known for its versatility to perform Chinese melodies on a full-scale symphony orchestra. It is the first to combine both Chinese and Western instruments in harmony.
Matinee performance of Shen Yun Symphony Orchestra at Carnegie Hall on October 10
Many attendees were especially touched by the solo performance of violinist Fiona Zheng, who performed Pablo de Sarasate's famed "Gypsy Airs." Ms. Zheng, a young woman who came to the US to escape persecution in China, has a very personal interpretation of the piece, which she shared in an interview on the Shen Yun Performing Arts website.
"It reminds me of my experiences in China," said Ms. Zheng in the interview, who went on to explain how she lost her mother and grandmother in the brutal persecution of Falun Gong. "Afterwards, my father and I were constantly on the move—like the gypsies that inspired Sarasate's Gypsy Airs—always roaming around to avoid persecution."
Award-winning Producers: "Superb" and "Perfect"
Six-time Tony Award-winning Broadway producer Stewart F. Lane was among those deeply moved and impressed by Ms. Zheng's solo. "It got me very excited just listening to her...She has so much power," he said.
Stewart F. Lane, six-time Tony Award-winning Broadway producer
Lane had high praise for the orchestra as well. "I have to tell you the sound is beautiful," he said.
"In fact, I wish it could go on even longer," said Mr. Lane, who thought the orchestra was "very talented" and the voices of the singers were "superb."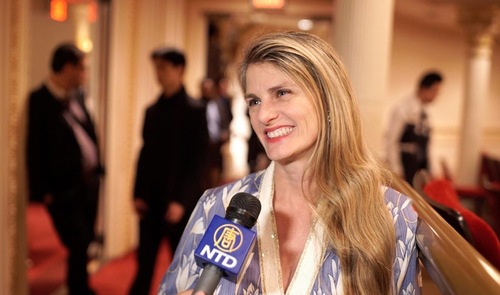 Bonnie Comley, three-time Tony Award-winning producer
"It's just perfect," said Ms. Bonnie Comley, three-time Tony Award winning producer.
"Everybody loved it," Ms. Comley said. "I think everyone just really appreciates the talent and the craft that's up there, and what it took to get to this point. And just sharing it together at Carnegie Hall—what could be better?"
Investment Banker: "Magnificent" and "Touching"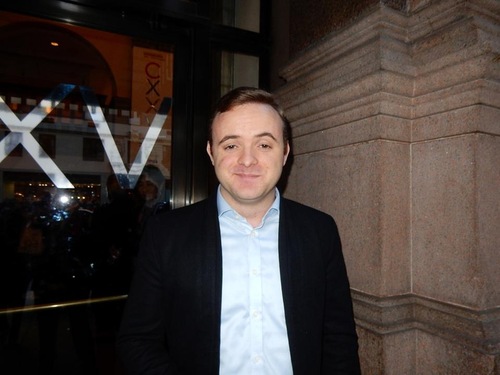 Felipe Sabra, investment banker
"Magnificent. It's very touching," said investment banker Felipe Sabra, who thought the combination of musical styles was "very harmonic" and "very impressive."
Mr. Sabra was especially moved by Fiona Zheng's solo."That one really goes deep, deep, deep down there. It's really amazing," Mr. Sabra said.
"It's the Best Place I've Been in All of My Life"
Grace Blank, branch office manager of Coldwell Banker
"It's the best place I've been in all of my life...I'm very grateful," said Grace Blank, branch office manager of Coldwell Banker.
"It's beyond words. Phenomenal, just phenomenal," she said. "It was so beautiful, I was moved to tears."
Describing Fiona Zheng's solo, Ms. Blank said, "She was like an angel that came down, and she was the voice of every instrument, of every child, of every elderly person."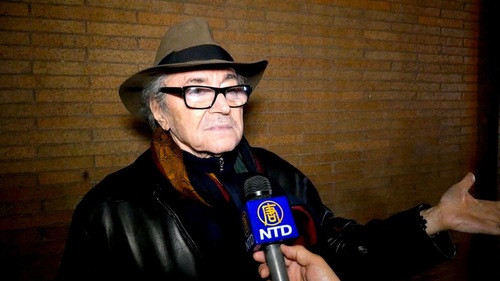 Gato Barbieri, Argentinean jazz tenor saxophonist and composer
Argentinean saxophonist and composer Gato Barbieri said that he liked the performance very much. He thought all members of the orchestra were outstanding and very skilled.
Mr. Barbieri especially liked the percussion instruments of the orchestra, which he thought were culturally distinctive.
Surgeon Soterios Philippou
"It was unbelievable! Unbelievable!" exclaimed Soterios Philippou, a surgeon originally from Cyprus.
"The orchestra was able to show compassion in sounds, and the power of it, especially at the end of the piece [The Power of Compassion]. You could feel inside you how powerful compassion is," Dr. Philippou said.
He also commented that the two Chinese instruments, the pipa and the erhu, "can really make you feel stronger."
Fashion Model: "Extraordinary Musical Experience"
Fashion model Carmen Dell'Orefice described the performance of Shen Yun Symphony Orchestra as "an extraordinary musical experience."
"It is up to the artist to express the heart and soul of where they come from, and we certainly felt China's soul this afternoon," she said, adding that words were inadequate "to express the joy and the pleasure of what I experienced."
Roxanne Carfora, a physician who attended the concert with friends and family, thought the music "was really powerful."
"You felt the music and you could visualize everything with the music," Dr. Carfora said. "The combination of the old instruments, old civilization with new civilization, it was fantastic."
Shen Yun Symphony Orchestra will continue its tour in Miami, FL on October 15, Chicago, IL on October 18, and Boston, MA on October 21. For more information on tickets and dates, please visit http://www.shenyun.com/symphony