Art Exhibition in Greece: Clarifying the Truth on Santorini
(Minghui.org) The Art of Zhen-Shan-Ren (Truthfulness-Compassion-Forbearance) Exhibition opened on September 17, 2015, at the Bellonio Cultural Center Foundation in Fira, the capital of Santorini. The show ran for 10 days.
Santorini is one of Greece's top 10 island destinations. Every year it welcomes tourists from all over the world, especially from China.
Because the locals on the island had been well informed about the persecution of Falun Gong in China, the Chinese embassy was unsuccessful in trying to stop the exhibition from being held.
Surprised by what they saw in the exhibit, since it was so totally different than the propaganda they hear back in China, a Chinese couple asked a practitioner many questions, particularly about what it is like to practice Falun Gong.
The practitioner said that before she began practicing Falun Gong she didn't know what peace and tranquility meant because she was raised in an environment where there was fighting all the time. She said that, by following Truthfulness-Compassion-Forbearance in her daily life, she learned to control her emotions and to not be angry.
"In difficult situations you apply these principles and stay calm," she explained. "And when you are calm, you make better decisions." The couple was impressed by her logic and thanked her for sharing her experiences.
A Chinese practitioner who had been given asylum on Cyprus spoke at the opening. She described how she was tortured because she refused to give up her belief in Falun Gong.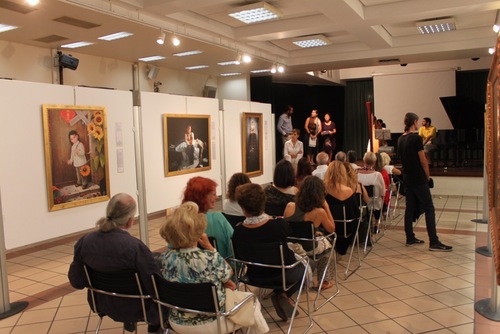 A Greek woman from the island listened to the Chinese practitioner intently, compassion and sorrow etched on her face. She later expressed a sincere interest in learning Falun Gong.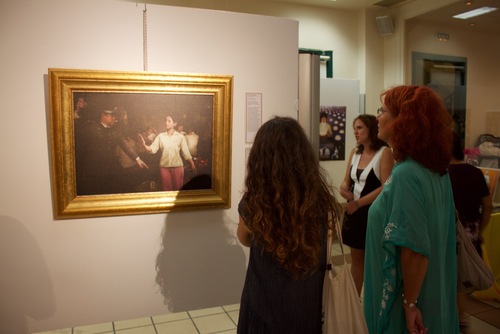 "Powerful exhibition," "Good always prevails," and "Thank you for this exhibition--it opened our eyes'' were just a few of the comments left in the guest book.
The opening of the exhibition was accompanied by music from the harp and piano.