Ms. Bai Wanzheng Dies After Long-term Persecution
January 09, 2015 | By a Minghui correspondent from Xinjiang Uyghur Autonomous Region, China
(Minghui.org) Ms. Bai Wanzhen, a Falun Gong practitioner from Changji, Xinjiang Province, died on December 4, 2014, at the age of 63. Previously, the communist regime listed her as one of its most wanted targets.
Her parents and two sisters died prior to her death because of the persecution. She was the last one among her siblings to die after years of mistreatment.
14 Years of Homelessness
Ms. Bai, the second daughter of her family and an employee of the Changji Logistic Bureau, had been targeted as a most wanted practitioner since 2001.
After she went to Beijing to appeal for the right to practice Falun Gong in July 1999, she was arrested, taken back to her home city, and detained. The local police and 610 Office listed her as one of their main targets from that time forth.
After she was released from detention, she was monitored by local authorities. To escape being persecuted, she became homeless. The local police issued a warrant in late 2001, labeling her as a lawbreaker and as "subverting state power."
The Fukang City Police Department, Changji Prefecture issued another warrant for Ms. Bai 11 years later on July 6, 2012, offering a reward of 5,000 yuan. They also dispatched officers to her home to carry out the arrest.
She was not at home, so the police interrogated her family and relatives, threatening that the every member of the family would be fired from their jobs if they refused to give them Ms. Bai's whereabouts. Furthermore, the Changji Police, Fukang police, and 610 Office issued a missing persons warrant in newspapers and on television in Urumqi, the capital of Xinjiang.
Ms. Bai was soon fired from work. She was set to retire in 2008, but her pension was suspended. Since she could not use her identification card to find a new job, she had to work as a babysitter.
Ms. Bai called her son in 2012, but she did not know that his telephone was tapped. The police soon came to his home and traced the call to the public telephone booth from where she had called.
During this time, Ms. Bai's health worsened, she became grief stricken, and she passed away in homelessness.
Younger Sister Dies of Inhumane Torture
Ms. Bai's younger sister, Ms. Bai Wanling, was sentenced to forced labor in 2000 for distributing Falun Gong truth-clarification materials.
She went on hunger strikes to protest the inhuman treatment of practitioners, so prison guards inserted a tube into her stomach to force feed her. This process injured her lungs.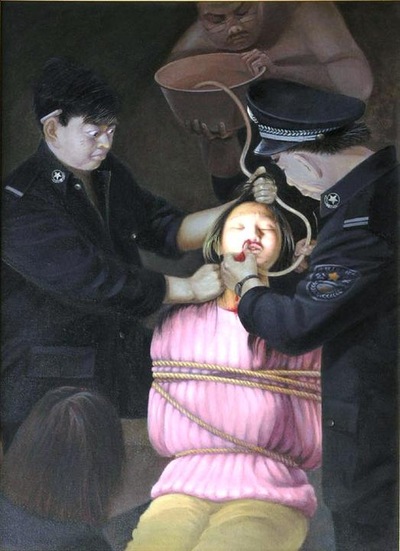 Torture Illustration: Force feeding
She was released from the labor camp when she was on the verge of death. She never recovered and died on May 31, 2004, at the age of 39.
Details about Ms. Bai Wanling available athttp://en.minghui.org/html/articles/2004/9/5/52105.html
Parents and Elder Sister Die in Grief
During Ms. Bai's homelessness, officers from the Fukang Police Department, 610 Office, local government, and local police station took turns harassing her parents to find out her whereabouts. They banged at the door and yelled outside during the night. The local government hired more than 200 people to monitor the family.
Ms. Bai's mother, Ms. Li Qingfang, 69, died in September 2001. She was worn out from the harassment by local authorities and from being unable to see her youngest daughter.
Ms. Bai's father, Mr. Bai Yinshan, died in October 2002 at the age of 70, one year after his wife's death. His health had deteriorated since the persecution began.
Ms. Bai's elder sister, alone to suffer the authorities' harassment, died in 2004.
Background of Ms. Bai and Her Family
Mr. Bai is a resident of the Jiuyunjie Town, Fukang City, Hui's Autonomous Prefecture of Changji, Xinjiang Province.
Her parents began practicing Falun Gong in 1998, and soon their children also took up the practice. As some of the first practitioners in their hometown, Ms. Bai and her family were targeted for persecution and considered "key Falun Gong practitioners."