New Year Greetings Showcase Deep Appreciation for Master Li Hongzhi
January 05, 2015 | By a Minghui correspondent
(Minghui.org) "Treating Falun Gong [practitioners] well is being kind to ourselves. Good people will have a good future. Thank you, Master Li!" This is a new year greeting from a group of people in Dezhou City, Shandong Province.
Minghui.org has received many such greetings for Master Li Hongzhi, the founder of Falun Gong. Many Chinese non-practitioners circumvented China's Internet firewall to email their thanks and best wishes.
How has a belief that is severely slandered by the Party propaganda gained the respect and understanding of Chinese citizens? The answer lies in the power of Falun Gong and the unrelenting peaceful efforts of Falun Gong practitioners.
A Sichuan woman's response is typical. She sincerely believed and recited "Falun Dafa (Falun Gong) is good. Truthfulness-Compassion-Forbearance is good" and recovered from lung cancer.
In her email to Minghui.org, she said, "I wish Falun Gong's Master Li a Happy New Year!" And she told what happened after she was diagnosed with lung cancer at the No. 3 Hospital affiliated with the Military Medical University in Chongqing.
It changed her life. She sold the new house she had just bought in Chengdu and sought out the best treatments available but didn't see much improvement. She got skinnier by the day and sensed she wouldn't live much longer.
In the depths of despair three years ago, she came across a Falun Gong practitioner. The practitioner told her the facts about the persecution, shared with her how people were blessed by believing "Falun Dafa is good," and convinced her that cultivation would do her good.
"I saw hope," she wrote. "I quit the CCP organizations and started carrying the Falun Gong amulet with me every day. I recited 'Falun Dafa is good. Truthfulness-Compassion-Forbearance is good' over and over.
"It was really effective! My pain lessened. My complexion looked normal. I have not seen any signs of cancer. I'm a normal, healthy person! My relatives and friends witnessed the fundamental changes in me. I don't hide my secret, either.
"I pass on the amulet to those in need. I also like watching Shen Yun performances and reading Falun Gong materials to closely follow the persecution in China and to see how Falun Gong is embraced everywhere else around the world," she wrote.
She concluded, "Even though I don't practice Falun Gong, I believe that it's a good practice. I support Falun Gong and hope that it will bring my family, friends, and me a good future. My family members and I would like to send our sincere thanks to Master Li. We wish Master Li a Happy New Year!"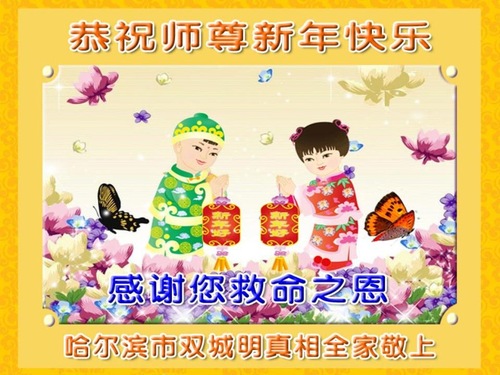 New Year greeting card from the family in Harbin
People in China have learned that supporting Falun Gong, a persecuted belief that teaches people to be good, has its own rewards. And they remember that at critical times. A family in Harbin, Heilongjiang Province, shared such an incident with their new year greeting.
The man of the household wrote, "I was working at a factory when I was hit by high-voltage electricity. I was totally numb after being thrown so far.
"The director was alarmed and said, 'Take him to the hospital right way!' Even though I couldn't move, my mind was clear. I said, 'No problem. My wife practices Falun Gong.' I recited silently, 'Falun Dafa is good. Truthfulness-Compassion-Forbearance is good.'
"It was truly amazing what happened next. I was able to slowly stand up and resume working! Our family is very thankful for Master Li's help. We wish him a Happy New Year!"
The power of Truthfulness-Compassion-Forbearance has shown tremendous resilience in the face of a brutal persecution fueled by lies, violence, and brainwashing.
It's great to see that more Chinese people have overcome the Party's mind control and give Master Li Hongzhi credit for the power of Falun Gong and the conscientiousness of his students.