Taichung, Taiwan: Starting the New Year with Meditation and Reverence (Photos)
January 04, 2015 | By Minghui correspondent Hsia Yun
(Minghui.org) Falun Gong practitioners in Taichung, Taiwan gathered at City Hall Square on New Year's Day, 2015 to do the exercises and send New Year greetings to Master Li Hongzhi, the founder of Falun Gong.
Taichung City Hall is located on Taiwan Street, where many cars pass by every day. Many people took notice of the large-scale group practice and stopped to watch or take photos. Some accepted flyers from practitioners or asked for more information.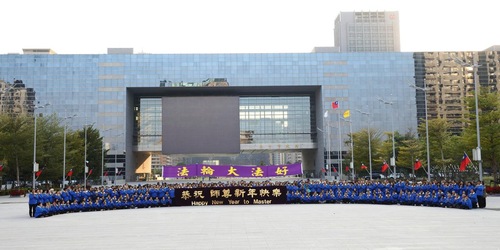 Taichung Falun Gong practitioners wish Master Li Hongzhi a happy New Year on January 1, 2015.
http://www.minghui.org/mh/article_images/2015-1-2-minghui-taizhong-ny-2.jpg。
Taichung Falun Gong practitioners do the exercises at City Hall Square on January 1, 2015.
"Falun Gong has change my life for a bright future," said Ms. Lin Ching-yi, a teacher who participated in the event. "I used to be weak and had many illnesses. I nearly went deaf during high school. I had Bell's palsy and got cystitis when I was in my 20s. I tried various medical treatments including Chinese and western medicines, as well as folk treatments. Nothing helped and nearly lost all hope.
"My mother heard that Falun Gong is good for health and encouraged me to try it. I had colleagues who practiced Falun Gong, so I learned it from them. One day my boyfriend asked me, 'Are you OK since you have not seen a doctor for a while or taken any medicine?' Suddenly I found that I had become healthy and had no need to go to restroom frequently at night like before. It was one month after I started practicing Falun Gong. I did not expect to heal my illness with the practice. Words cannot express my gratitude."
Mr. Huang gave his mother a ride to participate in the event. He said, "My mother has become healthy from practicing Falun Gong. She is full of energy."
Mr. Chiu, a freshman in college, accompanied his mother to participate in the event. He said, "My mother became gentler and more tolerant after practicing Falun Gong. It is now easy to communicate with her. She often goes to scenic sites to inform Mainland Chinese tourists about the persecution and other events to raise awareness. I do what I can to help and support her efforts."
After practicing the Falun Gong exercises, the group stood together with both hands pressed together in the "Heshi" gesture of respect and called out in chorus, "Master, Happy New Year!"