Shen Yun's Artistry and Spirituality Win Praise in Los Angeles
January 29, 2015 | By Minghui correspondent Rachel Wang
(Minghui.org) Shen Yun Performing Arts graced Los Angeles as its first stop in Southern California with five sold-out performances on January 22-25, 2015. Producers, actors, and other leaders in the entertainment industry were awed by Shen Yun's signature dance and music. They praised the show's artistic and spiritual values, and were delighted to absorb authentic Chinese culture through Shen Yun's skillfully synchronized presentation.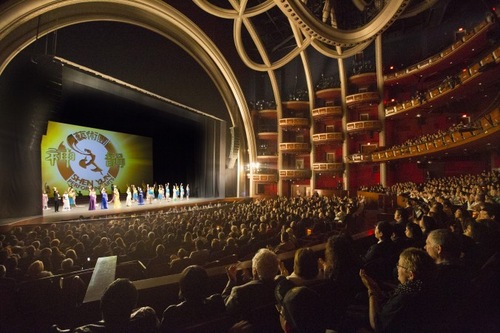 Curtain call at Dolby Theatre in the Hollywood district of Los Angeles
Award-winning Actor: "Absolutely Wonderful"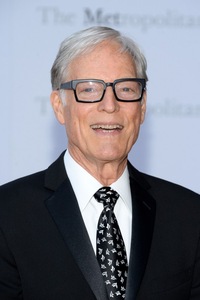 Screen and stage actor Richard Chamberlain called Shen Yun "gorgeous" and "wonderful."
Award-winning veteran screen and stage actor Richard Chamberlain described his Shen Yun experience as "gorgeous" and "absolutely beautiful."
"It's wonderful, absolutely wonderful," Chamberlain said. "The dancers are terrific, the colors, the background… it's kind of a window into another culture that I find very interesting."
Boxing Legend: "Very Compelling" and "Very Touching"
Boxing legend Sugar Ray Leonard enjoyed Shen Yun's matinee performance on Sunday at the Dolby Theatre.
Mr. Leonard said after seeing the Shen Yun performance, "The culture is so wonderful and it's so beautiful, the colors and the moves, the dances and everything else. It's so amazing."
He described the male dancers as "unbelievable, very tight."
Mr. Leonard also shared his feelings about the stories in the show. "The stories are very compelling, very powerful," he said. "Very spiritual. Very touching."
Producer: "Inspiring" and "Uplifting"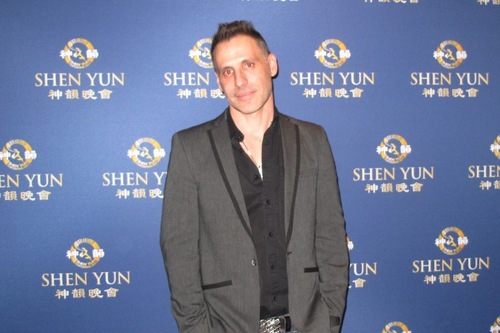 Film producer Dean Altit attended the Shen Yun performance at the Dolby Theatre on January 22.
"The costumes are unique," film producer Dean Altit said. "The music is very unique; the sound is very unique. So, I think it's exposing the audience to a lot of authentic culture."
"I think that the dancers are extremely disciplined. They are synchronized. And they are just sublime to watch," Mr. Altit said. "Not to mention the costumes. The costumes are very colorful. It's very impressive."
He added, "When you get to see those dancers on stage, you just see that, you know, they enjoy what they do, and we enjoy seeing that."
Mr. Altit said that the dance portraying how Falun Gong practitioners in modern China endure persecution with compassion was "very inspiring" and "very positive."
"I think it does show [a] message of tolerance, acceptance, and compassion, and that's very important," he said.
International Film Critic: "This One is the Best"
"I have seen several shows; this one is the best," said international film critic Mr. Mahfouz Doss.
"I am delighted," said Mr. Doss. "The dancing, the costumes, the clothing, the scenery." He said the entire performance was well put together.
He was particularly happy to watch the spiritual aspect of ancient Chinese culture. "Yes, this is what I like," he said, adding that the spirituality is both educational and informative.
Choreographer: "A Beautiful Journey"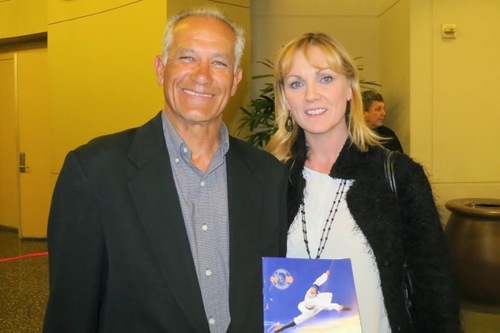 Choreographer Nichelle Bane and entrepreneur Reggie Pinuelas were amazed by the stage design of Shen Yun.
"The staging and precision, and everything was stunning," said Nichelle Bane, an award-winning choreographer, founder, and artistic director at the Los Angeles-based Reflections Dance Company.
Ms. Bane attended the performance with her fiancé, Reggie "PinHi" Pinuelas, a producer, golf professional, and entrepreneur. He said, "It was just magical, because the timing and everything had to be perfect."
"I'm very, very fascinated with the performance," he continued. "It's a great show!"
They expressed that the spirituality and cultural values in the show also touched them.
"I love the values and the traditions, and the whole spirituality of the show," said Mr. Pinuelas.
"I think that the positive message that was portrayed in a lot of the pieces can be taken into any culture," Ms. Bane said.
"It [Shen Yun] was a beautiful journey," she said in closing.
Composer: Connecting All Facets of Art
"I can't say enough good things about the music," said composer and musicologist Daniel Robbins. "I love the orchestration and the performance of the orchestra. I like everything about it."
"It's what they call a synthesis," he said of the music played by both Chinese and western instruments, "where these sounds are incorporated along with the Western symphony orchestra, and done very well, and un-self-consciously. You don't see where one culture ends and the other starts."
"The choreography is pretty much breathtaking," he said. "The dancers are stupendous, just stupendous."
Mr. Robbins said the dance had "meaningful choreography, where the movements stand for something that the audience can identify with emotionally, but at the same time, like really energetic and powerful, powerfully energetic."
"It's new for me," he said, of classical Chinese dance, "The choreography, especially, is new for me, but I love it. It's like there's nothing not to like—there's everything to like."
Mr. Robbins said Shen Yun fulfilled an ideal, in that it is "all-connected with regards to art, not only the East and West, but with regards to all facets of performing art, choreography, expression acting, music, orchestration."
And, on a more personal note, Mr. Robbins showed how much he enjoyed Shen Yun, "I wouldn't mind writing for them!"
Actress: "It Feels Divine"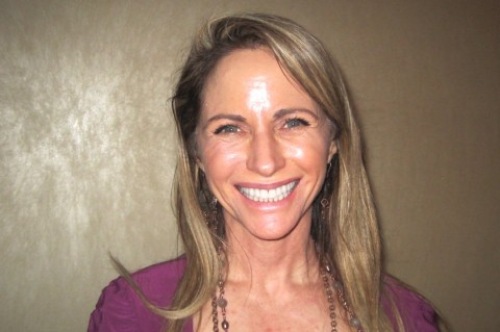 Actress Karen Lorre was brought to tears by the messages in the show.
"The dancing is beautiful," said actress Karen Lorre, who has appeared in television series including NYPD Blue, X-Files, and Cheers.
"You can see the energy in their bodies. It feels divine."
Ms. Lorre was also touched by the message of love portrayed in Shen Yun.
"I cried with happiness," she said, "because I know the power of love, and when you're in a place of love and continually loving, it can transmute anything. It's more powerful than anything."
Dancer: Amazing Synchronicity
Artists Martina Jones (right) and Wendil David saw Shen Yun's opening night together in Hollywood on January 22. Both were impressed by the artistic level of the performance.
"The whole synchronicity together was just amazing," said Ms. Jones, dancer, model, photographer, and teacher.
Ms. Jones was impressed that "the men are just as graceful as the women."
With her background, Ms. Jones related to the vignettes of each dance. "The steps for me were the most important part because I know how much [work it is], if you don't put your feeling behind it then it doesn't really resonate, and it doesn't really come off on stage as it should."
Shen Yun performances will continue in Southern California, in Northridge on January 27-28, Costa Mesa on January 29-February 1, and Long Beach on February 7-8. For more information on tickets and dates, please visit http://shenyun.com.