Auckland, New Zealand: Chinese People Happy to Quit the CCP at Falun Gong Event
January 25, 2015 | By a Falun Dafa practitioner in New Zealand
(Minghui.org) On January 17, Falun Gong practitioners in Auckland held an event to mark the wave of people quitting the Chinese Communist Party (CCP). More than 190 million people have withdrawn from the Party and its affiliated organizations since the movement began in 2004.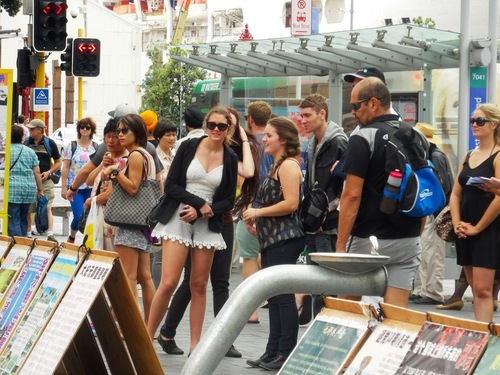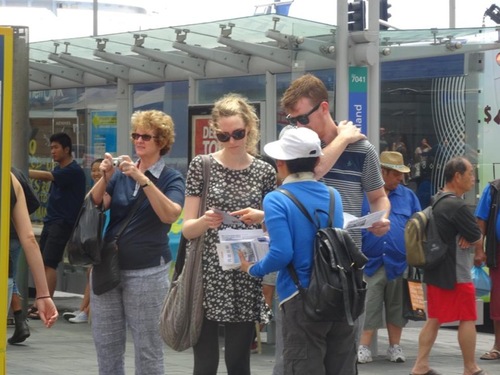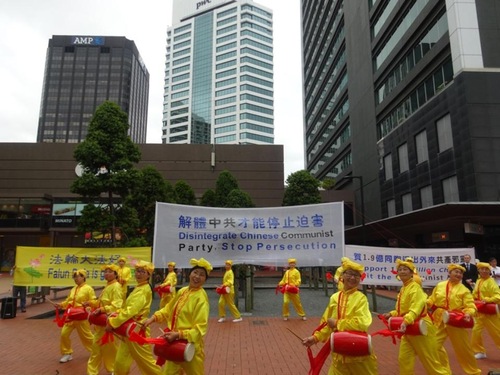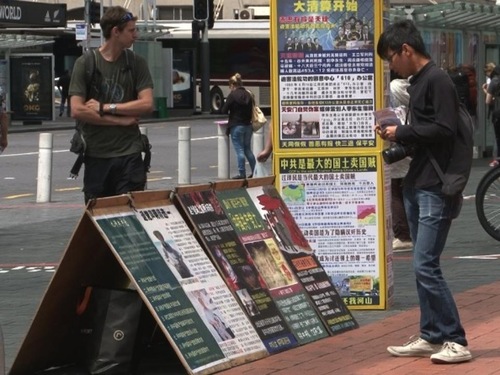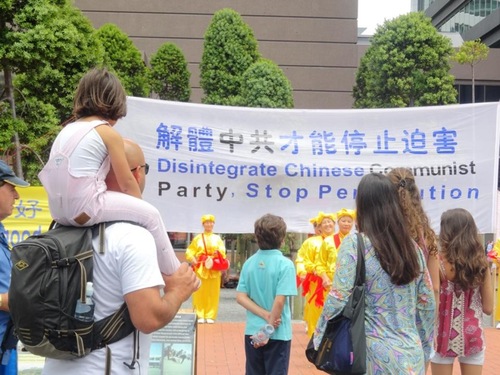 Banners, display boards and a waist drum performance drew many people to the event in downtown Auckland, New Zealand.
Caroline Mawditt arrived with other tourists aboard a cruise ship from Gold Coast, Australia. She had first heard of the persecution of Falun Gong at a Free China film preview event in Australia.
"I was deeply moved by Jennifer Zeng's story," Ms. Mawditt said. "I could hardly believe that the Communist regime treats its own people like this. I was very upset."
She added, "Falun Gong is such an elegant and peaceful exercise, but the authorities even forcefully take [Falun Gong practitioners'] organs. It is a shock to Westerners. My only regret is there are so many people who don't know the truth yet."
Several Chinese people decided to quit the Chinese Communist Party and its affiliated organizations at the event. Michael Zhang announced his withdrawal from the Young Pioneers (an organization for children, affiliated with the CCP) and asked his friend to take a photo of him in from of a banner to celebrate the moment.
Ms. Wang from China had already heard of the wave of quitting the CCP but had had no opportunity to withdraw until today. She gladly quit the Communist Youth League and the Young Pioneers. For years, she had been fearful of exploring Falun Gong due to the brutal persecution in China, but now that she is in New Zealand, Ms. Wang looks forward to reading some Falun Gong books.
On her second trip to New Zealand, Ms. Miao, who has lived in Australia for twenty years, had her first opportunity to talk to a Falun Gong practitioner face to face. She was quite happy to meet the practitioners and withdraw from the Communist Youth League and Young Pioneers at the event.