(Minghui.org) Nearly 100 people from Beijing signed a petition this month calling for the release of Mr. Pang You (庞友), detained for his belief in Falun Gong. Although similar petitions for Falun Gong have circulated in other parts of China, this was the first time it happened in the nation's capital, where the persecution of Falun Gong has been especially severe.
In China's oppressive environment, this type of large-scale, grassroots rescue campaign for Falun Gong was first seen a decade after the persecution began, when 376 villagers in Fushun, Liaoning Province, signed a petition to rescue Falun Gong practitioner Xu Dawei in 2009.
In 2012, ten thousand people from Hebei Province signed a petition to rescue Zheng Xiangxing. In 2014, five batches of signed petitions, totaling 6,368, were submitted to the local authorities, calling for Hebei practitioner Xin Tingchao's release.
To date, more than 100 thousand signatures have been collected all over China, condemning the persecution of Falun Gong and the state-sanctioned organ harvesting from Falun Gong practitioners. Growing public support, and now from citizens from the heart of the nation, is a hopeful sign that the end of the persecution is near.

Ninety-seven fingerprints on petitions calling for Pang You's release
Pang You Arrested in Shaanxi Province for Talking about Falun Gong
Pang You's arrest was previously reported on the Minghui website.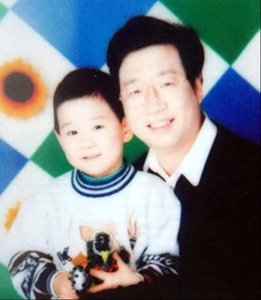 Pang You and his son
Mr. Pang You from Beijing, was arrested in Shaanxi Province on December 5, 2014, after being reported to police for talking to business partners about the persecution of Falun Gong. Mr. Pang is currently being held in the Huanglong County Detention Center. His family and lawyer rushed 650 miles from Beijing to visit him, only to be turned away.
Prior to this most recent arrest, Mr. Pang had been sentenced to an eight-year term in 2000, and to four years in 2009. His only "crime" was practicing Falun Gong. After the arrest in 2000, local police ransacked his home and confiscated his personal belongings, including a Nissan Cedric car, watches and jewelry worth more than 600,000 yuan.
Pang You, then director of a successful state-owned real estate company, started practicing Falun Gong in 1998, when he witnessed the practice save his mother's life from leukemia. As a result of following Falun Gong's teachings of Truthfulness-Compassion-Forbearance in his daily life, Pang You has gained a good reputation in the community and among his colleagues.
Collecting Signatures in Beijing
Upon hearing about the arrest of Pang You, local Falun Gong practitioners in Beijing started a petition drive for his rescue.
Beijing, as the nation's capital, has been a center of the persecution, and the government has maintained an especially oppressive atmosphere there. This makes it all the more the remarkable that a good number of Beijing citizens have been willing to sign this petition in support of Falun Gong.
Pang You's story and his mother's remarkable recovery drew a great deal of interest from supporters. Some of them wanted to know more about Falun Gong, and asked for Falun Gong books.
Quite a few signatures came from government officials and veteran Communist Party members. Perhaps they know more than the average citizen about the government's corruption and violence. One retired official was even willing to put his photo next to his signature. "I want to stand on the side of justice," he said.
Falun Gong practitioners involved in this rescue effort said that many people not only learned more about Falun Gong, but also chose to take a stance against the Party by renouncing their memberships in Party organizations.
After signing the petition, one gentleman was asked by his friends, "Aren't you afraid that the police will come after you?" He answered: "If they come, I will tell them that Falun Dafa is good, and that is the truth."