Beijing Man Arrested in Shaanxi Province for Talking About Falun Gong
December 21, 2014 | By a Minghui correspondent in Shaanxi province, China
(Minghui.org) Mr. Pang You (庞友), from Beijing, was arrested in Shaanxi Province on December 5, 2014, after being reported to police for talking to business partners about the persecution of Falun Gong.
Mr. Pang is currently being held in Huanglong County Detention Center. His family and lawyer rushed 650 miles from Beijing to visit him, only to be turned away.
Prior to this most recent arrest, Mr. Pang had been sentenced to an eight-year term in 2000, and four years in 2009. His only "crime" was practicing Falun Gong.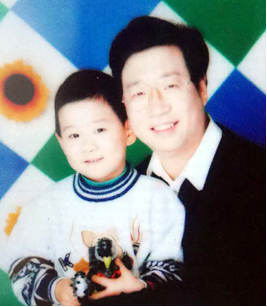 Mr. Pang You and son
Mr. Pang went to appeal for the peaceful practice three months after the Chinese Communist Party launched its nationwide campaign against Falun Gong in July 1999. He was arrested and detained for four days, after which he lost his job as general manager of Xuri Real Estate Development Limited Company in Chaoyang District.
He was arrested in December 1999, and again in March 2000. Each time he was kept in a detention center for more than 20 days.
The police also ransacked his home and confiscated his personal belongings, including a Nissan car worth around 500,000 yuan, some gold and silver jewelry worth 100,000 yuan, a camcorder worth 10,000 yuan, and two Swiss watches worth 10,000 yuan.
He was arrested for a fourth time on June 25, 2000, when he held up a banner on Tiananmen Square. Because he refused to disclose his name, he was brutally beaten and shocked with electric batons at the police station.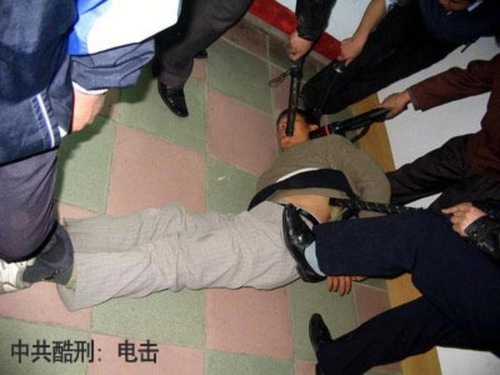 Torture re-enactment: Shocking with electric batons
Mr. Pang began a hunger strike to protest the arrest after he was transferred to Tongxian Detention Center. The guards brutally force-fed him, often leaving the feeding tube in his nose overnight. The police station picked him up nine days later, hoping to transfer him to Chaoyang Detention Center, but the detention center declined to accept him.
The police had no choice but release him. To avoid further arrest, Mr. Pang left home and became destitute to avoid further persecution.
He was snatched from his rental place on September 27, 2000, and soon sentenced to and eight year prison term. On September 3, 2009, he was sentenced for the second time to four years, in a trial publicized on Beijing TV.
Responsible Parties and Individuals
Yichuan County Police Department (宜川县公安局) was responsible for Mr. Pang's arrest. Tel: +86-911-4622482