Court Drama: Two Mothers Roughed Up, Defendant Loses Consciousness
January 24, 2015 | By a Minghui correspondent in Liaoning Province, China
(Minghui.org) A 67-year-old mother was knocked unconscious for protesting the limited number of family members allowed at a recent third trial of her son and two other Falun Gong practitioners.
She finally came to, only to see that her son Mr. Yu Ming (于溟) had lost consciousness about 20 minutes into the trial. She rushed to him, and could only watch helplessly as the emergency vehicle arrived to take Mr. Yu to the hospital.
Judge Jiao Yuling yelled, "Session adjourned! Session adjourned!"
Above is what unfolded at the trial of Mr. Yu, Ms. Li Dongxu (李东旭), and Ms. Gao Jingqun (高敬群) in Shenhe District Court of Shenyang City on January 20, 2015. All three practitioners have been in detention since their arrest in August 2013.
The same bailiff who attacked Mr. Yu's mother also targeted Ms. Li's 82-year-old mother, who was dragged out of the courtroom by her hair and unable to attend the trial.
Hearing her mother's desperate crying, Ms. Li burst into tears. "My mom is in her 80s. Don't you have a mother?" she asked the bailiff.
Mr. Yu's older brother was pinched in the neck and threatened by a judge named Huang Gang when he also protested the limited seating.
The older brother's son and a nephew (not Mr. Yu's son) reasoned with judge Huang, but both were removed from the courtroom and detained after the trial for "disturbing order in the court."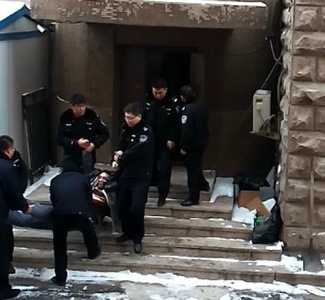 Bailiffs taking practitioners' family members out of the courtroom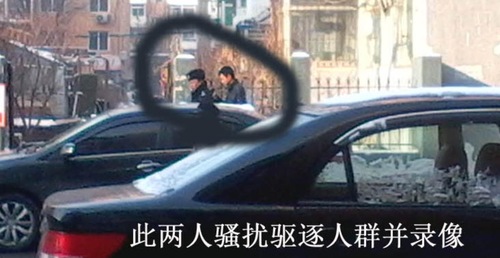 Outside the courtroom, police officers videotaped and harassed people who wanted to attend the trial but couldn't
Mr. Yu's family members reported the bailiffs beating the two elderly mothers to a nearby police station, but the police there refused to accept their complaint.
One of the practitioners' defense lawyers described the court drama on his personal blog.
At the beginning of the trial, he and the other defense lawyers requested to have police officer Zhan Chen (赵晨) excused from the trial because he once tried to coerce their clients into confessing to crimes they never committed during interrogation.
Judge Jiao Yuling decided to have a 15-minute recess so that she could discuss with members from the collegial panel. During the recess, Mr. Yu became very emotional upon learning of his mother's beating before the trial. Ms. Li couldn't stop crying.
When the judge resumed the session, she continued without taking any action regarding the police officer. Mr. Yu suddenly lost consciousness, and the trial ended at that point.
A lawyer not involved in the case responded to the blog: "The court has violated the law in every step of the trial. Is this still a court or a gangster's base?"
Related article:Trial of Falun Gong Practitioners Aborted Due to Protest