Shen Yun World Tour Opens In Four Cities With All New Program for 2015
January 02, 2015 | By Minghui correspondent Zhang Yun
(Minghui.org) Shen Yun Performing Arts kicked off its ninth annual tour with performances in Houston and Austin, Texas; Fort Lauderdale, Florida; and Hamilton, Canada between Christmas and New Year. The 2015 Shen Yun World Tour offers a brand new program, which again enthralls audiences with its signature dance and music.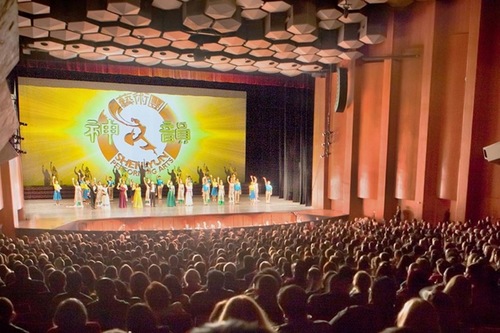 Shen Yun premiered to a full house at Jones Hall in Houston, Texas on December 28, 2014. The theater opened up seats with partially blocked views due to the high demand for tickets, and they all sold out as well.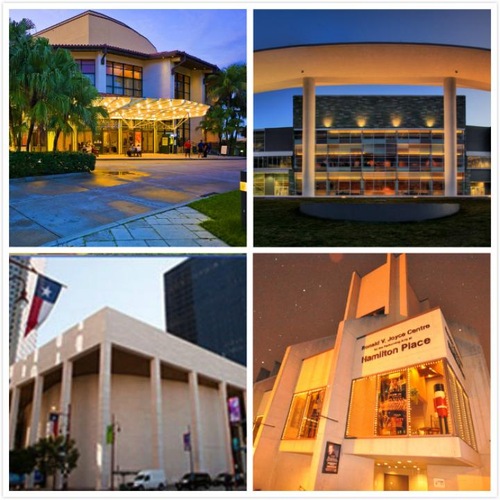 Four companies of Shen Yun Performing Arts performed in four cities on December 28 at (clockwise) the Broward Center for Performing Arts in Fort Lauderdale, Florida, the Long Center for the Performing Arts in Austin, Texas, the Hamilton Place Theatre in Canada, and Jones Hall in Houston, Texas.
Musician: World-Class Production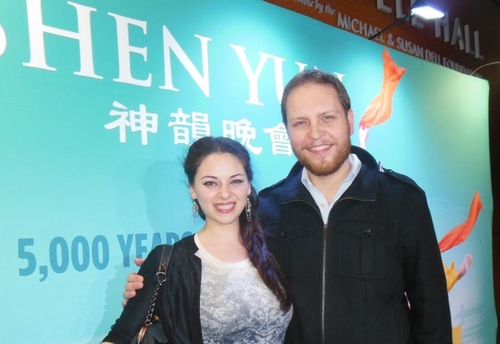 Instrumentalist Joshua Thomson and dancer Liliana Espinosa
Mr. Joshua Thomson, saxophonist and woodwind musician, and a member of the band Atlas Maior, called Shen Yun's combination of Chinese and western instruments "phenomenal."
He said that he could see the universal struggle of mankind and humanity, of persevering against oppression, and fighting for one's beliefs, culture and customs.
"Obviously, this production cannot be done, as we learned, in China today. That's very telling of this. I think it's a very important production, and it's wonderful that it's a worldwide endeavor, traveling throughout the world."
"All the artists here, you can tell they've been working [hard] and are world-class, to be in a production of this scale in Austin and on the road in US and abroad."
He also had some thoughts about the lyrics of the songs, "It seems like it was more of a folkloric, old message of hope … That's kind of what I got from the whole thing [show]. A lot of the undertones are very redeeming."
Mr. Thomson attended the Saturday evening performance on December 27 in Austin with Argentine Tango dancer Liliana Espinosa.
"It's a modern blend, and a message not just focusing on [5,000] years ago, for example. So I thought that was cool. I really liked that," Mr. Thomson said.
Ms. Espinosa said, "I love their form, and you can see that they have been working on it for a long, long time, just perfected it—just beautiful. I think the silk that they wear are just beautiful too, the way it blends with the dance, it is wonderful."
Mr. Thomson was equally impressed pointing out the skillful transitions between the orchestra and the dancers. "All of the beats and all of the instrumentation, how it blended with every scene, really impressive. It was a pleasure for the audience to hear these traditional Chinese instruments."
"I thought her [the soprano's] range was incredible, specifically, her vocal range. All of them, and to hear the inflections and the tonality and the timbre of the vocals is really amazing," he added.
For Ms. Espinosa, Shen Yun left her wanting to be more disciplined in her own dance, "It's just wonderful. It's motivation for me to continue studying and practicing every day."
"Beautiful," "Uplifting" and "Spiritual"
Janis and Charles Lively attended the performance at Jones Hall in Houston as their anniversary celebration.
"Beautiful, uplifting and spiritual," she exclaimed.
Ms. Lively was a schoolteacher and school choir director before retirement. She is now an officer of the board of directors of the Lake Houston Musical Arts Society.
She had high praise for the Shen Yun Orchestra, "It's wonderful. I love the combination of the Western music and the Chinese instruments, it's beautiful, just beautiful."
"The beautiful colors and the great dancing, [are] just very, very uplifting," she said, adding that the theme of compassion in one of the performances was also very uplifting for her.
Amazing Choreography and Costume Design
Physician Paul Foster attended the performance in Austin with his parents. The performance tickets were his gift to them for their 50th wedding anniversary.
"The choreography is amazing," he said. "The athleticism of the dancers is impressive." Dr. Foster said he was also impressed by the wide array of colors and the hundreds of handmade costumes in Shen Yun.
"I was really taken aback by the costumes. The colors and costume design are amazing. Each one coming out is completely different," he said. "The work that had to have gone into this is astounding. It's beautiful, it's really fun to see."
Pleased to See China's Cultural Heritage Preserved
Linda, a Chinese American who works in the education field, was pleased to see Shen Yun's first performance at the Broward Center for Performing Arts in Florida. Regarding the fact that Shen Yun is presenting the five thousand years of Chinese culture to the world, she felt "very proud."
She felt very happy to see ancient Chinese stories and dance in the U.S. She also mentioned that she had heard many of the stories in the performance in her childhood, but had never seen them played out.
Mr. Bill Thomas came with Linda. He felt great about Shen Yun's music. He mentioned, for all cultures, music is the medicine to the heart and the soul.
Mr. Wei, a Chinese immigrant from Northern China, came to the performance at Hamilton Place Theatre with Ms. Ding. This was the second year they watched the performance.
He said, "It feels different every time. It feels great."
"It is a kind of great feeling that is hard to be explained in words."
Shen Yun will perform several hundred shows in over a hundred cities in North America, Europe, Asia, and Australia this season. The tour will last four and a half months.
In North America alone, Shen Yun will put on two hundred and seventy performances in eighty five cities.
Since its founding in 2006, Shen Yun has met with great success and has now grown to include four complete dance companies, Shen Yun Performing Arts New York Company, Shen Yun Performing Arts Touring Company, Shen Yun Performing Arts International Company, and Shen Yun Performing Arts World Company.
Shen Yun will continue with performances in Ottawa, Canada, on January 2-4, San Jose, California, on January 2-4, and Atlanta, Georgia, on January 2-4. For more information on tickets and dates, please visit shenyun.com.