Hong Kong: Peaceful Rally Supported by Elected Officials and Human Rights Activists
January 19, 2015 | By a Minghui correspondent in Hong Kong
(Minghui.org) Nearly one thousand Falun Gong practitioners from Hong Kong, Taiwan, Japan, and Korea held a rally in Kowloon on January 17, to raise public awareness of and call for an end to the persecution of Falun Gong in China.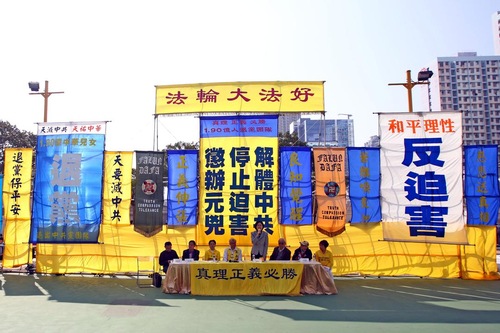 Rally in Kowloon on January 17 to call attention to the persecution of Falun Gong in China
Several Legislative Council members expressed their support for Falun Gong at the noontime rally. There were also voices of support from China, as several human rights activists from the mainland addressed the rally through audio recordings. The speakers commended Falun Gong practitioners' spirit and their peaceful resistance in the face of over 15 years of brutal persecution.
Condemning the Persecution and Calling Upon Chinese People to Abandon the Communist Party
Jian Hongzhang, spokesman for the Falun Dafa Association in Hong Kong, and Yi Rong, chair of the Global Service Center for Quitting the Party, reported that more than 190 million Chinese have quit the Chinese Communist Party (CCP). They are confident that even more people will make the right choice in 2015.
In his address at the rally, Jiang Hongzhang warned those who are still involved in the persecution of Falun Gong: "Your only hope is to quit the Party, stop any evil behavior, and expose the persecution. Your future will be bleak if you continue to work for the evil Party."
Chu Wanchi, a Taiwanese human rights lawyer who has defended Falun Gong, said in her address that more than 1.7 million people worldwide have signed the petition condemning the state-sanctioned organ harvesting from living Falun Gong practitioners in China. Among the signatories are 8,000 physicians. She called upon those who have been involved in the organ harvesting: "If you can stand up and expose these crimes, we will provide help and protection for you."
Legislative Council Members Condemn the Persecution
Council Member Lee Cheuk-yan (Labour Party) hoped that the rally and the march that followed will wake up the Chinese people and encourage them to join the peaceful resistance. He called upon the international community to exert pressure on the CCP and help stop the persecution of Falun Gong.
Council Member Wu Chi-wai (Democratic Party) said that Falun Gong's principle of Truthfulness-Compassion-Forbearance is universal, and is a major force that will help reconstruct society's moral standard. He encouraged practitioners to keep up the good work of restoring traditional Chinese culture and morality.
Council Member Leung Yiu-chung (Neighbourhood and Worker's Service Centre) was happy to see that the number of withdrawals from the CCP is steadily increasing. He and Mr. Wu Chi-wai further condemned the persecution and organ harvesting atrocities taking place in China.
Lin Sen, a democracy activist, said in his speech that the CCP is the largest cult and underworld gang. Last year, his daughter Lin Huishi publicly expressed support for Falun Gong and was subsequently attacked by thugs hired by the CCP. Mr. Lin Sen backed his daughter's action at the rally and conveyed his daughter's greetings to practitioners.
Wu Yisan, chief editor for Wuchi Publishing House, condemned Jiang Zemin, the former head of the CCP and the original instigator of the persecution. "Jiang is the real traitor. He has been sued for genocide around the world. He and his gang have violated the most basic standards of human morality."
Activists from Mainland China Speak Out for Falun Gong
Zheng Enchong, a human rights lawyer from Shanghai, sent an audio recording of his address to the rally. He said, "As long as I can still speak, I will speak out for Falun Gong. This is my responsibility as a lawyer."
Mr. Zheng said that in 2014, many high-ranking CCP officials who were responsible for the persecution were arrested. "These are the real demons. I believe that more demons will be brought to justice in the near future," he said.
Ma Xiaoming, a democracy activist from Xi'an, said in an audio recording, "I've always admired Falun Gong's peaceful resistance over the last 15 years." He said that he is willing to stand with Falun Gong to disintegrate the CCP. "We will achieve greater success if we all stand together."
Lu Xuesong, a pro-democracy writer from Jilin Province, praised Falun Gong practitioners in an audio recording: "They have true compassion towards the people. Throughout the last 15 years, they have bravely told the public about Falun Gong, and they've exposed the brutal persecution. Their strong spirit and peaceful actions have clearly shown that their belief is righteous."
Mr. Lu continued, "Good will meet with good, and evil will be punished." He encouraged rally attendees to maintain a sense of conscience and compassion in the new year.
After the rally, practitioners and supporters held a peaceful march through Kowloon to further expose the persecution and gather support for bringing about its end.