Beaten to a Vegetative State, Ms. Ma Liqin Died in 2013 (Photos)
January 12, 2015 | By a Minghui correspondent from Heilongjiang Province
(Minghui.org) Ms. Ma Liqin, arrested for practicing Falun Gong, was beaten to a vegetative state while in detention in March 2002. After her husband divorced her, Ms. Ma's family took care of her for the last 11 years of her life.
It was recently learned that Ms. Ma passed away on January 25, 2013, at the age of 59.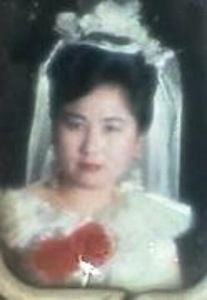 Ms. Ma Liqin's wedding photo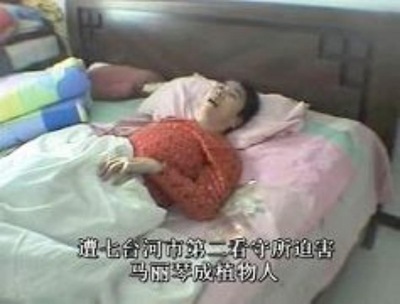 Ms. Ma Liqin in a vegetative state resulting from a brutal beating in police custody
Ms. Ma, from Qitaihe City, Heilongjiang Province, was arrested on March 5, 2002, and taken to the Beishan No. 2 Detention Center.
On March 15, 2002, Ms. Ma was dragged by Yin Zhongliang, head of the detention center, to an office and beaten. Yin kicked her and slammed her head against a wall. Ms. Ma lost consciousness immediately, but the guards thought she was faking it and continued to punch her in the face. To revive her, they used a needle to pierce her right hand and forced pills into her mouth.
When Ms. Ma was still unresponsive, Yin ordered someone to carry her to a car. Yin sent Ms. Ma to the Xinxing Police Department.
Officials there saw that Ms. Ma was severely injured, and that her head was swollen. They refused to accept her, so Yin took her back to the detention center. On the way back, although they passed a hospital, they did not seek treatment for Ms. Ma; neither did they notify her family of her condition.
Ms. Ma's family went to the detention center to pick her up that afternoon, and they took her to a hospital. A CT exam revealed bleeding in her brain; moreover, her head, back, legs, feet, and hands all had apparent trauma. During the ensuing skull base surgery, the doctor took out 70 milliliters of coagulated blood, but some of it could not be removed.
Despite the treatment, Ms. Ma remained in a vegetative state. Her medical and therapy bills were so high that her family could not pay them. The family went to appeal many times, seeking justice for the harm done to Ms. Ma. They visited the city government, the petition office, the Procuratorate, the Heilongjiang Public Security Bureau, and the Heilongjiang Procuratorate. All their efforts were in vain.
Ma's case was later exposed on the Minghui website. Because of international pressure, the Qitaihe Police Department declared an "investigative conclusion" on March 20, 2003, which claimed that "there was no proof that Ma Liqin's cerebral hemorrhage was caused by a police beating."
However, they did agree to pay part of her medical bills to the hospital, which was 30,000 yuan. For this, they required Ms. Ma's son, Zhang Kai, not to appeal anymore, threatening him with prosecution should he not comply.
Summary of Key Persecution Facts:Name: Ma Liqin (马丽琴)Gender: FemaleAge: 59Address: Xinxing District, Qitaihe City, Heilongjiang ProvinceOccupation: Retired worker from the No. 204 Geologic Exploration TeamDate of Death: January 25, 2013Date of Most Recent Arrest: March 5, 2002Most Recent Place of Detention: Beishan No. 2 Detention Center (北山第二看守所)City: QitaiheProvince: HeilongjiangPersecution Suffered: Beatings, detention
Earlier report:Ms. Ma Liqin Beaten into a Vegetative State While in DetentionDafa Practitioner Ma Liqin Is Completely Paralyzed by Police Torture