Shen Yun Plays to Full Houses in Ottawa, Canada
January 12, 2015 | By Minghui correspondent Ying Zi
(Minghui.org) Shen Yun Performing Arts returned to the National Arts Centre in Ottawa, Canada, with four performances from January 2 to January 4. All were full houses. Theatergoers enjoyed the opportunity to experience authentic Chinese culture through Shen Yun's exquisite dance and musical offerings.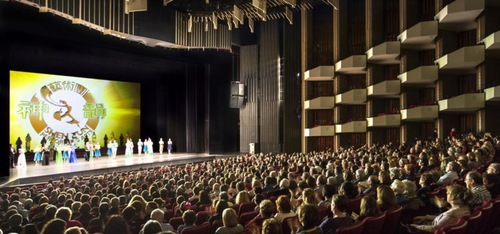 Shen Yun returned to the National Arts Centre in Ottawa January 2-4
Producer: "A Phenomenal Experience"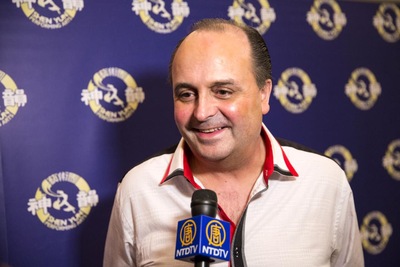 Canadian producer Stephan Klovan was impressed by both the presentation and the message of Shen Yun.
Canadian producer Stephan Klovan had nothing but praise for the show: "It's exquisite! It's perfection. We were in the front row and just every movement was fantastic. Their facial expressions, the costuming, the lighting, the choreography—the music was just a phenomenal experience.
"It's a fantastic way to start off the New Year. I feel rejuvenated and filled with love and joy from watching the show. You can feel the energy from all the performers." Mr. Klovan is currently running the entertainment line-up of the Canadian Tulip Festival.
"The message was peace, joy, love, harmony, how to live your life on earth so that you can fulfill your life and go to heaven. It was an eternal message that's very powerful. And you need to have it reinforced, and this show does so in a very gentle and beautiful way. And it doesn't force the issue, but you just feel it. You feel so good and it's very peaceful and loving," he said.
"My hat's off to the producers and the directors for putting such a lovely show together and taking this message across Canada and the world."
Senator: Best Show to Learn about Chinese Culture
Senator Thanh Hai Ngo appreciated the spirituality of Shen Yun
Senator Thanh Hai Ngo, Canada's first Vietnamese senator, thought the entire show was fascinating and uplifting.
"I think it's excellent. … It's interesting. For the Canadian people who do not know Chinese culture, I think this is the best [show] for them."
Senator Ngo appreciates the fact that Shen Yun is reviving the spiritual side of Chinese culture. "It [Shen Yun] is reminding us that the spiritual things should be there with us. So I think that it's very good, a very good show," said Senator Ngo.
Representing the Finest of Chinese Traditions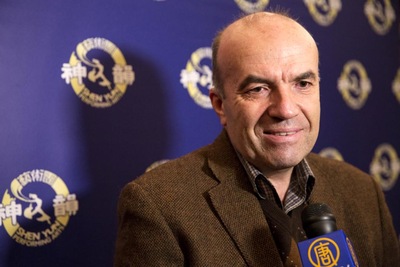 Dr. Nikolay Milkov, Bulgaria's ambassador to Canada, was glad to experience Chinese culture through Shen Yun.
Bulgaria's ambassador to Canada, Dr. Nikolay Milkov, attended Shen Yun's performance at the National Arts Centre on Saturday night, January 3.
"I enjoyed this performance very much," said Dr. Milkov. "This is my first time to see this kind of Chinese performance. It is obviously representative of the Chinese culture and it represents the finest of the Chinese cultural and dance tradition coming from centuries and even from millennia."
Dr. Milkov was also very proud of his countryman, Shen Yun orchestra conductor Kiril Tarpov. Dr. Milkov has a Ph.D. in historical sciences. He has held various positions of increasing responsibility including, from 2005 to 2009, being Consul General of the Republic of Bulgaria in New York. It was during this time that Dr. Milkov got together and worked with Mr. Tarpov on a series of annual Bulgarian cultural events.
"I'm very glad he's succeeded," Dr. Milkov said about Mr. Tarpov. "I would like to congratulate him first of all. I will meet with him, and we will have a chance to talk.
"It was a combination of classical music and specific Chinese music, so the classical music obviously provided the common background. The Chinese music and the Chinese influence, that was very strong. … That was really amazing," said Dr. Milkov about Shen Yun's music.
Chinese Spectator Left in Awe
Joyce was glad to see Chinese culture being presented by Chinese people outside of China. She said, "It is very good that there are people passing on traditional Chinese culture, no matter what means they are using."
She thought it was very good that Shen Yun's artistry was perpetuating Chinese culture. She said, "It was done delicately. Right on target.
"The background is very well done, especially the interaction between the digital backdrop and when the characters came on stage. It felt like they actually flew from the pictures."
Mr. Lai, who just moved here from China, said after seeing Shen Yun for the first time, "The whole effect of Shen Yun is very awe-inspiring." He mentioned that he would make it a point to recall the performance when he gets home.
He also wants learn more about Falun Gong. Mr. Lai said, "I had some understanding about Falun Gong after tonight...I did not know much about it before. The impression I got tonight is different from what is being said in mainland China. I got some clues about this [from Shen Yun]."
Shen Yun will continue its Canada tour in Quebec, Canada, January 13 – 14 at the Grand Théâtre De Québec. For more information on tickets and dates, please visit shenyun.com.