Mr. Zhang Guoli Force-Fed with Harmful Hallucinogens (Photo)
September 08, 2014
|
By a Minghui correspondent in Liaoning Province, China
(Minghui.org) Mr. Zhang Guoli, a Falun Gong practitioner recently imprisoned in China, says that he was force-fed a mixture of chili powder, pepper powder and hallucinogens at the Dalian Detention Center. He showed symptoms of kidney failure and was taken to the 210 Hospital in Dalian for emergency care. He is now in critical condition in the Intensive Care Unit (ICU) at Zhongxin Hospital.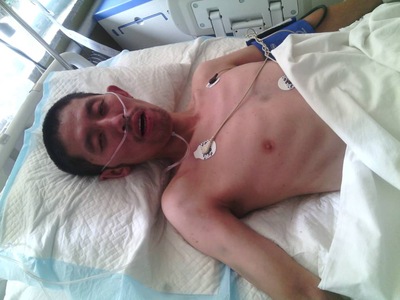 Mr. Zhang in the ICU at Zhongxin Hospital. Bruises can be seen on his arm and chest.
Guards Try to Avoid Responsibility
Mr. Zhang was arrested by officers from the Xianjin Police Station in Jinzhou City on July 23, 2014. He was taken to the Dalian Detention Center, where he went on a hunger strike to protest his illegal arrest. He was tortured and force-fed with drugs, causing him to become disoriented. He had severe heart pain and exhibited symptoms of kidney failure and uremia. The guards took him to the 210 Hospital for emergency care.
Cao Xunbing from the Zhongshan District Domestic Security Division called a relative of Mr. Zhang's on the afternoon of August 11 and told him to take Mr. Zhang home. Cao claimed that they would drop all charges against him.
The guards in the detention center were extremely friendly to Mr. Zhang's family and remained silent when they were criticized for persecuting him. The family wondered if the guards were afraid that they would not take him home, and were trying to avoid responsibility if he died under police custody.

Force-Feeding Results in Hospitalization
Mr. Zhang said that the guards in the detention center force-fed him seven to eight times a day. The guards denied this, and claimed that they only force-fed him twice a day. The family asked the guards to help take Mr. Zhang home, but they all made excuses and soon left. As Mr. Zhang was unable to walk, his family members had to call friends to help carry him home.
At home, Mr. Zhang remained very ill, so the family took him to Zhongxin Hospital in Zhuanghe City. He is presently in the ICU. His body itches and hurts all over. He also has hallucinations. The doctor said that the many test results were of great concern and showed that he was having allergic reactions to the substances that he was forced to ingest. The family believes that it was likely some sort of harmful hallucinogen, and in heavy doses to result in such severe physical harm.
According to sources in the detention center, officials from the 610 Office ordered the guards to drug steadfast practitioners, to destroy their central nervous system. This is not an uncommon practice and has been employed against imprisoned Falun Gong practitioners elsewhere in China.
Persecution History
Mr. Zhang, 38, began to practice Falun Gong when he was 20. He has been persecuted severely since the Chinese Communist Party began to suppress Falun Gong in 1999.
Mr. Zhang was tortured in the Dalian and Guanshan Forced Labor Camps, but refused to renounce his belief. He has been in critical condition five times as a result of persecution.
Related articles:Mr. Zhang Guoli Was Persecuted to the Brink of Death at Dalian Forced Labor CampFalun Gong Practitioner Mr. Zhang Guoli from Dalian City Severely Tortured