More Lawyers in China Plead Not Guilty in Defending Falun Gong Practitioners
September 04, 2014 | By a Minghui correspondent from China
(Minghui.org) Ever since six lawyers from Beijing – Ten Biao, Li Heping, Zhang Lihui, Li Shunzhang, Li Xiongbing, and Wu Hongwei – pleaded not guilty on behalf of Falun Gong practitioners in Shijiazhuang in 2007, the concept that "practicing Falun Gong is legal in China" has become a commonly known fact in China's legal community.
More and more lawyers have taken up the defense of Falun Gong practitioners.
During the first half of 2014 alone, 320 practitioners represented by 345 lawyers have pleaded not guilty in 147 out of 312 (47%) legal cases, according to statistics collected by this website.
The not-guilty pleas occurred in 26 provincial-level administrative units in the country: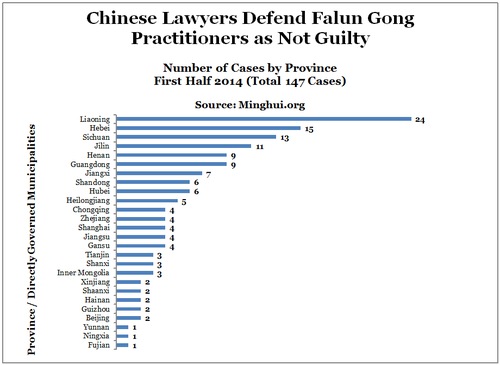 No Chinese law stipulates that practicing Falun Gong is illegal in China. As a matter of fact, Article 36 of the Chinese Constitution states that Chinese citizens are granted freedom of religious belief. Furthermore, Falun Gong is not on the list of 14 cults in an internal document issued by the Ministry of Public Security in 2000.
Lawyers Defending Practitioners
The lawyers defending practitioner Ms. Wang Yusi in Xigang District Court in Dalian City, Liaoning Province, on June 24, 2014, told the court that practicing Falun Gong does not violate any existing Chinese laws.
He stated that the list of 14 cults as published by the Ministry of Public Security excluded Falun Gong. Article 300 of the criminal law, which is "utilizing cult organizations to sabotage law enforcement," does not apply to Falun Gong and sentencing practitioners to prison terms has no legal basis. The lawyers asked the court to release the practitioner immediately.
Lawyers defending Ms. Luo Jianrong in the Linchuan District Court in Fuzhou City, Jiangxi Province, on January 17, 2014, pleaded not guilty. Their arguments were frequently applauded by the trial spectators, one of whom shouted, "Falun Dafa is righteous and having a spiritual belief is not a crime!"
The lawyers defending Ms. Jin Xiaorong in the East District Court in Panzhihua City, Sichuan Province, on May 14, 2014, stated that Ms. Jin was practicing a spiritual belief, which is legal under Chinese law. They said that the court has no jurisdiction over one's belief.
Two lawyers defended and pleaded not guilty for Mr. Ye Shuhui and his wife, Ms. Li Shufen, in the Development District Court in Dalian City, Liaoning Province, on March 27, 2014. The lawyers said that the two practitioners committed no crime in practicing Falun Gong; rather, it was the police who arrested practitioners on fabricated charges that had committed an illegal act and violated the practitioners' human rights.
Lawyers defended Ms. Xu Shiying, Ms. Liu Yuxiu, and Ms. Luo Baoqing in Decheng District Court in Dezhou City, Shandong Province, on April 3, 2014. The lawyers told the procurators and the judge that it was they who were violating the law.
Ms. Cui Luning and Mr. Li Hao were tried in the Pudong Detention Center by the Licang District Court in Qingdao City, Shandong Province, on April 10, 2014. Ms. Cui and Mr. Li had participated in a "torture reenactment" that had been widely disseminated in China and abroad. The lawyers told the court that the practitioners' reenactment was an effort to stop the torture.
Ms. Cao Shuqing was tried in the Xingcheng City Court in Liaoning Province on February 20, 2014. The procurator played a tape as evidence of Ms. Cao's offenses. But on the tape were recordings of former politburo member Bo Xilai admitting his participation in extracting organs from living Falun Gong practitioners. The lawyer pointed out that the video clearly showed that Ms. Cao was innocent.
Ms. Yang Muhua was tried in Anning City Court in Yunnan Province on March 6, 2014, for distributing Shen Yun DVDs. Ms. Yang declared her innocence, reasoning that the Shen Yun program promotes traditional Chinese culture. Her defense lawyer also pointed out that a stable society needs good citizens like practitioners.
Mr. Song Bingfu and his wife, Ms. Zhang Ping, were tried in the Horqin District Court in Tongliao City, Inner Mongolia on March 28, 2014, for distributing Shen Yun DVDs. The Shen Yun performance DVD they had distributed, which was presented as evidence, was played during the trial, leaving the judge and the public prosecutor speechless. The attorney argued that the couple was not guilty of the trumped-up charge of "sabotaging law enforcement using a cult organization" and were innocent and should be released.
Ms. Zhang Xiaoli was tried in Ganjinzi District Court in Dalian City, Liaoning Province, on March 13, 2014. The lawyer said that the procurator had ignored the law and wrongly accused Ms. Zhang.
Ms. Liang Guifen was tried in Maoming City Intermediate Court in Guangdong Province on May 8, 2014. The lawyer pointed out that the chief judge "adopted double standards." He alleged that the judge avoided investigating fabricated witness testimony and was merely going through the motions, without touching upon the matters of law.
Mr. Mu Zhitai and six other practitioners were tried in Mianyang City Intermediate Court in Sichuan Province on January 23, 2014, after they had been held in the detention center for a year and a half.
The lawyers stated that the practitioners' faith in Falun Gong does not cause any bodily injury or physical harm to anyone. Therefore, there is no evidence that could be construed as "causing substantial harm to society."